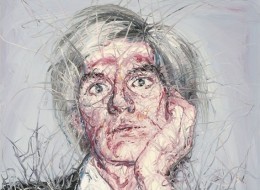 This is the week that the art world converges on Hong Kong. In its fifth year, this is the first ART HK (May 16-20, 2012) since Art Basel bought into the city's international art fair. While many will go to catch a glimpse works by big-name artists such Yayoi Kusama, this is also the week when Hong Kong's artists get showcase their work to a wider audience.
In recent years, Hong Kong artists have begun to emerge from the shadows cast by contemporary mainland Chinese artists, whose works command sky-rocketing prices. No doubt looking for the value of under-appreciated talent, curators from world-renowned art institutions such as Tate Modern and MoMA are starting to take an interest in Hong Kong artists, who have had to struggle with a lack of space, both physical and psychological, and being seen in a city that is often mainly focused on dollar (and now RMB) signs. This is changing though with projects such as West Kowloon Cultural District, and the redevelopment of the old Central Police Station and the Former Police Married Quarters into hubs for arts & culture and creative industries along Hong Kong's high-rent Hollywood Road.
While these grand projects are still years away from coming into fruition, Hong Kong's burgeoning creative communities can be found at the Cattle Depot Artist Village, Jockey Club Creative Arts Centre (JCCAC) in Shek Kip Mei as well as relatively cheap, less central, warehouse ares of Fotan, Kwun Tong, Wong Chuk Hang and Chai Wan. In response to increasing visitor interest in Hong Kong's art scene, The Peninsula Hotel has even created an "Art of Hospitality" experience as part of its Peninsula Academy, where guests are chauffeured all over Hong Kong for personalized visits to galleries spaces, artist studios and private collections.
This weekend, artists and designers are opening up their studios to the public in events such as Art Island East and Chai Wan Mei. Mobile M+, one of the museums that will populate the West Kowloon Cultural District and headed by Lars Littve, has also curated a "nomadic" exhibition of site-specific works by local artists in Yau Ma Tei, one of the few remaining neighborhoods where old and new Hong Kong sit comfortably side-by-side, a visual testament of the city's cultural and historical roots. Artists involved include: Kwan Sheung-chi + Wong Wai-yin, Leung Mee-ping, Erkka Nissinen, Pak Sheung-chuen, Tsang Kin-wah and Yu Lik-wai.
Here are 8 artists that people with their fingers on the pulse of the local art scene say are worth checking out right now:
8 Hong Kong Artists to Watch
My personal favorite. Lee's works reflect the passage of time. Shadowy, white images are faded by the sun over time, to which Lee adds reminders of the concrete present moment. Photo courtesy of: 10 Chancery Lane Gallery

Art consultant Jehan Chu cites Lam as one of his favorite Hong Kong artists. His works transform the visual vocabulary of traditional Chinese paintings to create moving contemporary dreamscapes. Photo courtesy of the artist.

Lee's work was recently shown in the 2012 New Museum Triennial. Architect and collector William Lim describes Lee's works as, "very sensitive works with painted daily objects or fabrics, encouraging people to 'use' them or even throw them away." Photo courtesy of William Lim.

Pak's works, one of the first Hong Kong contemporary artists to be collected by Tate Modern, are "very conceptual and totally non-commercial," says architect and collector William Lim (himself an artist as well). "It challenges the collector to collect his work. One of his works is to buy 24 hours of his time." Photo: Installation from "Making (Perfect) World: Harbour, Hong Kong, Alienated Cities and Dreams" at Venice Biennale 2009. Photo courtesy of the artist.

According to Alan Lau, board member of Hong Kong's artist-run, non-profit Para/Site Art Space, "subtle political statements came through many of Kwan's works, [such as] depicting the state of helplessness that many feel in Hong Kong in "Drinking a Glass of Hot Chocolate with a Fork." Photo courtesy of the artist.

Alexandra Seno, visual arts writer for the Wall Street Journal, is really excited about the direction of Shieh's new works: "He's broken away from being appreciated simply for his skill as a pretty gongbi/fine brush painter, to someone with a voice on local social issues, expressed with a unique Hong Kong brand of humor and cynicism. His recent show at Osage, where he invited people to watch him work in the gallery for a month, was a breakthrough. I thought the mixed media piece where a giant drawing of the penultimate Chinese revolutionary Sun Yat Sen, smashes a sign with Wilson Shieh's name with a kung fu high-kick said it all." Photo courtesy of Osage Gallery.

"Tsang's works deal with a surface beauty and a hidden emotion that is often the opposite, which is very much a Hong Kong phenomenon. He just did an installation at Mori Museum MAM project called The Fifth Seal that is really beautiful and should put him in the league of established international artists," says architect and collector William Lim. Photo of installation at: La Sucriere, Lyon, France, 2009. Photo courtesy of the artist.

Marisa Yiu and Eric Schuldenfrei, founders of design collaborative ESKYIU, love Tse's beautiful and surprising ceramic works of everyday objects. Photo courtesy of Osage Gallery.
Follow Winnie So on Twitter: www.twitter.com/littlecreamlife