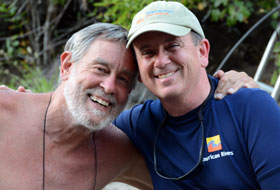 Mark Dubois and Bob Irvin | © Elizabeth Soderstrom
On a recent float trip down California's Tuolumne River, organized by the Center for Watershed Sciences at the University of California Davis, I had the pleasure of meeting one of the true heroes of river conservation, Mark Dubois.  Mark founded Friends of the River as well as International Rivers and organized the international celebration of Earth Day on its 20th anniversary in 1990. Mark also literally put his life on the line for a river when, in 1979, he chained himself to bedrock in a dramatic bid to block the destruction of California's Stanislaus River behind the New Melones Dam. While Mark's action was temporarily successful, a few years later, following heavy winter rains and in an unfriendly political climate, the reservoir was filled and the wild Stanislaus was lost.
Over the course of our 3-day trip on the Tuolumne, Mark and I talked about environmental battles won and lost.  We agreed that, while we celebrate our all-too-rare victories, it is the defeats that we cannot forget and which make us more determined to not lose the next battle.  The Tuolumne River itself is a good example of this.
The Tuolumne plunges out of the northern side of Yosemite National Park, flowing through the spectacular Hetch Hetchy valley.  In the early 20th century, when San Francisco decided to build a water supply and hydroelectric dam that would flood Hetch Hetchy, John Muir, founder of the Sierra Club, memorably wrote, "Dam Hetch Hetchy!  As well dam for water-tanks the people's cathedrals and churches, for no holier temple has been consecrated by the heart of man."  Despite Muir's opposition, however, O'Shaughnessy Dam was built and Hetch Hetchy was lost.
As Tim Palmer has described in his excellent history, Endangered Rivers and the Conservation Movement, the memory of Hetch Hetchy lived on, providing inspiration for battles to save other rivers in the second half of the 20th century.  Eventually, the remaining wild section of the Tuolumne River itself was saved in 1984 when Friends of the River, the Tuolumne River Trust, and American Rivers led a successful campaign to convince Congress to protect it under the federal Wild and Scenic Rivers Act.
Safeguarding a river as Wild and Scenic protects it from new dams and other harmful development. It also preserves the river's special values, such as clean water, fish and wildlife, scenery, and recreation.  
Hemmed in upstream and down by reservoirs, the Tuolumne is no longer entirely wild, as it once was from the Sierra to its confluence with the San Joaquin River.  Now, the flow of the river is dictated not so much by the weather but by the daily schedule of water releases from upstream dams.  Nevertheless, enough of the wild Tuolumne remains and is protected so that one can paddle its Class IV and V rapids, spot a black bear cub on a hillside, watch native Sacramento pikeminnows in tranquil pools, and spy a pair of bald eagles on their nest in a tall gray pine.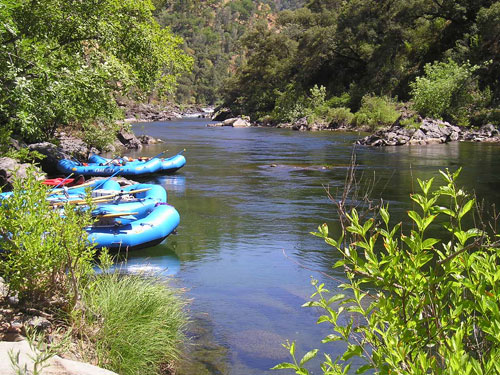 Tuolumne River, CA | © Bob Irvin
Providing experiences like this for future generations is at the heart of efforts by American Rivers and others to protect our remaining wild rivers.  It is why securing new Wild and Scenic designations for our nation's most outstanding rivers has been a core part of our mission over the past 40 years. It is also why we work hard to defend existing Wild and Scenic rivers, and prevent rollbacks of key protections for those rivers. For example, we gave California's Merced River a 'special mention' in this year's list of America's Most Endangered Rivers® because of attempts in Congress to remove longstanding Wild and Scenic protections from a section of the river.
Nationwide, efforts to safeguard wild rivers are gaining momentum. Recently, the U.S. Senate passed several bills to designate new Wild and Scenic rivers in Washington, Oregon, and Delaware.  An effort to convince Congress to protect hundreds of miles of new Wild and Scenic rivers in Montana also is underway. 
None of this will come easily.  Wherever a wild river remains, there will always be those who want to dam it, divert its water, or pollute it for profit.  But as my trip down the Tuolumne River reminded me, it is the memory of rivers lost, as much as those that have been saved, that inspires us to work to protect wild rivers, today and in the future.