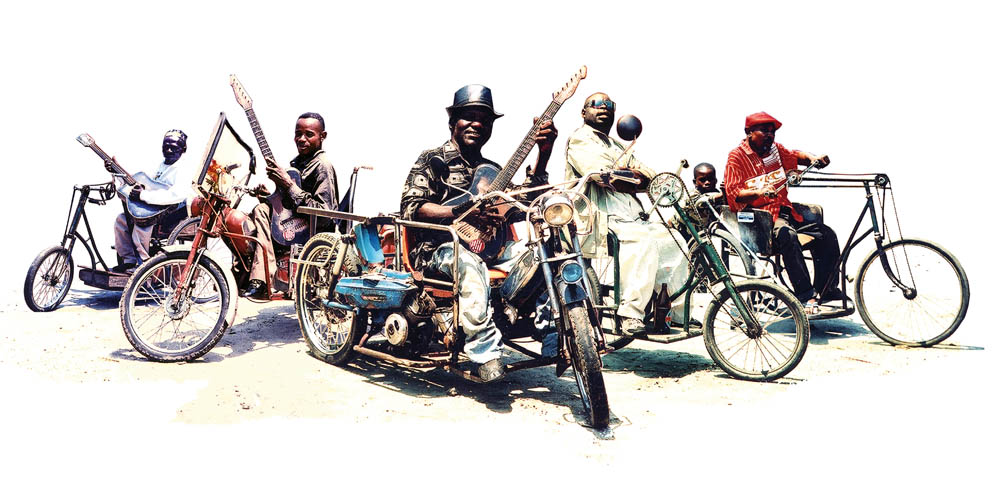 Update 9/14: This concert (and others in the U.S.) has been cancelled, unfortunately, due to issues in processing the band's visas. From their agency: "...we are hopeful that we can bring them for dates next summer. Maybe we can reschedule for that time."
This Thursday September 15, a win-win-win scenario unfolds if you like good music and two good causes. Win #1 is the rare chance to hear the sounds of the Congolese band Staff Benda Bilili making their first LA appearance. With a mix of regular and self-made instruments, some have compared them as the next big world music thing since the Buena Vista Social Club. In their music, you feel the pulse, the wails, the soul that goes joop-joop-joop from the streets of Kinshasha to stages everywhere perhaps not since US funk came there for the Ali-Frazier fight captured vividly in the film When We Were Kings. You can hear samples here.
Win #2 is helping the musicians themselves get over substantial hurdles, physical and political by doing so. The subject of a documentary shown at 2010 Cannes Film Festival, the core members of Staff Benda Bilili have been stricken with Polio, a fact that is a source of their performance and a spiritual motivator in a society in which they could have been outcasts, they've managed to flip that into some kind of rebel vibe. An excellent recalling of that can be found in a blog about their situation by Brandon Perkins posted here two years ago, before their US journey was even thought possible.
Win #3 is that this concert is a benefit for the Grand Performances public arts program. Now in its 25th year, Grand Performances has been bringing quality entertainment for free to LA communities of all varieties and cultures -- and doing so in a cutting edge, dynamic way as opposed to something that quite honestly could be hokey or cheesy by playing to the lowest common denominator of family fun. But GP and its program director Leigh Ann Hahn, takes chances like this concert. And we are all better off as result.
Staff Benda Bilili in Concert to benefit Grand Performances. At LA Theater Center, ---- Spring Street. Showtimes are 7:00 and 9:15. Tickets are $40 and tax-deductible. www.grandperformances.org
This post has been modified since its original publication.
SUBSCRIBE TO & FOLLOW THE MORNING EMAIL
Start your workday the right way with the news that matters most. Learn more