Before embarking on the journey that was the Clinton Global Initiative, I publicly confessed that butterflies had taken up residence in my stomach. Now I can gladly share, that the squatter butterflies have been evicted and CGI was a success. CGI is what you make of it. While the nine to five was insightful, informative, and interesting it was ultimately the afterhours activities that made my CGI experience so memorable.
Let's begin with the nine to five. Was it what I expected? Who knows. In all fairness, I think I was expecting hourly fireworks, dancing flash mobs, and a political coup or two; however, what I experienced was much more down to earth, in the most positive sense of the phrase.
President Clinton was a perfect leader, speaking articulately, informatively, and with such charisma it hurt. The man is a Rhodes Scholar, and it shows. His fearless wife commanded the room with grace and knowledge, and did the country proud. Leaders (political and thought) such as President Obama, Bill Gates, Richard Branson, Arianna Huffington, and Michelle Obama all shared knowledge and infectious dedication with the CGI members.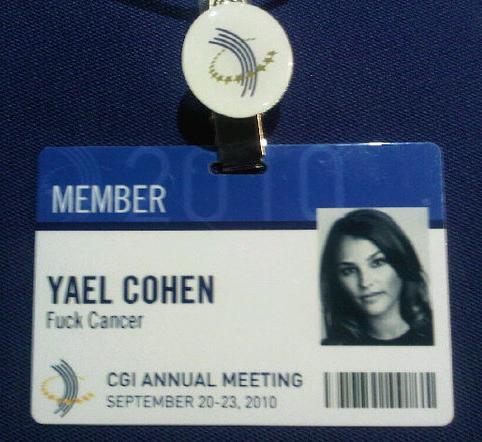 Jim Carrey spoke passionately about SRI, a farming technique that increases rice yields substantially. It was inspiring to see this notoriously funny man speak so calmly and with such knowledgeable enthusiasm for a worthy cause. Check out his Better U Foundation for more info. Jim irreverently closed the session by declaring "Game on, world hunger". Game on.
Ashton Kutcher and Arianna Huffington spoke with wit and charm, while talking circles around social media, technology and transparency. While there wasn't a spare seat in the room, the intent silence was broken only by thousands of fingers eagerly tweeting their every whim and word.
Now enough about the scheduled program, let's cut to the nitty gritty, super funny, afterhours, but oh-so-worth-it parts! President Clinton... is funny. Yes, I said it. The man is a gold mine of tweetable quotes, endearing moments, and laugh out loud stories. While obviously he spoke of heavy topics and grave need, he also managed to bring an air of humanity and humor (where appropriate). My favorite (which I instantly tweeted) being, "(Bill) Gates makes me look like I'm mentally retarded". Now -- before you get your back up -- it's important to realize that this was not meant to be slanderous, inappropriate, or insensitive. It was meant as a truly complimentary token of respect. I can see how out of context this can be misinterpreted, but as someone sitting in that audience, I can tell you it was humble, endearing and kind.
As you can see, the nine to five of CGI was sufficiently amazing. However, it was really the extra-curricular activities that rounded out the experience. Between dancing like fools with Petra Nemcova at the Shakira concert, reconnecting with the always inspirational Fran Drescher, or good tequila and a bad pool game with Lance Armstrong, I would be hard pressed to imagine a better way to avoid sleep!
All in all, the week was successful and informative. I left feeling emboldened to continue pursuing the FCancer mission more fervently than ever. The responses I got were beyond positive, and let me know that we are indeed on the right course, with some amazing support behind us. The Clinton Global Initiative is a force to be reckoned with, rife with commitment, enthusiasm, and altruistic amour.
Until next year.
SUBSCRIBE TO & FOLLOW MUST READS
The internet's best stories, and interviews with the people who tell them. Learn more