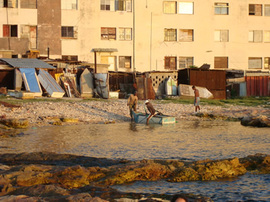 Today I bring you photos of the port that gave its name to thousands of Cubans and then fell into a long oblivion for thirty years. "Los Marielitos" left from there and in my primary school we were told they had been looking for "drugs and perversions" on the other shore. So I imagined them at a neverending party of alcohol and laughter ninety miles away. At five, I couldn't understand that the shouting in the building and my grandmother forbidding us to play in the hallway was because of the repudiation rallies. The "farewell" was demeaning for those who were leaving an Island that had proclaimed itself a utopia.
The eggs were flying here and there, some they threw and others they smashed on their faces, doors and windows. The word "scum," taken from the lexicon of smelting, was awarded to those who didn't throw themselves into the crucible of the social process. We went back to being divided, conflicted and separated. Parents and children were not allowed to speak because one of them had chosen the path of exile. Letters weren't opened and calls weren't answered by those who stayed, believing the line about fleeing traitors. My teacher would ask if, "Mama or Papa received gifts from their family in the North." More than one of my friends gave away, without knowing it, the hidden relationship their family had with the other side.
I don' t think we'll go back to having other events such as the Mariel Boatlift. Emigration happens more quietly now, in rocky coves where--in the early hours every morning--someone launches themselves into the sea, and in the consulates crammed with people looking for a visa. They no longer use the harsh adjectives of the past, now they're called "economic emigrants," but the property they leave behind continues to be confiscated. To the west of Havana, however, we have the sad reminder of when thousands screamed, "Scum get out! Go! Go!"