THE BLOG
5 Lessons from the NAB
By Noah J. Nelson
If you've been following our coverage of the National Association of Broadcasters Show this week you know how overwhelmed I was by the experience. Truth is, I'll be processing what I saw there for the next few months.
LESSON #1: BIGGER IS NOT ALWAYS BETTER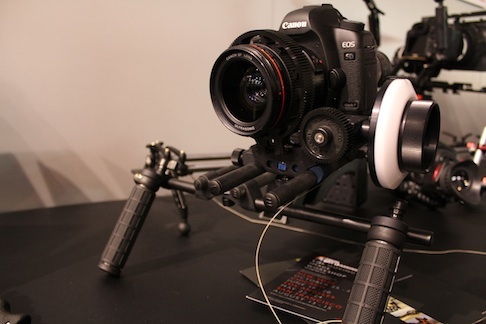 Look at this Canon 5D locked into one of Red Rock Micro's shoulder mounts. This is what the cinema camera of the future-- scratch that-- of TODAY looks like. My big takeaway from the show was that while Sony and Panasonic are battling it out for 3D Cinema production (see #2, below) Canon is making a play to take over 2D Cinema with its 5D and 7D cameras.
Sure, the RED digital cameras are still the King of the Hill if you're talking about high end 4K high-def, especially now that the multiplex chains are investing heavily in 4K digital projectors. Yet the 5D series is being taken up by TV and Web producers as a serious digital cinema tool. With the camera bodies starting at two and a half grand this puts quality tech within reach for the serious independent producer.
LESSON #2: THE 3D WAR IS JUST BEGINNING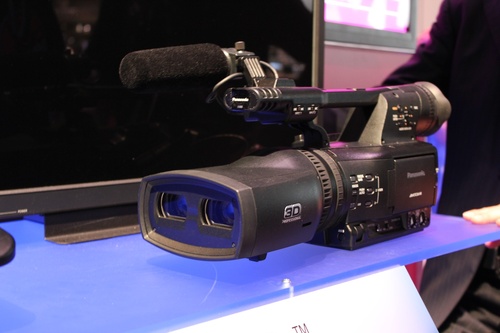 Pretty soon, when a professional cameraman sticks a lens in your face it will look like this.
3D is the future because the big media companies want it to be the future. They're betting their survival on it. Panasonic and Sony were in full on Barnum mode with their 3D offerings at the show this year, and the crowd was eating it up.
Now there are still all kinds of questions about how quickly 3D TVs will make it into America's homes. Not to mention the concerns that watching 3D for hours on end might not be all that safe. But that isn't the most interesting thing I saw about 3D at the NAB show.
Researchers were sequesteredIn the far corner of the Lower South Hall. It was there that I stumbled upon the work of the 2020 3D Media Research Project.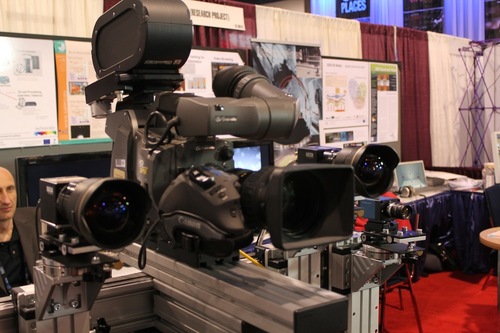 The project is experimenting with 3D capture, using a three camera setup to create "heat maps" of an object's distance within a picture. They're devising a system to measure the exact depth of every pixel within an image. This will allow, among other things, for more accurate placement of real actors in virtual sets. The test capture footage left me convinced that the kinds of 3D we are experiencing on TV and in theaters now, are just the tip of the iceberg.
LESSON #3: THE LIVING ROOM IS STILL THE BATTLEGROUND
If you grew up wanting to be on TV, now is your chance.
Devices like the Roku and the upcoming Boxee set top box are opening up the living room for web series and video podcasts. Todd Cochrane, from podcasting services company RawVoice, noted that even the Blu-Ray players are all being kitted out with internet TV functionality-- and that means that companies like his are making a play to get podcasts into your living room.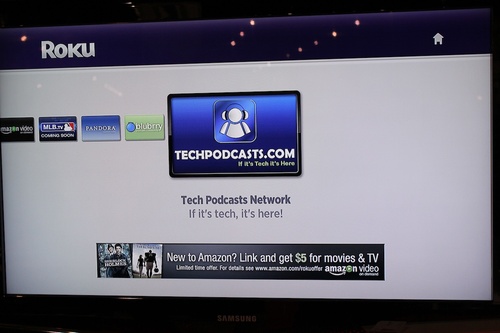 RawVoice's Blubrry Channel debuted on the Roku box this month with 200 shows streaming out to owners of the device, right alongside feeds from Netflix, Amazon, and Pandora. RawVoice has plans to get more channels (like Techpodcasts.com) on the device, and has designs to get their members content on other devices (like those Blu-Ray players) that can stream internet based video directly to television sets.
By making a play for the living room, upstarts like RawVoice are changing the shape of the media battleground.
LESSON #4: MICE ARE AN ENDANGERED SPECIES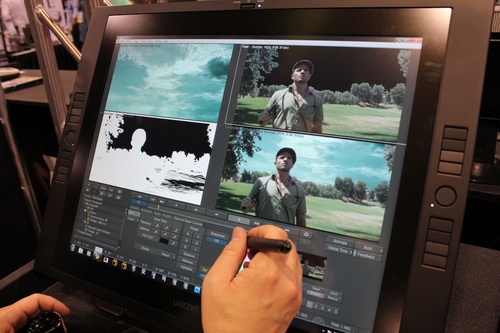 That, dear reader, is Wacom's Cintiqu 21UX, and I want one.
I don't even DO high end graphics work and I want one. That's okay though, because I do edit video and audio, and you can set up the tablet for those tasks as well. Watching a trained video editor work on a project in Adobe Premiere using the tablet screen made me realize that the mouse is not long for this world.
With more people becoming accustomed to touch screen devices like the iPad, and with the depth of functionality that pen based tablets provide, the computer mouse feels more and more like an outdated metaphor for a less civilized age. Throw in the jaw dropping features in Adobe's just announced CS5 (Bristle Brush anyone?) and the mouse starts to look like a child's toy.
LESSON #5: STEVE JOBS IS THE GHOST IN EVERY ROOM
Even at a show where the Cupertino giant has no formal presence, for a market that they seem to be ignoring, Apple's shadow looms large. I lost count of the number of booths that were using the iPad as their preferred method for demonstrating their wares. Or signing in guests. Or just having around to look cool and important.
When HP's Phil McKinney, vice president and chief technology officer of their Personal Systems Group, started a panel by showing off the HP Slate computer-- he said he wanted to sate the crowd's curiosity-- but I felt a bit embarrassed for him. The only palpable curisosity sensed, was why HP didn't just give up on out cooling the iPad.
As this panel on the future of digital storytelling went on I realized that just about every person presenting was from a company (HP, Adobe, PDI Dreamworks) directly competing with Steve Jobs' empire (Apple, Pixar). In just about every one of those markets Jobs' company has the edge.
Seeing the work Adobe poured into CS5, in order to make Flash easier for creatives to work with and to maintain platform dominance you can almost see the tears of blood forming in the eyes of Adobe executives as Apple ruthlessly cuts them out of the iPhone environment.
By owning the day to day computing experience of so many people Apple is looking to lock down how people expect technology to work, and in doing so limit where their competitors can make headway in nearly every market.
***
Originally published on Youthradio.org, the premier source for youth generated news throughout the globe.
Noah J. Nelson, professional hypocritic and writer/editor for @YouthRadio, can be harassed on Twitter where he posts as @areyouthatguy.
More from Youth Radio:
Youth Radio/Youth Media International (YMI) is youth-driven converged media production company that delivers the best youth news, culture and undiscovered talent to a cross section of audiences. To read more youth news from around the globe and explore high quality audio and video features, visit Youthradio.org

MORE:
Paris Shootings
,
Apple
,
What's Next
,
Steve Jobs
,
Sony
,
New Media
,
3d
,
Panasonic
,
Canon
,
Nab
,
Adobe
,
Roku
,
Broadcasters
,
Boxee
,
Wacom
,
Podcasting
,
Rawvoice