Originally published on Youthradio.org, the premier source for youth generated news throughout the globe.
OAKLAND, CA - Only 43 people were allowed in the courtroom for former BART police officer Johannes Mehserle's bail hearing. Mehserle shot an unarmed man named Oscar Grant on New Year's Day. The courtroom was divided down the center with the victim's family on one side, and Mehserle's family on the other. Alameda County Judge Morris Jacobson informed those assembled that rowdiness would not be permitted in his courtroom. Mehserle then made his entrance and members of Grant's family began sobbing. After the prosecution and defense offered arguments, the judge ruled that Mehserle is neither a flight risk nor a threat to the community and bail was set at $3 million. In the event that Mehserle makes bail, Judge Jacobson ruled that he will have to surrender his two handguns.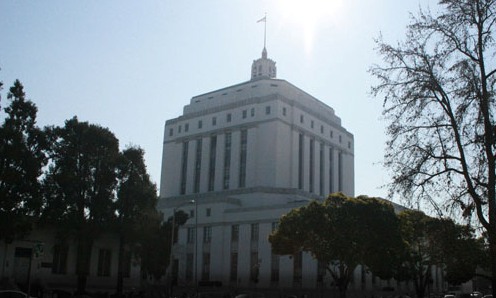 Photo Credit: Ayesha Walker/Youth Radio

Alameda County Courthouse, Oakland, Ca. January 30, 2009.
Michael Rains, Mehserle's attorney, expressed his client's sorrow to the victim's family, saying that Mehserle will always remember that he took a life. Rains stressed that New Year's Eve is considered a nightmare for most officers because of unruly crowds, adding that when Mehserle was dispatched to the scene, he was only aware that a fight had taken place and arrests needed to be made.
The defense contends that before Grant was shot he was resisting arrest and claims that witnesses were shocked that a smaller person, Grant, physically dominated Mehserle and his partner. Rains states that while Grant was resisting arrest, Mehserle stepped up and said to his partner "I'm going to tase him, I'm going to tase him," and accidentally pulled his gun.
The defense cited that Mehserle received 6 hours of taser training only 3 weeks prior to the shooting but never used the weapon in the line of duty. Rains describes this case as a "tragic tragic accident." The judge said he found inconsistencies with the defense's arguments, citing Mehserle's failure to mention anything at the scene about intending to pull a taser instead of gun, and exhibiting little remorse to his fellow officers.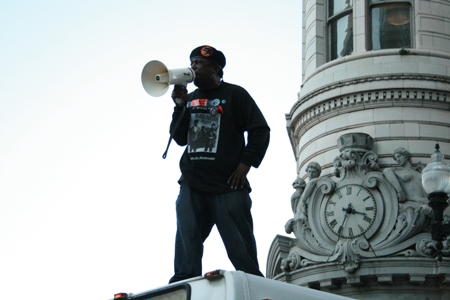 Photo Credit: Ayesha Walker/Youth Radio

Protester astride bus at 14th and Broadway, downtown Oakland, Ca. January 30,2009.
There was no rowdiness in the courtroom, only crying, but unrest spread to the streets of Oakland again tonight with reports of arrests and police firing non-lethal shots into crowds.
Youth Radio/Youth Media International (YMI) is a youth-driven converged media production company that delivers the best youth news, culture and undiscovered talent to a cross section of audiences. To read more youth news from around the globe and explore high quality audio and video features, visit Youthradio.org