In 2008, an estimated two-thirds of first-time voters supported Barack Obama, causing some analysts to peg 18 to 21-year-olds as a politically liberal voting bloc. But today, national polling data shows first-time voters are more ideologically diverse, both within parties and as a whole. Using data from CIRCLE, the Harvard Instittue of Politics and voting experts, Youth Radio illustrates how this new generation is shaping the face of politics.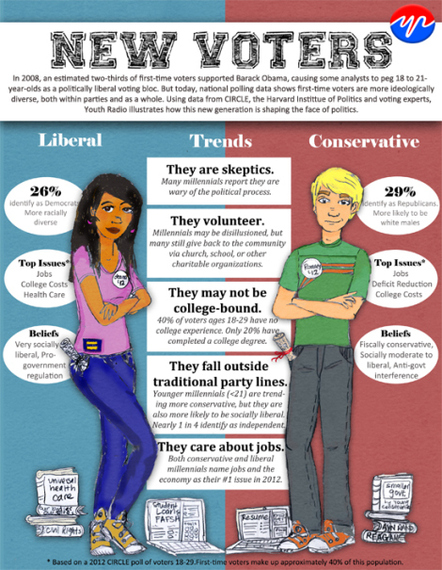 Illustration and graphic design by Teresa Chin. Reporting by Robyn Gee and Maya Cueva.
Originally published on Youthradio.org, the premier source for youth generated news throughout the globe.
Youth Radio/Youth Media International (YMI) is youth-driven converged media production company that delivers the best youth news, culture and undiscovered talent to a cross section of audiences. To read more youth news from around the globe and explore high quality audio and video features, visit Youthradio.org
SUBSCRIBE AND FOLLOW
Get top stories and blog posts emailed to me each day. Newsletters may offer personalized content or advertisements.
Learn more