Originally published on Youthradio.org, the premier source for youth generated news throughout the globe.
Hundreds of military service members are kicked out of the armed forces each year under "Don't Ask, Don't Tell". The long-derided policy was forged as a compromise in 1993 under the presidential administration of Bill Clinton- gay service members would be allowed to serve if they didn't reveal their sexual orientation with the implication that their superiors are not supposed to make inquires.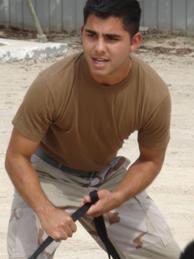 "In telling young service members that there is this legislation of "Don't Ask Don't Tell" you are legitimately encouraging the idea that there is something wrong with homosexuality."- Joseph Christopher Rocha
What happens when you are forced to hide part of who you are?
For 23-year old Joseph Christopher Rocha, a veteran who served in the Middle East, what happened was abuse.
Youth Radio/Youth Media International (YMI) is youth-driven converged media production company that delivers the best youth news, culture and undiscovered talent to a cross section of audiences. To read more youth news from around the globe and explore high quality audio and video features, visit Youthradio.org