Originally published on Youthradio.org, the premier source for youth generated news throughout the globe. (Produced with the assistance of Ardmore Sound in Bray, Ireland)

Youth Radio - Youth Media International has just returned from a reporting trip to Ireland, where news of President Barack Obama's choice for special emissary to the Middle East has special meaning. George Mitchell chaired the talks that led to the Good Friday Agreement, bringing peace to Northern Ireland. As Mitchell turns his attention to the Palestinian-Israeli conflict, Youth Radio explores the legacy of his negotiations in the youth communities of towns like Belfast and Derry. Young Catholics and Protestants are still living with divisions, and still experimenting with unexpected ways to keep the peace.
Here Youth Radio's Pendarvis Harshaw reflects from Belfast on inter-generational conversations about "The Troubles" and their aftermath.
Tommy Gorman is a proud Irish Republican who spent 13 years and 9 months in prison for his sins--and that was just one of his four sentences. He is known for escaping prison and swimming to freedom, after spending the majority of his time in prison covering his cell walls with feces as a form of grotesque protest, not only against the prison guards, but in protest of the British Parliament.
In the city of Belfast, Northern Ireland there is a "peace wall" that divides two of the city's most impoverished neighborhoods. These two neighborhoods also have divided religious beliefs: Catholic and Protestant. A community center called the Clubhouse has chapters on both ends of the quarter-mile graffiti-covered wall. I interviewed young people who attend both of these centers, and there was a common consensus. The struggle is not worth it.
Tommy Gorman, the aforementioned political prisoner, who spent the majority of the 70's and 80's in prison just outside of Belfast for his connections to the Irish Republican Army (IRA) agrees wholeheartedly. "Dont struggle." He said this so casually, so nonchalantly, but yet the words meant so much coming from a man who hated Margaret Thatcher with a passion deep enough to keep him away from his family during the years that mattered most. "I was in prison, but my wife did the time." Gorman served in an internment camp initially just for being associated with the IRA.
Gorman, a reserved man, starved himself for his cause, chose not to bathe to prove his point, and as I mentioned earlier (and can't stress enough) decorated his cell with his own excrement. Now he looks back at all that he went through in order to get the British out of Northern Ireland, and he says it wasn't worth it. He says that in comparison to the conflict going on now in Gaza, "I had a holiday while I was locked away."
And I'm standing here stunned--in a city erected for an ugly purpose but decorated with eye-catching political graffiti that references everyone from the self-educated Frederick Douglass to the uneducated George Bush--and I wonder, when is this divison going to end? Where is the hope for the future when there are still many little Catholic kids who go to school with other little Catholic kids--and never interact with their Protestant city mates? If the Catholic people don't want this division, and the Protestant people don't want this division, the question is not who WANTS this division, but who is profiting from this division. Gorman said it best:
"On both ends of the 'peace wall' the people of the working class suffer from the same deprivation: low employment, bad health, bad housing. No different on the Protestant side or the Catholic side. Get the people together to demand change as a working class group--not as Catholic and Protestant...realize they relate to the people on the other side of the wall [more] than they do to their masters. The people who have, still have. The people who have not, still have not."
I've known for some time now, around the world, from Gaza to Assata, political warriors' struggles are related: low levels of employment, bad health, bad housing. This man can be a warrior in the streets similar to Gaza and be a warrior in prison similar to Assata, and at the end of the day, what does he have to say to the youth?
"Don't struggle."

For more from the youth of Northern Ireland, check out this Youth Radio story based in the small town of Derry, where residents use quilting to keep the reconciliation going through entrepreneurship. Here's a glimpse into a Dublin school where "the students were from everywhere." And here's a lesson on Irish Slang 101 from a group of teens from Dublin's "inner city Kip."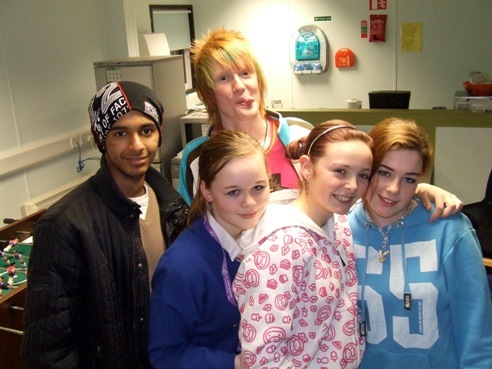 Photo Credit: Nishat Kurwa/Youth Radio
Teens at the Clubhouse youth center in Dublin, Ireland.
Youth Radio/Youth Media International (YMI) is a youth-driven converged media production company that delivers the best youth news, culture and undiscovered talent to a cross section of audiences. To read more youth news from around the globe and explore high quality audio and video features, visit Youthradio.org