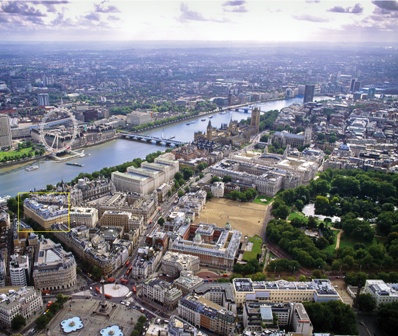 Here are some things I've been checking off on my "To Do" list for April: Get a flight to London in time for the royal wedding. Check! Find a fabulous hotel in the heart of all the action. Check! Buy a chic hat (or two) for all the festivities. Double Check! VisitBritian, the British Tourist Authority, estimates that Prince William's wedding could draw up to a million more international visitors to London than there was for Charles and Diana's nuptials in 1981. With the royal wedding just five short weeks away, if you wish to be in London for the big event on April 29 but haven't made any arrangements yet, there's still hope.
British Airways has special royal wedding weekend packages departing on April 27 and returning on May 1. Coach fares start from $1096.50 per person, and includes a three-night stay at a selection of hotels ranging from 2 to 5-star properties. If you want to travel in princely style, take a cue from Prince Harry and go for an upgrade. Harry flies British Airway Business Class on his jaunts to New York, and I know that BA is also popular with other royals who travel on the New York-London route. So who knows? You might just find yourself sitting next to a prince on your next flight.
Cunard's fleet of luxury ocean liners are celebrating the royal wedding with a a viewing party, and a live, big-screen telecast of the royal nuptials on April 29 in the Royal Court Theatre. Other onboard festivities include a grand royal wedding ball with a big band orchestra, a royal wedding afternoon tea, and special commemorative menus to mark the occasion. As of this post, there is still availability on the April 26, transatlantic sailing from New York to Southampton onboard the Queen Mary 2, an April 24, Mediterranean itinerary on the Queen Victoria, and a Canary Islands sailing onboard their newest ship, the Queen Elizabeth on April 19.
If you want to be in London during royal wedding week, many of the city's top five-star, luxury hotels are either fully booked, or are expected to be, and they're charging the full rack rate with a minimum three-night stay. Expect rates around the £650 (US$1000) range per night plus VAT 20%.
However, there are a few gems that can be had for much lower without sacrificing comfort or style. One Aldwych, a contemporary luxury property in Covent Garden, has availability for the week of the wedding at £355.00 (US$568) + VAT 20% per night, and there's no minimum-night stay requirment -- something of a rarity for a centrally-located hotel during wedding week. They're also offering a "Modern Romance Royal Wedding" package over the holiday weekend (for arrivals on April 28 or 29), with room rates from £465.00 (US$744) + VAT 20% per night, which includes accommodation for two in an Aldwych Room, breakfast and dinner for two, and treats such as champagne and a mini traditional wedding cake in the rooms upon arrival. The hotel's screening room will broadcast the 11am ceremony. Of course, what would a celebration be without an appropriately-themed feast? At One Aldwych's Axis restaurant, their Executive Chef has created his modern take on royal wedding menus of the past, and incoporates dishes featured at Queen Elizabeth's and Queen Victoria's weddings.
London's newest luxury, five-star property is the Corinthia Hotel London (their Paolo Mantovani Suite pictured above), meticulously restored from a landmark Victorian building. Just steps from the royal wedding procession route in Whitehall, this grand hotel officially opens in April, taking reservations for April 16 onwards, but has already made a huge splash in the London scene hosting a pre-BAFTA (the British Oscars) lunch, as well as the GQ Style and Vanity Fair parties. The Corinthia's 294 guestrooms and seven signature suites are the most spacious in London, and the hotel has availability during the royal wedding weekend starting from £495.00 (US$792) + VAT 20% per night.
For those interested in a right royal brunch, head over to the Ritz hotel (www.theritzlondon), where the Queen celebrated her 80th birthday, and where Prince Charles took William and Harry for annual Christmas parties. The Ritz restaurant is hosting a Royal Wedding Brunch for £150.00 (US$240) per person on April 29, featuring themed food stations and an outdoor terrace grill. Guests can watch live streaming of the wedding on television screens while sipping champagne, and take home a limited-edition, decorated keepsake embroidered with the initials of the royal couple and the wedding date. For reservations via email: enquire@theritzlondon.com.
So now, you've found a way to get to the UK, have a place to stay during the royal wedding, and a way to celebrate in regal style. The hat, however, I can't help you with. See you in London!
FOLLOW HUFFPOST