This blog is the first in an ongoing series following the Down the Colorado Expedition, a source to sea river journey.
Lake Powell. You may have heard of it. It's a picturesque alpine lake nestled in the craggy peaks of Rocky Mountain National Park. Fed by snowmelt and seated in a bowl of exposed granite, the lake lies cold and clear well above 11,000 feet. Lake Powell is the Rocky Mountains at their best: pristine, rugged and wild. No trail makes its way down from the lake but a creek does. It flows out of Powell over a series of waterfalls, which pour down a giant staircase of rock ledges. In the alpine meadows below, the stream meanders through swampy grass where moose abound.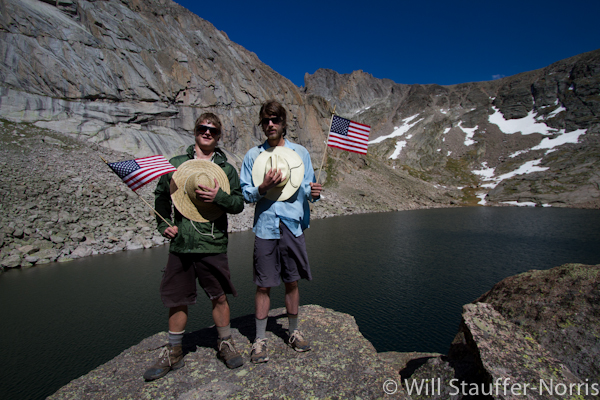 If you follow that creek 500 miles and nearly 8,000 vertical feet downstream, you'll end up in the middle of another, more famous, Lake Powell that stretches across much of southern Utah. The two lakes don't have much in common save the name and their shared waters. One Powell is the second largest reservoir in the country, filling the sandstone walls of Glen Canyon. The other is about as close to a perfect source of the Colorado River as you can get. Situated well above tree line, this Powell marks the beginning of the North Inlet creek, which feeds Grand Lake below. Both the lakes take their name from John Wesley Powell, the one-armed civil war veteran who was the first known explorer to climb Longs Peak in Colorado and to navigate much of the Colorado River, including Glen Canyon and the Grand Canyon.
Anyone who does an extended raft trip on the Green or Colorado Rivers is compelled to look on J.W. Powell's harrowing first descents of the river with awe. Their bags of moldy flour and wooden boats find their way into the imaginations of many river-runners to this day. To follow the Colorado River is to follow in the tracks of this man.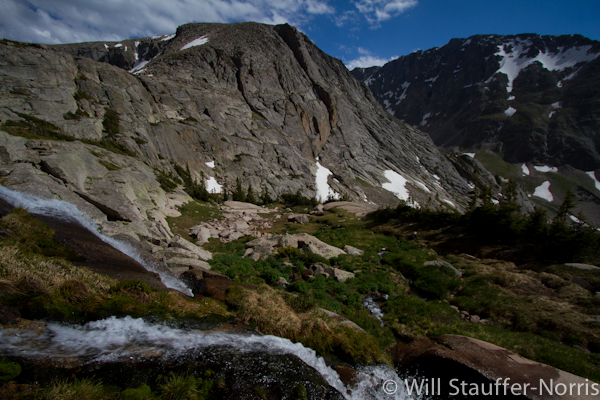 Hiking to the alpine Lake Powell recently with just such an extended river trip in mind, I found myself having similar thoughts. With me is a team of three other field researchers for the Colorado College State of the Rockies Project, and our plan is to follow the river 500 miles from one Lake Powell to another over the course of about 50 days. We plan to float the rest of the river to the sea this fall.
Last winter, Will Stauffer-Norris and I, half of the current crew, traced all of Powell's initial 1869 river route and more as we followed the Green and Colorado Rivers from Wyoming to Mexico over a period of 113 days. Now, less than six months later, we're hiking towards another source of the river, this time on the Colorado side of the basin. While the last trip produced a film that is now being released in weekly segments by NRS Films, we've added a few new elements to the current expedition. Along the way, we'll be taking water quality observations and interviewing numerous stakeholders in the basin. Talking to ranchers, farmers, business owners, river advocates, and politicians, we hope to share some stories from the Colorado watershed in the words of the people who live there as well as in photos and videos from the trip which will appear frequently on our expedition website. The trip began on June 15th and will continue, in several segments, on through the winter.
Anybody who has visited Colorado's high country recently has probably been struck by a similar observation. There isn't much snow up there right now. As we hike up to Lake Powell, we passed only a few scattered patches of the stuff, about two percent of average for this time of year. That's compared to last year's snowpack of over 200 percent. We haul our small inflatable packrafts high into the park, but it's unclear when we'll see enough water to float them. Locals we talk to say low rivers and yellow hillsides look more like September than June.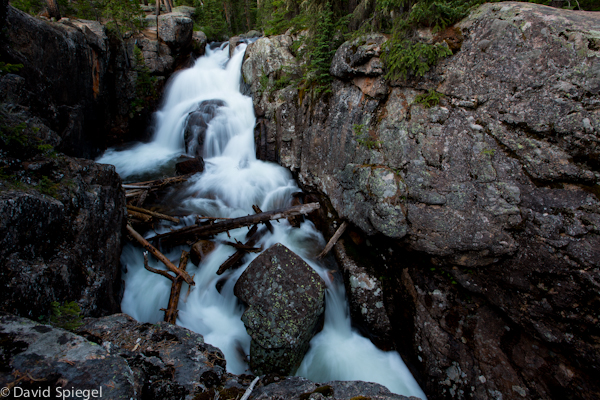 Needless to say, it's a good year to discuss water. As we push our way through brush and climb over downed trees, we think of John Wesley Powell who spent much of this life worrying about water use. He argued that settling the West would be a process of reshaping the few rivers that flow there, and Westerners are indeed living in the legacy of that prediction. But as we work our way towards his lake, the diversions, dams and threats of water shortages grow more remote. Although the lake is only five miles from our camp, we don't arrive until well after noon. We dip our hats in the lake, wave our flags in Powell's honor, and try to imagine what lies in store for us between these mountains and the desert Lake Powell. Will we have enough water to float our boats or will we be forced on foot for much of the weeks ahead? What will the people we meet have to say about the river, and what will be the legacy of this drought?
In 1869, Powell wrote, "We have an unknown distance yet to run, an unknown river to explore. What falls there are, we know not; what rocks beset the channel, we know not; what walls ride over the river, we know not. Ah, well! we may conjecture many things." Despite our GPS technology and our planned schedule, this quote finds some resonance with us. We may have some idea of what to expect downstream, but we too face the same uncertain future, the same thrill of walking towards the unknown. As we take our first steps towards the sea in a landscape almost as wild as it was in Powell's day, the thrill of the journey ahead, the thin mountain air and the landscape all leave me exhilarated.
That night, we unroll our sleeping bags beneath a spread of stars. While waiting for sleep, I listen as the wind whispers in the pines, and to the creek as it plunges down the nearby cascades. It flows onward into the night, anticipating our own journey just begun.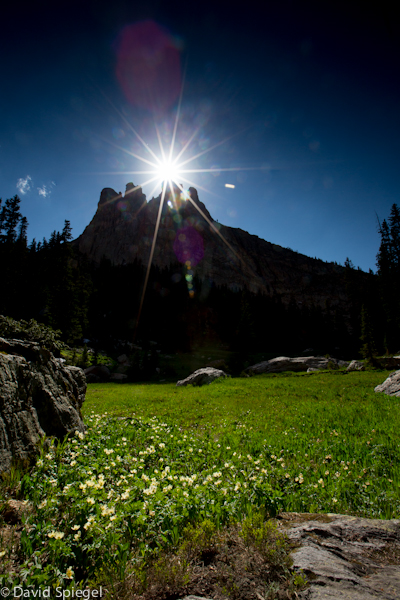 SUBSCRIBE AND FOLLOW
Get top stories and blog posts emailed to me each day. Newsletters may offer personalized content or advertisements.
Learn more