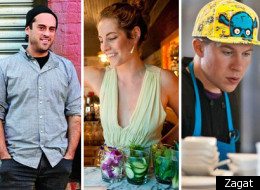 New York City's food scene is thriving, thanks in no small part to creative young chefs, mixologists, sommeliers, entrepreneurs and restaurateurs who see that it never gets stale. In our second annual round-up honoring the industry's up-and-comers, these 30 rising stars are making indelible marks in their fields. Who will become the next Danny Meyer? Who will host the hottest new cooking show? Who will spearhead the next big cocktail craze? Click through the slideshow to meet the next generation of Zagat's 30 Under 30 New York...


Chef de Cuisine, Jean Georges Jean-Georges Vongerichten had his eye on this rising star since Battes first stepped into the kitchen at Jean Georges as a 19-year-old CIA extern. Battes briefly moved on to Los Angeles to work at Water Grill under chef Michael Ciramusti, but soon found himself back at Jean Georges as a line cook. A year later, he helped open Perry St., where he was eventually promoted to chef de cuisine. But Battes felt the need to spread his wings, so he flew the JGV coop once again, this time to BLT Restaurants as a corporate chef. He couldn't resist the lure of his mentor, however, as Battes has been recently named the chef de cuisine who will lead JGV's flagship though its spring renovation. Vote for your favorite restaurants in our NYC survey!

Anup Joshi, 27 Chef de Cuisine, Tertulia A culinary explorer, Joshi started his career as a teen at an Italian restaurant in his New Jersey hometown. After moving to New York and working with chef Wayne Nish at March, his hunger for travel brought him to Europe, where he picked up a passion for Spanish culture and cuisine. Upon his return to New York, he sought out a fellow Hispano-phile, Seamus Mullen, and worked with him at Boqueria and Suba. He moved on to help Harold Moore open Commerce before setting off to learn about his own heritage in India, where he traveled for six months before coming back to NYC to earn raves with Mullen at Tertulia. Vote for your favorite restaurants in our NYC survey!

Co-owner, Proprietors LLC Day's start at Death & Co. has proven so successful, he and partner David Kaplan are on a mission to make sure that no one has to drink a poorly made cocktail the whole world over. As a consultant, Day has helped launch projects from New York to Los Angeles to Jackson Hole to Mumbai. He also spreads his gospel as a featured speaker at events like Copenhagen Spirits and Cocktails and Tales of the Cocktail in New Orleans. Now he's throwing java into the mix too, with the May opening of Demi Monde, a combo coffeehouse/bar/restaurant opening in the Financial District.Vote for your favorite restaurants in our NYC survey!

Corporate Executive Pastry Chef, ESquared Hospitality Perfect pairings play a huge part in the success of this self-proclaimed "alpha personality," from her start partnering with leading savory chefs at Le Cirque, La Fonda del Sol and Convivio to balancing flavors in current creations like her torta di cioccolato (chocolate olive oil mousse, devil's food cake and amaretto crunch gelato). When she's not overseeing the sweets at ESquared's 10 restaurant concepts, including BLT Steak and Casa Nonna, Elkind works on her kickboxing agility at the gym. Next on her plate: a revamp of the former FoodParc at the Eventi Hotel.

Sommelier, DB Bistro Moderne As a young oenophile, Ganzer started his career as a freelance food and wine writer for the University of Illinois alumni magazine and as a wine columnist for Buzz magazine. A semester in Paris solidified his desire for a wine-centric career, so upon graduation in 2009, Ganzer started within Boulud's Dinex Group, first as a server at Café Boulud/Bar Pleiades before moving on to sommelier positions at DBGB and Daniel. His wine dinners at DB Bistro Moderne have become so popular that the Miami branch of the restaurant "borrowed" Ganzer to curate a series down South. He's now back in his home terroir, hard at work on his popular "Tasting Table Tuesday" wine dinners. Vote for your favorite restaurants in our NYC survey!

Executive Chef, Lambs Club Born in South Korea, raised in Chicago, this Johnson & Wales grad apprenticed at Thomas Keller's famed French Laundry in Napa before moving back east to Rhode Island to take over the kitchen at the Ocean House in Westerly. While there, one of his dishes - foie gras banana bread terrine - caught the eye of Food & Wine editor-in-chief Dana Cowin. She named it one of the "Top 10 Dishes of 2011," calling it "the most luxurious comfort food imaginable." Haugen is now honored to work with culinary vet Geoffrey Zakarian in what he calls "the best restaurant city in the world."Vote for your favorite restaurants in our NYC survey!

Co-founder, Coolhaus This former architect decided to design confections instead of buildings in 2009 when she and partner Freya Estreller bought a dilapidated postal truck off Craigslist to sell ice cream sandwiches. The sweet idea - naming sandwiches like the "Frank Behry" after famous architects - took off, and Case now oversees a fleet of trucks in NY, LA, Miami and Austin as well as a brick-and-mortar storefront in LA. Coolhaus is so hot that its treats are now sold at retailers like Whole Foods across the country, and Case recently bolstered NYC's offerings with an outlet at Citi Field. A book by Case and Estreller about the company's beginnings is in the works too. Vote for your favorite restaurants in our NYC survey!

Consultant, China Grill Management If the last name seems familiar it's because Zach's dad is restaurant magnate Jeffrey Chodorow, founder of dozens of eateries from Asia de Cuba to Tanuki Tavern. A graduate of the Wharton School of Business, young Chodorow started showing early signs of a savvy apple-off-the-tree when he sold $20 hot dogs outside a trendy Hamptons club at age 22. Now, after joining China Grill Management, son, like father, is undaunted by any concept, helping to develop the mod Eastern Euro Kutsher's and Chinese hot spot RedFarm. Zach is now hard at work on pursuing new locations for RedFarm, and we're excited to see what he has in store for the lounge/bar annex for the West Village original.Vote for your favorite restaurants in our NYC survey!

General Manager/Sommelier, Marc Forgione When he first moved to New York in 2004, Conway made such an impression at the American Sommelier Association (ASA) that its president recommended him to legendary chef Gray Kunz. He went on to work with Kunz at Café Gray and Grayz, where he developed the formidable skills to become a judge for the ASA's Best Sommelier in America Competition and as the official som for the James Beard Awards. Conway is also the third American in his field to complete the three-month training program at Paris' famed Taillevent.Vote for your favorite restaurants in our NYC survey!

Chef, Earl's Beer and Cheese, ABV A former navy man who worked as a cook aboard a submarine, Cova's military career was derailed by a knee injury. But that didn't keep him away from the galley - he then enlisted at the CIA before working his way up the ranks with chefs such as Michael Symon, Masaharu Morimoto and David Chang. He now commands two East Harlem kitchens, where he's earning salutes for quirky comfort creations like a foie gras Fluffernutter sandwich and grilled cheese with pork belly, kimchi and a fried egg.Vote for your favorite restaurants in our NYC survey!

Sous-Chef, Le Bernardin This quick learner started as a dishwasher in Detroit at 15 before rising to cook within six months. But it was a trip to France that foreshadowed the real trajectory of his career. "It was when I dined at Maison Pic that I truly learned to appreciate the lighter approach to classic French techniques," he says. That experience drove him to work at Chicago's Les Nomades under Gray Kunz before moving to Zagat Survey's highest-rated New York City restaurant, Le Bernardin, in 2008. Chef Eric Ripert recognized the young talent and put Montagne on the fast track in the kitchen: he's risen from line cook to sous-chef in just Bill Montagne, 27two years.Vote for your favorite restaurants in our NYC survey!

Director of Operations, EMM Group This host with the most honed his front-of-the-house skills at hospitality havens such as Gotham Bar & Grill, Jean Georges, The Modern, Atria and Grayz. He's also a pro in wine, serving on Gilt Taste's panel of experts for their wine division. Landsman joined the EMM Group in 2009, where he oversees all operational logistics for Abe & Arthur's, Lexington Brass and the group's most recent opening, Catch in the Meatpacking District.Vote for your favorite restaurants in our NYC survey!

Director of Operations, Motorino, Bowery Diner This man-of-many-hats learned the restaurant business from every angle possible. After working his way through Temple University via several eateries, four months in Rome primed Lobdell for a position at Philadelphia's Bistro Romano, where he served as caterer, busser, host, expediter and bookkeeper. When he moved to NYC, his sharp business skills caught chef Mathieu Palombino's eye, and soon Lobdell started keeping books at Motorino in Williamsburg. He's since grown with the mini-empire, opening a second branch of the pizzeria in the East Village, and rising to his current position upon the opening of Bowery Diner, where he is the ultimate make-it-work guy.Vote for your favorite restaurants in our NYC survey!

Pastry Chef/Co-owner, Christian Vautier Le Concept An appreciation for good food has always been a part of Malhotra's life. Her grandfather was responsible for introducing the flavors of Indian food to New Yorkers at the 1967 World's Fair with his restaurant, Gaylord. Her family also brought the well-regarded Akbar and Nawab to Park Avenue and New Jersey. Switzerland provided the backdrop for her studies in hospitality, however, where she attended the Gilon Institute. She has since added to her culinary passport with experience under Pichet Ong and Masaharu Morimoto before settling into her true culinary passion, the pastry arts, with Parisian chocolatier Christian Vautier. Her creations, such as Sichuan pepper ganache, showcase the best of her worldly skills.Vote for your favorite restaurants in our NYC survey!

Bartender, Clover Club; Co-founder, Speed Rack Dedicated to injecting girl power into the cocktail scene, agave-lover Mix got her start in NYC at Mayahuel, Fort Defiance and The Counting Room before teaming up with cocktail countess Julie Reiner at Lani Kai and the Clover Club. She is a co-founder of Speed Rack, a country-wide bartending competition for women that raises money for breast cancer. She is also a proud member of LUPEC, Ladies United for the Preservation of Endangered Cocktails. Among her best-loved concoctions at Clover: the Tia Mia, made with mezcal, Jamaican rum, lime, orgeat and orange Curaçao.Vote for your favorite restaurants in our NYC survey!

Manager, Caffe Storico Kaithern's restaurant history has been a tale of two cities. In Philadelphia, she started in the kitchen at the Four Seasons Hotel, then went on to work front-of-the-house for local heroes Marc Vetri and Stephen Starr. In NYC, she helped launch Lincoln with Jonathan Benno before landing at Anita Lo's Annisa. The Starr organization lured her back for her current position at Caffe Storico in the New York Historical Society, which is currently making history as the first restaurant in the 19th-century building. There, she works with chef Jim Burke, also a native of the City of Brotherly Love. Vote for your favorite restaurants in our NYC survey!

Beer Director, Eleven Madison Park and NoMad Bottle by bottle, keg by keg, this brew connoisseur is changing the face of the blue-collar beverage by boldly showcasing beer to a fine-dining public. A lover of vintage beer, Kelewae's list boasts over 130 selections in 30 styles from 13 countries and 15 vintages. While working with Danny Meyer's Union Square Hospitality Group, he developed an eight-week beer curriculum and also custom-designed two new beers (along with brewmaster Garrett Oliver of Brooklyn Brewery) exclusive to Eleven Madison Park. He is currently working on a signature beer for NoMad.Vote for your favorite restaurants in our NYC survey!

Co-founder/Co-owner, The Smile, The Jane Ballroom, Westway, Smile to Go All the cool kids know who Matt Kliegman is - he's the guy to cozy up to if you want entree in the city's hottest clubs like Westway and the Jane Ballroom. But nightlife isn't his only forte - he and partner Carlos Quirarte also own the fashionable NoHo restaurant The Smile and its recent spin-off, Smile To Go, which is already proving so popular that we wouldn't be surprised if it became the first take-out operation with a velvet rope. But behind the hip exterior lies one of the industry's shrewdest business brains: Kliegman, a grad of NYU's Stern School, formerly worked at JP Morgan.Vote for your favorite restaurants in our NYC survey!

Manager, Public Perhaps it's her musical-theater background that makes Mary Zayaruzny know how to work a room, as her bar at Public is often crowded with loyal regulars. One of her longtime customers - talk-show host Jerry Springer - is such a fan he even helped back her original musical, All Caught Up, which ran Off-Broadway. Originally from the Ukraine, Zayaruzny started as a server at Public and then left for a brief stint to implement the bar program at Betel. Upon her return, she was promoted to bar manager, serving up signature cocktails like the hibiscus whiskey sour, before she became restaurant manager. Vote for your favorite restaurants in our NYC survey!

Co-owner, Torrisi Italian Specialties, Parm and Rocco After a stint in investment banking, this restaurant and web entrepreneur followed his heart to hospitality, starting in New York's Mandarin Oriental Hotel. He moved on to create the pioneering website Alwayshungry.com, which was nominated for a James Beard Award in 2009, and its success led him to partner with Joe Bastianich for the site DinePrivate.com. He has since sold both properties to partner with Mario Carbone and Rich Torrisi to open Torrisi and Parm on Mulberry Street (and a branch of Parm at Yankee Stadium). Credited with making old-school Italian cool again, Zalaznick and partners are banking on success for their next venue: a revamp of the Thompson Street classic Rocco.Vote for your favorite restaurants in our NYC survey!

Sommelier, Brushstroke Though he came to New York from Japan to study music, Yang also brought a keen appreciation for wine and sake to the U.S. The connection between these two passions often informs his pairings, he says. "When I go to the beach, I want to have fresh seafood with fino sherry while I listen to Claude Debussy's La Mer. When I have a chocolate soufflé with a glass of Madeira, I remember a bittersweet memory of my past love, and my mind is filled with the sound of John Coltrane playing a ballad." As sommelier at Brushstroke, his list, combined with the exquisite kaiseki menu, translates to a symphony on the palate.Vote for your favorite restaurants in our NYC survey!

Bar Manager, Booker & Dax This Albuquerque native's background is as well-mixed as an expertly shaken martini. In his hometown, he dabbled in law, diplomacy, gait analysis and even started an educational/economic nonprofit for high-schoolers before answering the call for the cocktail. He landed in NYC as a GM at PDT/Crif Dogs, tended bar at Amor y Amargo and then discovered distilling at Kings County Distillery. As the bar manager at the Momofuku annex Booker & Dax, he loves using cutting-edge technology to create signature cocktails like Cold Buttered Rum or the Lady of the Night, a bracing blend of tequila, tomato water, horseradish, Sriracha and Worcestershire.Vote for your favorite restaurants in our NYC survey!

Chef-Owner, Do or Dine A subversive sense of humor and an irreverent cooking style have made this young chef stand apart from the crowd of up-and-coming Brooklyn cooks. At 13, Warner claims to have intentionally failed as a dishwasher so he could be promoted to busboy, and he continuously worked in the restaurant trade before landing a GM position at a Colorado sushi restaurant by the age of 21. When he moved to New York, he sharpened his hospitality skills as a dining-room captain at The Modern, where he met his partners in Do or Dine. There, reading the menu is nearly as fun as eating creations like foie gras donuts (there's a Caesar salad called "Et Tu Brute"). Warner's social skills have since brought him out of the kitchen and in front of the camera, where he'll be competing to be this season's Next Food Network Star.Vote for your favorite restaurants in our NYC survey!

Owner/Baker, Scratchbread After working as a chef with the likes of Larry Forgione and Melissa Kelly, Tilden decided that a man could live by bread alone after all. His need to knead caused him to answer a Craigslist ad that read: "I have a wood-burning oven. You make bread." A partnership with a South Brooklyn pizzeria began, and the concept of Scratchbread came to life. Within six months he had won over 20 wholesale accounts with the likes of creations such as his bourbon wheat bread. He then moved into his own venue, but after three years, he's poised for change: he's shutting down the wholesale business to focus on retail, classes and creating monthly 15-course tasting menus. Says Tilden about Scratchbread's quick rise to the top, "I've never been more proud to have a brand tattooed across my arm."Vote for your favorite restaurants in our NYC survey!

Personal Chef; Co-founder, Shorty Tang & Sons A reluctant chef by his own admission, Tang recalls a childhood spent at his family's Chinatown restaurant, Hwa Yuan, waiting until the wee hours for his parents to get off work and take him home. He thought he'd pursue a different sort of hospitality and work in the hotel business, but that changed when he did an internship at Walt Disney World's Cinderella's Royal Table restaurant. That's when Tang says he fell in love with cooking, so he came home and enrolled in the CIA. In New York, Tang worked at DB Bistro Moderne, Tabla and Locanda Verde before becoming a personal chef and re-creating his grandfather's legendary cold sesame noodles and launching Shorty Tang's with his brother, Casey, at Brooklyn Flea and Smorgasburg. The brand has become such a hit that the brothers are currently working on going global.Vote for your favorite restaurants in our NYC survey!

Chefs, Mile End and Roberta's; Cookbook Authors These sibling chefs learned the art of sharing while cooking together at summer camp, and they have since put their heads together on two cookbooks: Freshman in the Kitchen: From Clueless Cook to Creative Chef, which they wrote while still in college, and This is a Cookbook: Recipes for Real Life, which comes out in October. When not writing, they cook at two of Brooklyn's most popular restaurants: Max is chef de cuisine at Roberta's, where he became a James Beard Foundation nominee for Rising Star Chef of the Year 2012, and Eli is a line cook at Mile End. Eli is also the marketing chair for the Share Our Strength charity event Taste of the Nation.Vote for your favorite restaurants in our NYC survey!

Owner/Founder, Korilla BBQ The brand sounds like Gorilla, but their trucks look like tigers; the flavors are Korean but served south-of-the-border style. Though we can't really explain the animal hybrid, cultural mash-ups are a way of life for Queens native Eddie Song, who says, "Whoever said America was a melting pot must've been a straphanger on the 7 train." After graduating from Columbia, Song chucked his economics degree to catch food-truck fever, with a mission to spread his passion for Korean food. Favoring tortillas over cutlery, Korilla's famous bulgogi burrito was born. A Vendy Award and a stint on Food Network's Great Food Truck Race followed, and now three tiger-striped vehicles prowl the streets of NYC. Amid rumors of a brick-and-mortar shop and expansion to other cities, Song says he's working on taking the Korilla concept to a "new level."Vote for your favorite restaurants in our NYC survey!

Executive Chef, Butcher Bar It's nearly a requirement for an Austin native to have a natural curiosity for 'cue, and Sanchez's love of the cooking style even led him to build a smoker with his dad in his Texas backyard. So it made sense for him to hone his skills at Austin spots like Uncle Billy's Brew & Que before coming to the East Coast, where he introduced New Yorkers to his authentic stylings at Mable's Smokehouse in Williamsburg. Butcher Bar owner Mattew Katakis took note of his expertise and recruited Sanchez as his executive chef, bringing a taste of Austin to Astoria with Sanchez's signature burnt ends and dry-rubbed ribs.Vote for your favorite restaurants in our NYC survey!

Pastry Chef, North End Grill This self-taught pastry prodigy impressed chef Floyd Cardoz so much with her lemon meringue pie that he keeps a picture of it on his cell phone. Ray's first pastry position was at Gramercy Tavern, after stints working in savory at Whisknladle in La Jolla, CA, and Dressler in Brooklyn. Her home-style creations, like sticky toffee pudding with ginger ice cream, support New York Times reviewer Pete Wells' praise that "Ray has a gift for the kinds of business-casual makeovers of classic American desserts.Vote for your favorite restaurants in our NYC survey!

Chefs-Owners, Battersby Teamwork has been the essence of this pair's relationship since they met at and graduated from the CIA together. While working side-by-side at Alain Ducasse at the Essex House, they dreamed of opening a restaurant together in Carroll Gardens. Though they took separate paths for a spell - Joseph was at Anella, Gramercy Tavern and Union Square Cafe while Walker was at The Vanderbilt, Blue Hill and 81 - their dream became a reality in 2011 with Battersby, where they now collaborate on dishes like polenta soup with rock shrimp sofrito.Vote for your favorite restaurants in our NYC survey!
Follow Zagat on Twitter: www.twitter.com/Zagat