Regional Pizza Primer: A Guide To 10 Classic Styles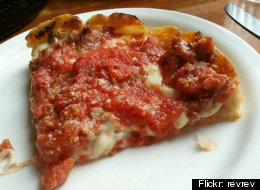 We've all heard of Chicago-style, New York-style and perhaps even New Haven-style pizza, but Colorado has its own regional pizza as well? Who knew! From California to New Jersey, regional pizza variations can range from thin crust, thick crust, all tomato, no tomato, and use so many types of toppings we could never list them all. Click through the slideshow below to get up to speed on 10 regional pizza styles.
Let us know your thoughts on Google+ and Twitter by using the hashtag #PizzaWeek. Check out all our Pizza Week coverage here.
[Also see: First Ever Zagat Pizza Survey Results Are Live!]
Zagat Regional Pizza Primer
Chicago: Lou Malnati's Chicago is a town of two pizza minds, deep-dish, and a super thin crust. At Lou Malnati's, they do both, but the deep-dish is where it's at. This family owned and operated restaurant has been around for 40 years and has grown from the original shop in Lincolnwood, to over 30 pizzerias around town. The feature of the deep-dish pizza is of course, its crust, which has a buttery flavor and satisfying crispness to the dough. The toppings can be anything really, from your basic pepperoni, sausage, olives and green peppers to just plain tomato sauce and cheese. One difference between a deep-dish and a regular pizza is that with the former, the mozzarella often gets put on the bottom, then it has a layer of tomato sauce and finally more cheese. Plus, you eat it with a knife and fork. [Also see: 8 Junk Food Pizzas We Secretly Love] Image via Flickr user revrev

New York-style: Di Fara Pizza Lombardi's, the first pizzeria in America, opened on Spring Street in New York in 1905. The tiny shop was owned by Gennaro Lombardi, an Italian immigrant living in Little Italy, and his restaurant is touted as the start of America's pizza craze. Now, when people think about New York pizza, the first thought is grabbing a slice from one of the hundreds of pizza shops around town. The unique large, foldable shape of the pizza makes it perfect for picking-up and taking on the go. The crust of a New York-style pizza is hand-tossed and made with a high-gluten flour, which gives it that extra chew. While many places make a good slice, one of the best can be found at the legendary Di Fara Pizza in Brooklyn, where people often wait in line for a slice. [Also see: The Best Pizza in 23 U.S. Cities] Photo via Flickr user icebergprinciple

New Haven-Style Pizza: Frank Pepe Pizzeria As one of the first pizzerias in Connecticut, Frank Pepe Pizzeria makes true New Haven style pies, even if they tend to be a little smaller than today's popular version.  In 1925, Italian immigrant Frank Pepe founded the shop as a way to bring pizzas from Italy's Amalfi coast and serve them in the United States. "I think that as being one of the first, Grandpa was very successful," said Francis Rosselli, grandson of Pepe. "He had a lot of admirers and competitors and I think people used his style as a model and a standard." Originally, they cooked the pie using a coke-fired blast furnace, but as that became unavailable, they switched to coal heat. In the 1960's, the shop became famous for their clam pies and approach, said Rosselli, that came at a time when shellfish was the rage and they sold over 100 orders of clams a night. With Rosselli at the helm, they still serve the clam pie and their other signature one, the tomato pie. [Also see: Check Out Our Pizza Survey Results on The Today Show]

St. Louis-style: Imo's Pizza The thing that makes St. Louis-style pizza so special is the cheese. No, it's not your basic mozzarella cheese, instead it's a blend of provolone, Swiss and white cheddar called Provel, and there is something undeniably addictive about it. But before the cheese comes the crust, which usually is made from unleavened bread, a technique that makes the shell cracker-thin. Next, the oregano-laced tomato sauce is spread lightly, and then, the creamy, processed cheese gets grated and sprinkled on top. Traditionally the pie gets topped with red and green pepper slivers and disks of Italian sausage and gets cut party-style, which means in squares rather than triangles. One of the best places in St. Louis to get this style is Imo's Pizza, which has several locations throughout Missouri and is credited not only with serving one of the best pies, but also with starting the state's first pizza delivery chain in 1964. [Also see: Worst Meal Ever: 21 Tales of Disastrous Dinners] Photo via Flickr user martin_kalfatovic

California-style: Caioti Pizza Cafe California-style pizza a has long history dating back to Alice Waters and her Berkeley restaurant, Chez Panisse. While Waters was the first chef to use super fresh and unconventional toppings, the popularity of this style of pizza blossomed under Ed LaDou who, in 1982, helmed Wolfgang Puck's Spago in Los Angeles. Here LaDou made pizza the most popular item on the menu by adding ingredients like barbecue chicken, duck breast  and other fresh fusion-y toppings. Both Waters and LaDou cooked their pies in wood-burning ovens to help give it that extra chew and char they are so well-known for. From Spago, LaDou went on to develop the menu for the most popular West coast-style pizza chain, the California Pizza Kitchen. Later, LaDou opened his own place called Caioti and ran it until he died in 2007. Today many places try and recreate this famous style, but one of the best is still found at LaDou's Caioti, even if the master isn't there. [Also see: Las Vegas' 10 Best Restaurants] Photo via Flickr user shadowstorm

Rhode Island: Al Forno Maybe there isn't a true Rhode Island-style pizza, but the grilled pizza at Al Forno is unique on its own. What makes the grilled pizza at Al Forno so special you might ask? Well, co-owner and chef George Germon, who has been making pizza for over 30 years, started making this style in the early 1980's in the wood-fired grill in his restaurant. "It's probably our most popular dish," says his wife and partner Johanne Killeen. "The uniqueness is that there is actual contact between the pizza and the fire." Yes, the fire licks the dough as it sits on the grill and since the heat is so high, it cooks quickly, which gives the pizza a firm, crisp crust. While other people have imitated this style, the couple is credited with its creation in the Joy of Cooking and, included a recipe for the pizza in their first book, Cucina Simpatica. [Also see: Grab a Slice 'Cause It's Pizza Week!]

Colorado: Beau Jo's  Okay, pizza snobs will not take kindly to Colorado-style pizza, but for those of you who are more liberal about your pies, Beau Jo's makes the best, and the only, Colorado mountain pies around.  The first thing to know about this type of pizza is that it's deeper than the deepest Chicago deep-dish and comes with either a honey white or honey wheat hand-rolled crust that doubles as dessert (just tear it off and dip it in honey). You can then pick what sauce you want including standard tomato, garlic cream, pork green chili and pesto. The choices don't stop there. The ingredient list also proves vast with options like red-hot chicken, broccoli, turkey pepperoni, green olives and even tofu. Finally comes the cheese, which you can blend if you desire. If you need a suggestion, try the honey wheat crust with garlic-olive oil sauce, a ricotta and mozzarella cheese blend, Hatch green chile, Canadian bacon and mushrooms. Really, you can't go wrong. [Also see: 10 Best Restaurants in the Austin Area] Photo via Flickr user wallyg

New Jersey: De Lorenzo's Tomato Pies New Jersey should think about changing their handle to the "Tomato Pie State" in honor of De Lorenzo's famous pie. For Alexander De Lorenzo's family, the tomato pie proved such a staple that they sold them at their restaurant. In 1947, De Lorenzo opened his own shop, which today is still run by his family though the location changed from Trenton to Robbinsville, New Jersey. The tradition of the Trenton tomato pie lives on not only through De Lorenzo's, but through other Italians who admire the thick crust smeared with herbed crushed tomatoes and light sprinkling of Romano cheese. It's a dish that has a nice sweetness from the fruit, but also a fulfilling acidity and salt content that if for anything, adequately helps with a hangover. [Also see: New York's Best Pizza: The Top 8 Pie Shops]

Neapolitan-style: Numero 28 Though Neapolitan pizza isn't necessarily a regional dish of the U.S., it's so popular in New York right now that you can find it all over the city. This style utilizes a clay-based, wood-fire oven to cook the personal-sized pies, which helps give the pizza char and a nice, bubbly crust. The mark of a Neapolitan-style pie is a slight sweetness to the pliable dough and more tomato sauce or olive oil than cheese. At Numero 28 Pizzeria Napoletana on the Upper East Side, manager Luigi Porceddu said, "Naples is where pizza was born and Neapolitan pizza is the original, authentic and best pizza." He also noted that the style is all about tradition and using grade-A Italian ingredients. To make it, the pizza must be cooked for no more than 90 seconds in a wood-fired oven reaching 900 degrees. "If these requirements are not met, it's not Neapolitan pizza," said Porceddu. "Also, water is very important and New York's water is similar to that of Naples, meaning the pizza here is as good as in Italy." [Also see: Contest! Vote, and Win a Dinner/Hotel Stay in Las Vegas]

Detroit/Michigan-style: Buddy's Pizza Believe it or not, Michigan, particularly Detroit, actually has its own regional pizza style -- a cross between a Sicilian-style pie because of its thick, square crust and Chicago-style, because of the sauce on top. The Detroit-style pie was invented at Buddy's Pizza in 1946 and was an instant hit the minute it was introduced. The deep dish square pie with cheese on the bottom and blobs of sauce across the top is so legendary that it's consistently ranked as one of the top pizzas in America. In fact Alan Richman of GQ included it in his list of 25 Best American pizzas. Buddy's original Detroit location still exists but the mini chainlet has expanded to surrounding neighborhoods such as Grosse Pointe, Livonia, Royal Oak and Auburn Hills. [Also see: This Week's Top Restaurant and Food News]