Watching a Live Eight charity concert inspired Mary Fanaro to contribute towards easing poverty in Africa. After mulling over several ideas she decided on a fashion label, proceeds from which would go towards charity initiatives. Fanaro chose the name Omni Peace and began a series of meetings, proposals and fund raising. Two years later she found herself days away from formally launching her line and transforming her dream into reality.
Then she was diagnosed with ovarian cancer.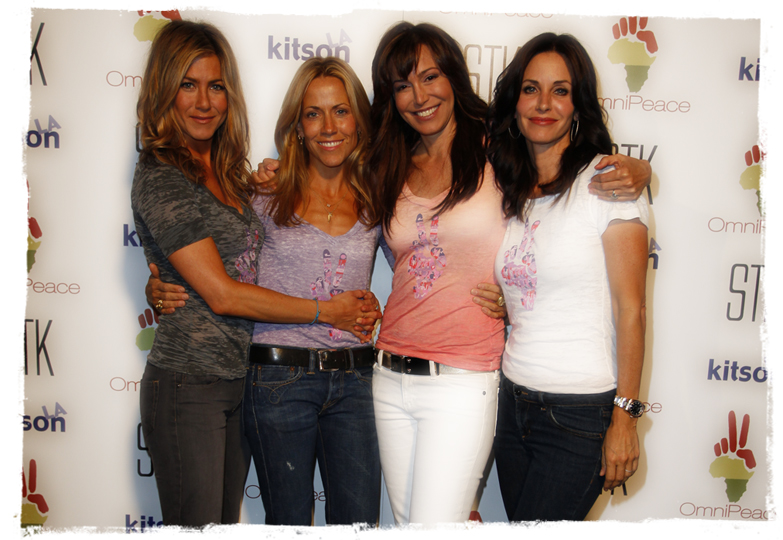 Mary Fanaro, flanked by friends Aniston, Crow and Cox above, was right at the finish line.
Doctors ordered the entrepreneur to begin chemo therapy immediately. Yet, instead of shelving her plans, she struck a bargain: a few more days to complete the launch and she'd begin treatment. They agreed and Fanaro flew off to New York to meet with buyers and boutiques then back to Los Angeles to do the same. What followed next for Fanaro was a simultaneous struggle to keep herself and her vision alive.
Five years later, the L.A based social entrepreneur is flourishing, and so is Omni Peace. In the time since, Fanaro has transformed it from a little known t-shirt line to a buzzed about brand spotted on fans like Lindsay Lohan and Naomi Campbell. Her pieces are available online and nationwide at specialty boutiques. Along the way Fanaro's good friends, Jennifer Aniston, Courtney Cox and Sheryl Crow have pitched in to lend their celebrity status and support.
Beyond the glam, Omni Peace is actually making an impact. Since launching the label has raised over half a million dollars to help women and children in Africa with an emphasis on Congo and Senegal. Her story answers perfectly the question she poses to others on her website: does fashion save lives? It seems to have saved hers.
I caught up with the her to chat about her inspiration, her hurdles and her triumph.
The website mentions watching Live8 as an inspiration for starting OmniPeace. Can you tell us a little bit about that moment?
I was inspired by the magnitude of people coming together through music to relieve African debt. I thought it was a cool way to bring attention to the matter through a vehicle that everyone could relate to. But to be honest, at the time, my first thought wasn't to use fashion as a vehicle to send a message but rather food and chocolate bars; "Peace of Chocolate" specifically was what the bars were going to be called. It was only through a series of mistakes (or rather what I now know were fortuitous events) that led to me sending my message through fashion rather than chocolate.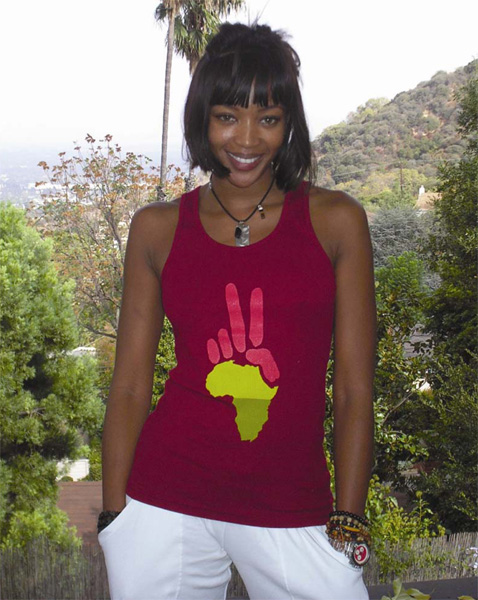 What were some of the things you saw while visiting Africa? How did it shape your vision for OmniPeace?
I was on safari in Tanzania and was taken to some villages and saw naked, hungry children coming out of huts that weren't fit for an animal live in much less an entire family. But yet there was something about these children and people that made me feel like they knew and felt something I didn't and I wanted to understand what that was. I initially wanted to get my family involved, Archer Daniels Midland (founded by my grandfather Albert Andreas) and I flew to the ADM plant in Decatur, Illinois to pitch them an idea that would enlist their help, but the bureaucracy of it all was far too complicated to address or wait around for, so I decided that when you want to get something done, you have to do it yourself...so I did.
Senegal and Congo have been singled out for aid in your foundation. How did you settle on those countries and why?
The school I built in Senegal was through an organization called buildOn. Since I wanted to build the first OmniPeace school in a Millennium Promise Village (founded by Dr. Jeffery Sachs) they only had people on the ground in Senegal at that time so that location was pretty much my only option. The second OmniPeace school will be in Malawi next month/November. My interest in Congo is because I am partners with UNICEF and V-Day to build the City of Joy - a healing a learning center for Congolese women and girls who have been victims of brutal rape and violence.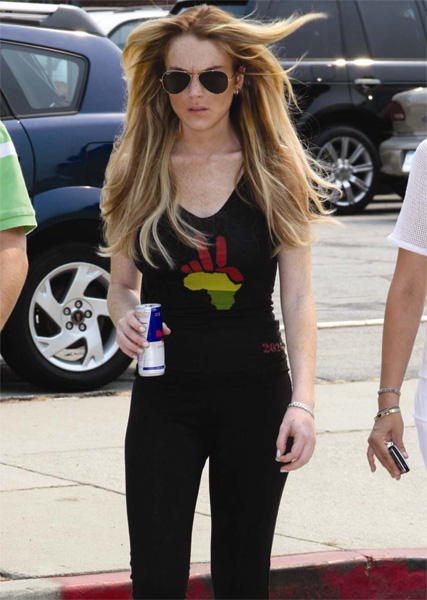 At any point were you overwhelmed by the immense mission you outlined for yourself?
Never.
I find it remarkable that you didn't just give up and withdraw when you were diagnosed with cancer. Where did you find the strength? What kept you going in those times?
The strength came from the people whose lives I was helping to improve...they didn't have choices or a voice or the wherewithal to better their lives like I did...in a strange way it actually made me very grateful during my journey with cancer...it was hard to say "why me" comparatively speaking. What kept me going was the fact that I had everything they didn't; health care, doctors, clean drinking water, an environment of love and support and a home.
What other innovative ways do you plan on raising funds and awareness for Omnipeace's mission in 2010?
We will be releasing a video shortly to draw attention to the purchase of "conflict minerals" by some of the biggest tech companies in the world which is fueling the violence in the Congo.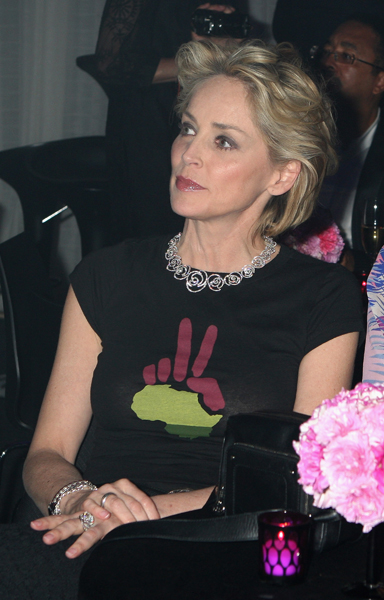 The tagline for OmniPeace, "Can Fashion Save Lives?" is very powerful. Do you think it saved yours? And why? Absolutely. Because I came up with the idea for OmniPeace long before I got diagnosed and it became abundantly clear to me that the idea was not only a divine intervention to save my own life but the lives of others I would be fortunate enough to touch.
Learn more about Mary's work and shop for her shirts here.
SUBSCRIBE TO & FOLLOW LIFESTYLE
HuffPost Lifestyle is a daily newsletter that will make you happier and healthier — one email at a time. Learn more