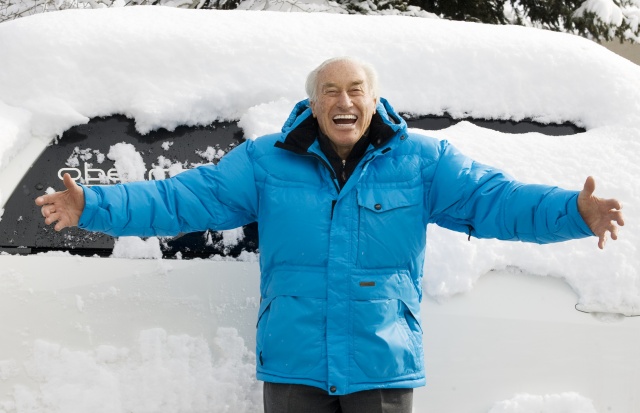 The legend goes when Klaus Obermeyer immigrated to Colorado from Germany in 1947, his mother insisted he pack a comforter. In this case, Mom's advice wasn't only right, it made Obermeyer a mogul. When he began working the slopes of Aspen as a ski-instructor, Obermeyer found himself ill-prepared for the brutal cold. To solve for it, he transformed the down comforter into a makeshift coat. As he tells it, he looked like the Michelin man, but he was finally warm. The coat caught the eye of one of Obermeyer's students who offered to buy it for $300 at a time when, as Obermeyer points out, a Buick cost $1250. The math made sense, so he promptly returned to his hometown and convinced a friend with a manufacturing company to create 75 prototypes. The rest is history.
In the 65 years since it's launch, Obermeyer the brand, just like the man, has earned kudos for it's remarkable contributions to ski-wear. Among countless innovations, Obermeyer was first to develop mirrored ski sunglasses, the nylon wind-shirt, the dual layer ski boot, turtle necks with elasticized collars, and along with Friedel Pfeifer developed the first high-altitude suntan lotion. Obermeyer brought his practical and innovative touch to architecture as well. Since 1980, his award winning Colorado headquarters has received 60 percent of it's heat through solar energy and features a solar-heated lap pool.
At 92 years-old the mogul still actively leads his company and skii's every single day. Last week an upbeat Obermeyer, who'd come in fresh off the slopes, hopped on the phone for a Q&A with me. His charm, charisma and joy for life was so intoxicating, it was impossible to ask standard questions about clothes and career. Instead, we delved into the century-old Proust Questionnaire, a favorite of Vanity Fair. Below, the living icon answers everything from his current state of mind to his greatest weakness.

What is your idea of happiness?
I think it comes when you don't desire anything. That way you are not disappointed if you have nothing. You sit down, you center and just be.

Where would you most like to live?
In Aspen, Colorado.
What is your favorite virtue?
It's nature and to be out in nature and enjoy the miracle of nature and the animals and the plants.
What are your favorite qualities in a man?
In a man? That he's honest, spirited, and in good shape. I think that makes a pretty good guy.
What are your favorite qualities in a woman?
Everything. A woman is a miracle. It's a wonderful, wonderful, wonderful thing that is just very very special.
What do you most value in your friends?
Honesty, and people who are trying to create win-win situations in life and not win-lose. Being sporty and enjoying similar things that I enjoy is a plus too.

What is your biggest weakness?
I want to ski too much.

What do you enjoy doing most?
Skiing, swimming, tennis, mountain biking, mountain climbing, rock climbing.

What is your most marked characteristic?
Being on time, doing what I say I'm going to do, and working out everyday. Oh, and jokes - good jokes.
What is your idea of misery?
The way they describe it, Hell must be pretty miserable.

If not yourself, who would you like to be?
I wouldn't like to be Einstein because he had a brilliant brain, but a lot of headache. I think I'm happy to be who I am.

Who are your favorite writers?
I think one of my favorite writers is Friedrich Wilhelm Nietzsche -- he spoke the German language very, very, very well. Like nobody else.

Who are your favorite heroes and heroines in fiction?
I like more fact than fiction. So I don't spend much time in fiction.

Who are the heroes and heroines in your life?
One of my favorites was Helly Natzienal(sic) from Austria. He won all the races when I was a kid. He spent a lot of time in St. Anton in Austria. It's a very famous ski village.

Who are your favorite heroes and heroines in history?
Very few. I don't have any favorite heroes.
What is your favorite food and drink?
My favorite drink is water. And my favorite food are fruits. I love all kinds of fruits. I'm myself a little fruity. I have a big orchard on the ranch and that is fabulous. So we have fresh apples, cherry's, plums, pears. All kinds of berries. Even grapes. It's fabulous. I pick them and bring them to the office the next day.

What is your present state of mind?
I think it's normal. I like everything. I like our company. I like the people who work with us. I love our customers. I love the girls on the sewing machines in the far east that make our stuff. I love everything.

What natural gift would you most like to possess?
To be able to fly. Wouldn't that be nice?
SUBSCRIBE TO & FOLLOW LIFESTYLE
HuffPost Lifestyle is a daily newsletter that will make you happier and healthier — one email at a time. Learn more