It's a shame that his temper tantrum may obscure what was easily one of the best Video Music Awards MTV has produced in years. But I'll let other bloggers handle the job of roasting him, here on my column we are going to keep calm, carry on and focus steadfastly on the real news from the show: clothes.
Over wine, wonton, and stir-fry, my friend Julee Wilson , Fashion Editor at Real Simple Magazine, and I took a much needed break from Fashion Week to critique the outfits which floated down the red carpet and onto the stage. For your reading pleasure, we categorized our picks in three relevant categories: The Good (fabulosity on par with age, body and the spirit of the ceremony); The Bad (where was your stylist? and did you have a mirror?); and The Fugly (this is either a painful mistake or a planned publicity stunt.)
THE GOOD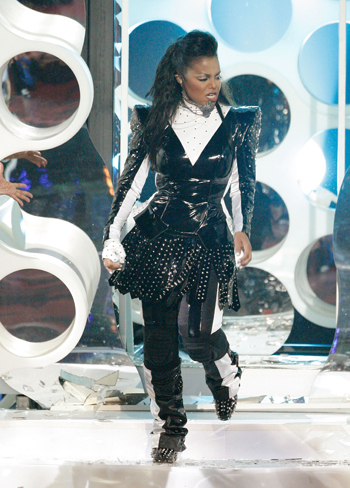 EVERY SINGLE OUTFIT in the Michael Jackson tribute. From the battered red leather jacket to the dazzling military-style blazer, a laundry list of iconic looks sported by the King of Pop was faithfully recreated in the tribute and worn by dozens of dancers. Simaltaneously. Kudos to the costume team! Special shout out to Janet Jackson's futuristic frock.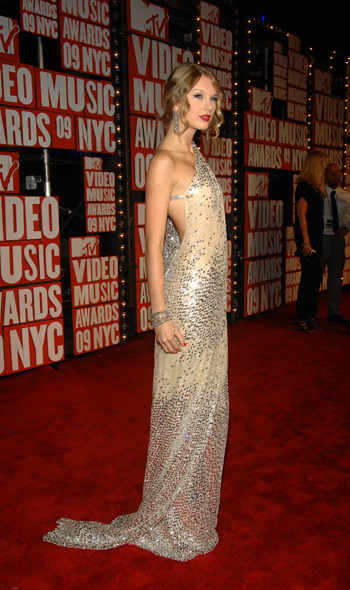 Taylor Swift in that ethereal one shoulder gown. Let's be clear, this is not a pity pick: we were genuinely into her floor skimming sparkly dress which was at once fun and formal.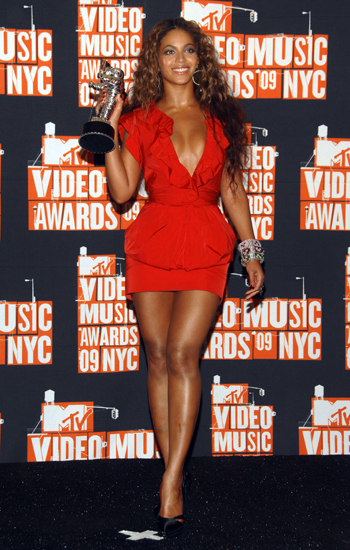 Saint Beyonce (the girl not only dips it low in six-inch stilettos, but graciously handles a sticky situation!) in that sinfully red dress. The rich color, flirty ruffles and sexy length flattered both her complexion and figure and was perfect for the ceremony.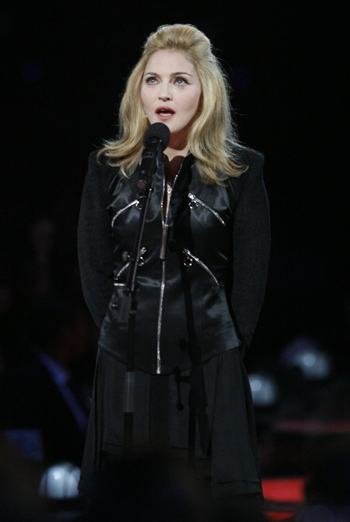 Madonna in that plain black two-piece ensemble. Yeah, there was absolutely nothing glitzy or glam about what she was wearing, but that was the point. Her subdued role as the presenter for the M.J tribute required something low key. More the the point her Madgesty covered her arms and was age appropriate. (P.S I still have goosebumps from her refreshingly candid and emotional speech.)
THE BAD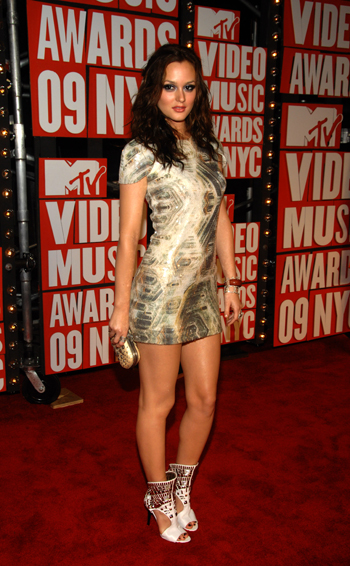 Leighton Meester in the graphic print shift dress. Yeah, the dress wasn't particularly awful, but her styling was. As Julee points out "The dress was cute, but she definitely didn't rock it the right way." Edgier accessories would have better accentuated the dress.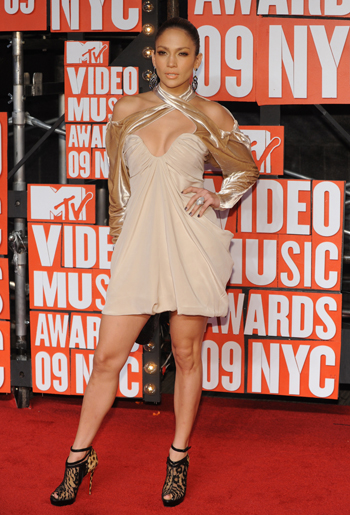 Jennifer Lopez in that short poufy dress and velvet "armslings." Any other time, J.Lo is a style star, which is why we are verklempt about her outfit choice. What was that? And most importantly why was that? The color was unflattering, and the fit was confusing -- but on the upside: her shoes were fab.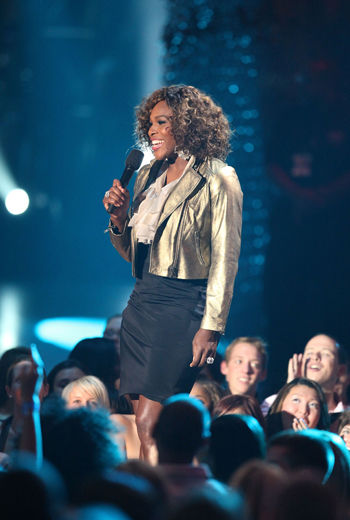 Serena Williams in her pencil skirt and cropped jacket combo. Julee and I volleyed back and forth on this one. While I thought the outfit really flattered Serena's figure, Julee maintained that it was totally wrong for the VMA's. In the end, I had to agree: a skirt and jacket is spot on for a business lunch or power meeting, but a p.m, music awards show? Not so much. Williams fell out of line -- for real this time.
THE FUGLY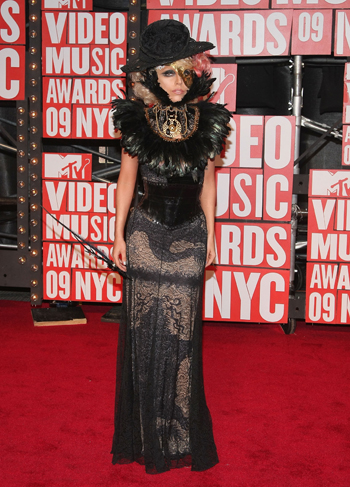 Lady Gaga. That should be enough said for anyone who witnessed her multiple - and startling- outfit changes. But in this one instance, we must elaborate. Part of Gaga's gimmick (perhaps to distract us from her 'Poker Face?') is fashion -- and I for one love it. She's bold, takes risks and clearly has a fun time dressing up. Moreover, Gaga introduces her audience to a wild combination of foreign and domestic designers -- often lifting these labels from obscurity and changing their careers. But this Patron Saint of Couture can also be alienating. Once people start feeling fear by the site of you on screen (that lace on her face made me jump from my seat) you are losing ground. And thats when your fashion becomes Fugly.
*All images from AP or Getty photo.*
FOLLOW HUFFPOST