Sidebar: Asking where women go after working at Vogue is a lot like asking where women go after marrying Brad Pitt. As Jennifer Aniston proves: on an endless - and unlucky - journey for love.
Fortunately the gals (and guys) who pass through the prestigious doors of Vogue have it a little better. Case in point: Khirma Eliazov, the brunette beauty who is a former Freelance Accessories editor at Vogue, and has also lent her skills to other magazines including Teen Vogue and Harper's Bazaar.
Since exiting the magazine industry, she's now doing what countless Vogue alumni have: launched an eponymous fashion line. Eliazov's collection is focused on bags that are designed as an homage to chic, stylish city girls who want fashion and function in one sleek package. So far celebs from Rihanna to Leighton Meester have emerged as fans. Her pieces are now available at Henri Bendel and to celebrate the news, she will be available in person to meet customers all day at the store starting today through September 20th. I caught up with her before her appearance to chat about her name, her work experience and exactly why she thinks her bags are worth your money.

I'm sure you get this all the time, so once more won't hurt, how do we pronounce your name?
It's pronounced like Erma but with a "K" in front ... usually I tell people the "Kh" is silent and they call me Erma ... it's actually Georgian (near Russia) ... when my parents came to the country they didn't speak English and spelled my name with their accent "Khirma" and its stuck with me since!
You are a seasoned accessories editor, but how does knowing how to pick bags translate into knowing how to design them?
Being an editor, I saw the best of the best and the worst of the worst, (including) what worked for and what ruined others. My natural love for bags also allowed me to have my own personal style and translating that to designing bags came from me just doing my homework and delivering something I knew women would find useful and still want to show off to their friends. After doing my homework, going with what was sensible and not compromise the level of aesthetic for my bag it set me on the right path to make sure what I made would actually accomplish what I was trying to do.
For instance I always hated how the handle on bags would dig into my arms when I wore it, I remember friends would complain about the pain in their arm or just uncomfortable marks, so I measured the size of women's arm and molded the handle to fit comfortably and then also softened the fabric when they hold both in their arm and with their hand. Functional things like those I wanted to implement, so I was able to make it happen.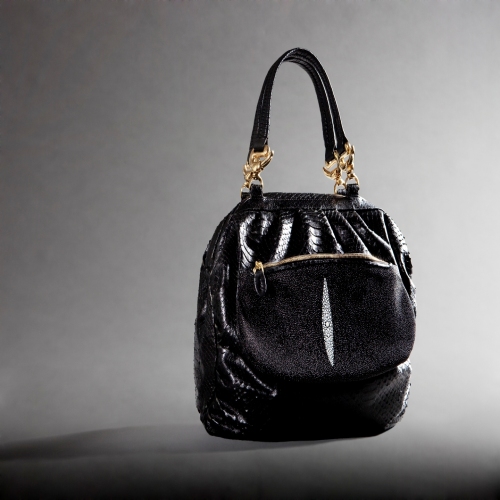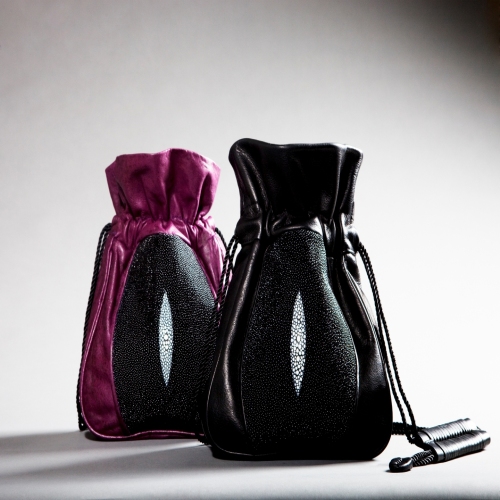 How has working at Vogue, Harper's and Teen Vogue influenced your taste and design?
Once you have worked with the best people in the industry and have been exposed to the best out there you know what it takes aesthetically and functionally to create a collection that will be well received and have longevity in the market.
Your bags cost just about as much as a luxury designer one would on sample sale. Why does yours remain a better buy?
I tried to create a collection that is not only beautiful and functional but something distinct. Our customer is going to be the fashion forward woman who can't put the bag down because she has to have it! Or the woman who appreciates beauty and quality in a classic silhouette and wants to give a new designer a chance. Getting a luxury designer on sample sale is the thing to do right now, but that still puts you in the position of getting a pretty bag that isn't functional or a functional bag that looks ugly ... regardless of how you spend your money it's the final product which really determines if you're satisfied with what you've bought. I think that's what still sets my handbags apart.

Bags are a total status symbol. What status do yours impart on your customer?
Class, Quality and Beauty. For the woman who likes making a statement. The woman who looks to do it all, can go shopping, go to work, go on a date, go to the gym and then go to a cocktail event looking great all before coming home that night. To me it's not about status its about refined style and practical elegance, that's what the Khirma Eliazov customers are..:-)
Learn more about Khirma at www.khirmaeliazov.com. She's available at Henri Bendel, 712 Fifth Avenue, September 17th to September 20th from 10 a.m to 8 p.m! Call 1-800-BENDEL for more information.
Read more from Zandile on her daily blog, The Blay Report.
SUBSCRIBE TO & FOLLOW LIFESTYLE
We're basically your best friend… with better taste. Learn more