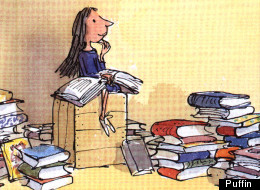 It's safe to say that I've always been a big reader. I can clearly remember the first time I sat and read a full book, when everything just clicked. It was magical.
I grew into a full on reading nerd. When I was around seven, I used to write Chronicles of Narnia fan fiction (look, the talking animals' stories just weren't fully developed enough). I grew up to major in English Literature and now I edit and write about books for a living.
However, there is no way that I'd be where I am today without the help of my wonderful grandmother. My mom was a full-time working single mom, and I spent a lot of time with my grandmother. She'd pick me up from school, give me art lessons, and we'd have tea parties. But most importantly, we read together.
We read chapter books and we read picture books. We read mysteries, adventures, historical fiction, fantasies.
When I became a stronger reader, I started doing all the reading aloud to her. I'd do voices for all the characters, and she'd lay there patiently, listening to book after book after book.
I'm a big believer in the notion that every kid can learn to love reading. They just need the right book and the right person to get them excited about it (this might seem extremely idealistic to some). Many children don't end up being fortunate enough to have this person in their life, so I'm here to strongly encourage you to be that person.
Sometimes it's easy to undervalue the power and importance of reading with kids. But reading is absolutely imperative to a child's development. It gives them the power to escape their situations into worlds they had never dreamed could exist; it helps them to learn without even knowing that they're learning.
Children also simply have a higher success rate if they are read to frequently. Children who are read to are more likely to be able to count to 20 or higher, write their own names, and read on their own.
Unfortunately, people are not reading as much as they used to. Fewer than a third of 13-year-olds were daily readers in 2007, a 14 percent decline from 20 years earlier. For 17-year-olds, the percentage of non-readers doubled over a 20 year period. In addition to this, Americans ranked 15th in average reading scores among 31 industrialized nations.
Giving a child the gift of reading is the greatest gift that a family member can bestow. I'm lucky to have had my grandmother to teach me the importance and difference that reading a lot can make.
Which books do you read with your children, younger siblings, students, etc? Let me know in the comments!
Now that I've done my preaching, here are some great books to read with kids:
Great Book to Read With Kids
This book is just so smart. I'll never stop putting it on all my lists. It's fun to read for kids because there are so many great characters, and such a great adventure that takes place. It's great to read for adults because it's extremely witty and there are lots of nuances that they older reader will pick up on.

Historical fiction makes for great reading with kids, because not only are they enjoying the story, but they're also unwittingly learning about history. For me as a child, the thought of pioneer life was extremely exciting. But these books displayed what hard work it was. Also, this family was one that I definitely wanted to be a part of! They were so close and happy, despite any adversities.

What better to read with a child than a book about a girl who loves reading? It's even better that Matilda escapes the horrible situation with her family through the power of reading. Matilda teaches that books are some strong stuff.

This book is so much fun. If you're of a more dramatic persuasion and you're into it, this book gives lots of room to do silly voices for the characters. And all the Oompa Loompa rhymes will make both you and the child giggle. It's also a great story about a poor child whose dream comes true, which is inspiring for any child.

Mysteries are great to read with kids. They get their brains really thinking about what could really be going on, thus making them extremely engaged in what they're reading. Bellairs creates great child sleuths in Rosemary Potter, Johnny Dixon, and Lewis Barnavelt (those are my favorites, there were a few others). Also, many of Bellairs' books are illustrated by the great Edward Gorey.

This might seem like a daunting task to read with a small child, but bear with me for a second. Though the book starts off slow ( might even advise skipping a bit of the beginning...it does take them FOREVER to leave the house), it becomes a fast-paced adventure as soon as they leave. The creatures they encounter on the way are both funny and scary. This is the perfect book to read with a kid who has a big imagination.

This is perhaps an easier fantasy series to start off with than Tolkien's Lord of the Rings. I also feel that there are stronger female characters in this book than in Tolkien's series. This is another book that adults will enjoy as well (if you haven't already read it yourself, I suggest you do. It's great).
Follow Zoë Triska on Twitter: www.twitter.com/zoetricksta