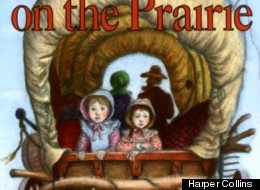 Today would have been Laura Ingalls Wilder's 146th birthday (she was born in 1867).
When I was a kid, I really loved historical fiction. I specifically loved Laura Ingalls Wilder's Little House on the Prairie series.
As a child, I could easily romanticize living on a prairie in the middle of nowhere during the 19th century. I mean, there were SO many great things about it.
I could go to Grandma Ingall's "sugaring off," bringing home enough maple syrup to feed me for a year! Pa would find a bee tree, and collect honey from it to bring home! I would receive several different ponies over the years as presents! I'd have a great bulldog named Jack! A train would bring a bunch of Christmas presents after an incredibly long winter!
I'd also be really close to my family because we'd all be in a confined space with one another ALL THE TIME (as a kid, this sounded like an amazing opportunity).
However, in retrospect, it's obvious to me that life on the prairie was ridiculously difficult.
Isolation, long winters with nothing to eat, and building SO many houses!
So, in honor of Mrs. Wilder's birthday, here's a list of reasons I'm thankful that I didn't grow up on a prairie in the 1800s like she did.
Bad Things About Living In a Little House On The Prairie
Yes, FOUR. The original one in WIsconsin, one when they move to Kansas, one when they move to Plum Creek, one when they move North Dakota. Can you even imagine having to build ONE house? I definitely can't.

Severe shaking, fever, chills and no modern medicine? No thanks. (Little House on the Prairie)

Can you even imagine all of your work being totally destroyed? Also basically losing a ton of income in one go?(I guess it's kind of like being in the stock market today...But if you have no CHOICE but to be in the stock market.) (Little House on the Prairie)

WHAT?! Another insane illness? This is just too much. AND MARY GOES BLIND! OH MY GOD! (By the Shores of Silver Lake) Also, though the family thinks that Mary's blindness was caused by SCARLET fever, medical experts are now saying that it probably wasn't. Apparently, at the time there were many misdiagnoses of different types of fevers. Experts think that the family may have had a "brain fever," which could have caused Mary's blindness.

Beloved Jack, the bulldog, dies. HOW TERRIBLE. However, according to the always reliable Wikipedia, the dog that Jack was based on was no longer with the family at this point. However, the author inserted his death at this point to serve as a transition between her childhood and her adolescence. CLEVER, MRS. WILDER! (By the Shores of Silver Lake)

Being trapped in the same house with the same people for seven months sounds like the setting for a horror movie. In fact, it's essentially the set up of The Shining. (The Long Winter)

So actually, as a carb queen, potatoes and bread sound really delicious, but I don't think eating only that for 7 months would be appealing. Neither would starving, which is what a lot of other people in the town were doing. (The Long Winter)

Especially paying to send your daughter to a school for the blind. The family had to raise crops (that were then eaten by blackbirds) AND sell their beautiful little calf in order to send Mary to college. (Little Town on the Prairie).
Follow Zoë Triska on Twitter: www.twitter.com/zoetricksta