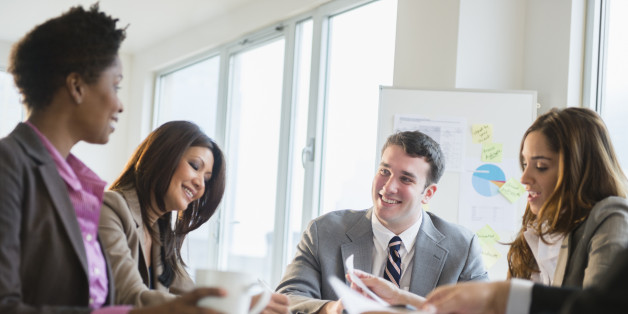 The holiday season is a great time for small businesses to evaluate annual performance, spot what's worked well over the prior year and find ways to improve in the future. As you wrap up your year, keep an eye toward the year ahead.
How can you use what you learned in 2014 to help you end the year the right way and improve your business in the year ahead? Here's a checklist to help you boost profits, trim budgets and streamline your company for 2015.
1. Show gratitude to the people that count.
Any successes from the past 12 months can be used to express your appreciation to your customers, suppliers, employees or other stakeholders, which can then lead to greater sales and growth in the new year. Did your company reach any milestones, like completing your thousandth sale or hiring your fiftieth staff member? Did you partner with another business to develop a product? Did you contribute to the local economy in an interesting way, like participating in farmers markets? Maybe your employees performed community work that you're proud of? Remind your customers and partners about these accomplishments in 2015 and celebrate your relationships through commemorative events or promotions. Offer a special discount to valued clients or send personalized thank-you notes to all those who have helped your company thrive.
2. Learn more about your customers.
Many businesses send their customers year-end statements summarizing their annual transactions and reminding them of outstanding balances. This may be a good time to perform customer segmentation, which involves grouping your customers based on their buying habits, spending behavior or other demographics to find ways to better serve quality clients. Maybe you're investing too much in clients who offer too little in return? Or perhaps you're not focusing enough on clients who represent untapped revenue? Fourth-quarter customer segmentation can help you kick off next year with a clearer vision of who your clients are and how to prioritize your marketing and sales efforts.
3. Find creative ways to reward employees.
Employees are the heart of every small business. What are you doing to show them they're appreciated? Take a good look at your workforce and ask yourself what you can do to help them become more engaged and more productive in 2015. Are your employees asking for more flexible schedules or more training opportunities? Would your staff benefit from an off-site retreat or team-building program? If your budget is tight and offering raises isn't a viable option, small perks like these can do a lot to make top talent feel valued in the coming year.
4. Discover overlooked tax deductions.
You probably know that you can claim a tax deduction for your employees' wages, but did you know you might also be able to deduct the cost of other benefits, like company cars, paid vacation time, internal discounts and retirement plan contributions? If you're not claiming these perks as deductions, you could be leaving money on the table. The rules regarding deductible benefits can get complicated, so it's best to consult with your accountant. The end of the year is a great time to review the benefits you've provided over the past 12 months to find things you may have missed--and make sure you won't overlook them in 2015.
5. Know your yearly deadlines.
There's a lot of paperwork involved in running a business, especially when it comes government regulations. Most states require corporations and LLCs to file an annual or biannual report. Reporting deadlines are typically set for the end of the calendar year, although in some cases they depend on when your company was incorporated. Avoid penalties and fees by finding out what your state needs from your business. You can typically find this compliance information on your state government's website, or by speaking with an accountant. Be sure to check on reporting guidelines again in 2015 and each subsequent year, as regulations can change.
No matter how good your 2014 has been, one thing is certain: You'd like 2015 to be even better. By going through this checklist now, you can walk into your office on January 2nd feeling better prepared and more confident about the year ahead. And what better holiday gift can small business owners possibly give themselves?