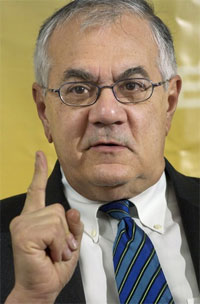 House Democratic leaders just announced that major legislation aimed at protecting gays, lesbians and others from workplace discrimination has been delayed.
In a new statement, Speaker Nancy Pelosi (D-CA), House Education and Labor Chairman George Miller (D-CA), and lead co-sponsors Reps. Barney Frank (D-MA) and Tammy Baldwin (D-WI) say:
After discussions with congressional leaders and organizations supporting passage of ENDA (Employment Non-Discrimination Act), we have agreed to schedule mark-up of the bill in the Committee on Education and Labor later this month, followed by a vote in the full House. This schedule will allow proponents of the legislation to continue their discussions with Members in the interest of passing the broadest possible bill.
The bill was set to be voted on this week, but came under heavy fire from gay rights groups and activists after Republicans demanded that protections for transgender American be removed. On Friday, Rep. Frank published a HuffPost blog pleading with critics to let Congress deal with transgender protections in a second piece of legislation.
The Huffington Post is still trying to reach Frank for an explanation of his apparent change of heart on this question.
Update: A spokesman for Rep. Frank insisted that the postponement would not block passage of the anti-discrimination bill.
"There are only two possible outcomes: ENDA with Gender language or without, but we will be moving an ENDA bill," Steve Adamske, a spokesman for Frank, wrote to the Huffington Post in an e-mail.