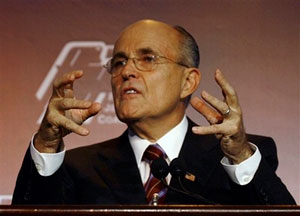 Tuesday's forum before members of the Republican Jewish Coalition was an important opportunity for the GOP's top presidential hopefuls. RJC members are wealthy and politically active, and the top Republican contenders see the group's support as essential to their political fortunes.
Rudy Giuliani acknowledged how crucial the group is perceived to GOP hopes to keep the White House in 2008.
"No one is working harder to take our party's message to new communities and new voters and bring new people into the Republican Party than the Republican Jewish Coalition," Giuliani said at the beginning of his speech. "If any group stands for the spirit that our party needs this year and next year, it's the RJC."
Giuliani's remarks, filled with jokes for the partisan crowd and shots at his Democratic and Republican opponents, also dropped the names of key RJC members who happen to be important founding donors behind Freedom's Watch.
While on stage, Giuliani joked with Freedom's Watch founding donor Mel Sembler about the role Florida played in the 2000 presidential election. And he pointed back to remarks made by Sheldon Adelson, owner of the Las Vegas Sands Corporation, about Giuliani's decision to kick Yasir Arafat out of a Lincoln Center concert in 1996 when he was still New York City's mayor.
Giuliani wasn't the only Republican candidate to emphasize his closeness to the Freedom's Watch donors.
"I was delighted, by the way, to go with Mel Sembler and many others to go to Israel right after my term of governor was over," Mitt Romney pointed out in his speech. Sembler is a fundraiser for Romney.
And Fred Thompson waxed warmly about first meeting Adelson, who hosted a fundraiser for Giuliani last month, and his wife.
"You brought back fond memories of the first trip that I took as United States senator, to Israel, and the first time that I met Sheldon and Miriam," the actor and former senator said.
But while all the candidates tried to make their mark with the Republican Jewish faithful, one of Freedom's Watch's leaders crowned Giuliani as the winner on Tuesday.
"His speech was just full of kosher red meat, and the crowd really ate it up," Ari Fleischer, former White House Press Secretary, told the New York Sun's Russell Berman. "Nobody has the history that Rudy has with the Jewish community."
Freedom's Watch maintained that Fleischer's remarks did not mean that Giuliani had received the group's endorsement.
"We're not engaged in efforts to support any particular Republican or Democratic nominee," said Matt David, arguing that the group was abiding by laws barring it from backing candidates for office. "We have conservative donors that will support other candidates that have been involved in the conservative movement for a number of years."
But he did seem to agree that the group's prominence in Republican politics was underscored by its founding donors popping up in the Republican candidates' speeches.
"We're very confident that we'll be engaged this year, next year, and in the years moving forward based off of our policy positions, our infrastructure that we're currently building, and the individuals involved in this organization," David added.