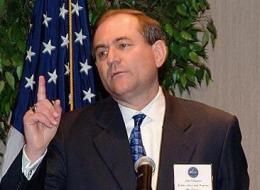 Jim Gilmore today announced his intention to seek the Senate seat being vacated by outgoing Republican Senator Mark Warner. A handful of Virginians likely remember Gilmore as "the guy who was Governor between George Allen and Warner." And we're told that at some point, he was a candidate for President. Like, a real candidate. Not some "tease-you-please-you" pseudo-candidate like Mike Bloomberg.
Gilmore isn't exactly thought of as much of a contender. Even while acknowledging Gilmore as the "almost-certain nominee," the Washington Post Chris Cillizza, writing in last week's "The Line," summed up the Virginia Senate race thusly: "Start warming up the bus. This one is all over. Barring some sort of unforeseen political catastrophe, Mark Warner will be the next senator from the commonwealth...it's hard to even find a Republican who thinks Gilmore has a chance." And while we don't mean to imply that Gilmore is entirely devoid of support, it's worth noting that, as of this writing, there hasn't emerged a Gilmore backer fervent enough to update the candidate's Wikipedia page with this new information.
In an emailed press release, Gilmore promised his race with Warner would be a "clash of the titans," which we can only assume means that he intends to be a blot on the otherwise sterling cinematic career of Laurence Olivier.