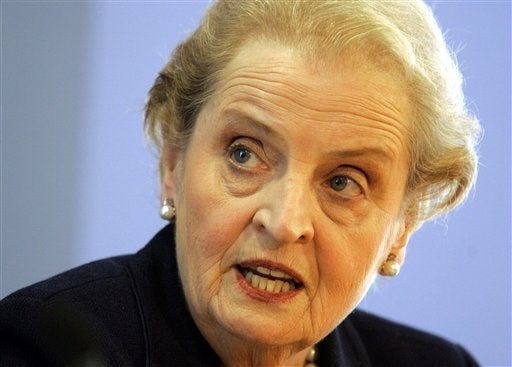 Madeleine K. Albright is going to the mat on behalf of Sen. Hillary Clinton - whom she's endorsed - after Clinton's claims about foreign policy experience were challenged by primary opponents. But the former secretary of state did not go as far as others in saying Clinton was the "face" of international affairs during his husband's administration.
"She will be ready from the very first day to lead our nation in a dangerous and complicated world, which is why I am supporting her candidacy," Albright said.
The foray of Albright into the presidential campaign came after a day of heated back and forth between Clinton and her chief Democratic rival, Sen. Barack Obama, D-IL, over the issue of who was best prepared for the international stage.
The snipping began last week when former Iowa Gov. Tom Vilsack - also a supporter of Sen. Clinton - declared that as first lady, she was "the face" of the administration in regards to foreign affairs. Vilsack defended the comments on Friday even after Gov. Bill Richardson, D-NM, who served as one of President Clinton's main foreign policy figures, took exception.
On Monday, Sen. Clinton herself reiterated Vilsack's claim, saying that "there are a lot of ways in which what I did was the face of America, when I was there, when I was representing not just my husband but the country."
All of this was too much for Obama to ignore. Not buying the logic, he weighed in with his own assessment.
"If she wants to tout her experience of having visited countries, that's fine," the Illinois Senator said. "I don't think that Madeleine Albright would think Hillary Clinton was the face of foreign policy during the Clinton administration. But maybe she'll disagree with that."
Which Albright, to a certain extent, did. Though not going so far as to say Sen. Clinton formulated U.S. foreign policy for her husband, the former secretary of state did provide a list of the New Yorker's accomplishments in the field.
"Hillary Clinton represented American interests and values during her visits to more than 80 countries and her meetings with presidents, prime ministers and leaders of civil society," Albright said. "She has been a dynamic representative even standing up to China by pointing out that women's rights are human rights. Her seven years as a U.S. Senator, including her service on the Armed Services Committee, has further deepened her experience as a dynamic and effective leader for our country."