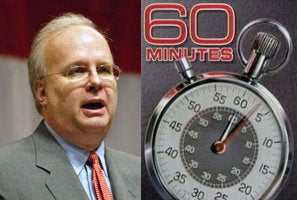 Blogger Larisa Alexandrovna wrote about the blackouts that occured during a 60 Minutes story on how Karl Rove had helped to put Alabama's democratic Governor in jail. Alexandrovna pointed out that CBS in New York first claimed responsibility for the blackout. Now it appears the onus is back on the local Alabama station.

In an attempt to clear up questions about how an Alabama television station lost its signal at the start of Sunday's edition of "60 Minutes" on CBS, the management of the station, WHNT-TV, issued a statement Thursday citing equipment failure.

The station, in Huntsville, said that after a review, it had concluded that the blackout was related to a similar interruption during a basketball game the day before.