Barbara Bush and her old beau Jay Blount were spotted returning from Camp David with the Bush clan this weekend. Bush and Blount's relationship was first reported when the two were co-eds at Yale. No word on whether the two have rekindled their relationship.
The last time Blount was spotted with Barbara, was almost a year ago at a White House dinner for Queen Elizabeth.
Below are a few pictures of Jay and the Bushes from this weekend: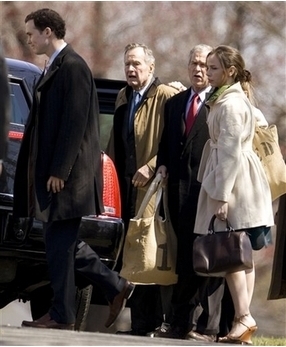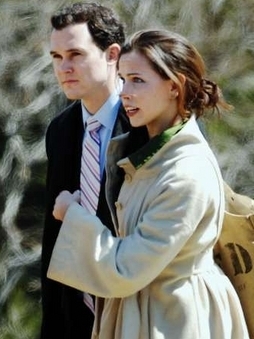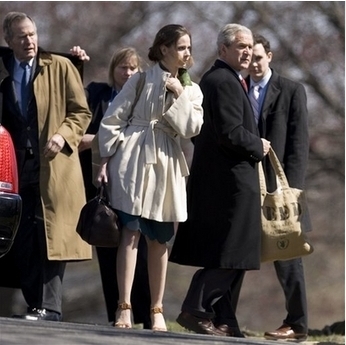 The Washington Post gives some more info on Blount:
Tell us more about this Blount fellow, you say? He rowed crew and was president of the student body at T.C. Williams before moving on to become a BMOC at Yale -- founding a fraternity, playing in a band and getting named one of the campus's "50 Most Beautiful." (In the campus mag Rumpus, he described himself as a "charismatic showman sent to bring balance back to earth.") Graduating a year after Barbara in '05, he enrolled in Yale's graduate business program but did not stay with the class, instead joining Casey, Quirk & Associates, an investment management consulting firm in Darien, Conn. His bio with the firm also describes stints with National Geographic Travel magazine and an internship with Denny Hastert.