Cindy McCain isn't the only spouse of a presidential candidate to pass off a recipe as her own. Bill Clinton, who entered Family Circle magazine's 5th Presidential Bake-Off against McCain and Michelle Obama before his spouse suspended her campaign, appears to have stolen his own recipe for oatmeal cookies.
Family Circle includes this brief description for Bill Clinton's Oatmeal Cookies:
Longtime Clinton family cook Oscar Flores -- he worked for them in Washington and after but is now serving in Iraq -- is famous for these brown-sugar treats, which tempt the former president to break his diet.
However, a tastemaker at the Huffington Post discovered that the ingredients and instructions for Bill's "brown-sugar treats" are pilfered from the most obvious of culinary sources: the Betty Crocker cookbook. Below are the two recipes, see for yourself.
(click to enlarge)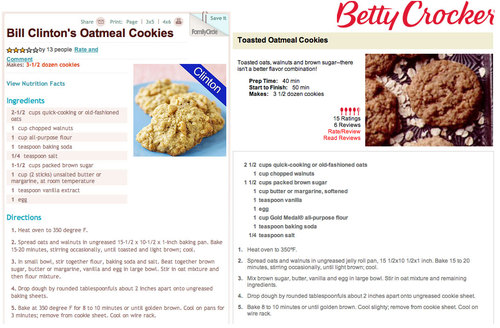 Bill Clinton's Oatmeal Cookies
Betty Crocker's Toasted Oatmeal Cookies