FROM THE UK SUN:
Spoilsport American TV network bosses have banned this advert featuring EVA MENDES for being TOO sexy.
In the steamy commercial for Calvin Klein's Secret Obsession perfume, the gorgeous actress writhes topless on a bed in
Eva admitted she was "thrilled" that the ad was considered too saucy for US broadcast.
-or-
Watch/if video down, scroll for a still of Mendes' banned breast: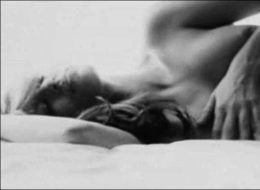 More Eva Mendes Calvin Klein ad, Calvin Klein Eva Mendes ad and the announcement in May of Eva Mendez Calvin Klein gig.