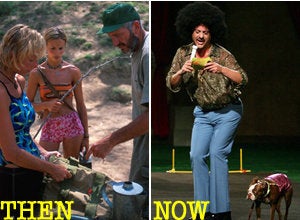 After early success in the reality realm with unscripted series like Survivor, CBS' latest offerings include failures like Kid Nation and Great American Dog. Now Ghen Maynard, the network's executive vice president for alternative programming, is taking the fall.
Maynard, who will segue into a first-look producing pact with CBS (nyse: CBS - news - people ) after stepping down from his current position late last week, is credited with convincing CBS Chief Executive Leslie Moonves to take a chance on the controversial Swedish concept Survivor some eight years ago. The series proved a ratings juggernaut for the network--28.2 million viewers tuned in for the first season--and pioneered the modern reality form and the product placement opportunities that came with it. Next came enduring hits The Amazing Race and Big Brother.
But recently, Maynard's name has been attached to a slew of less successful series, including Pirate Master (Mark Burnett's pirate-themed competition show ), Kid Nation (a highly controversial Lord of the Flies-style series ) and Greatest American Dog ( American Idol meets Big Brother--with canines). CBS declined to comment for this story.