INTRODUCING NEEL KASHKARI
Shortly after the passage of the $700 billion bailout package, the world was introduced to Neel Kashkari, a 35-year-old Assistant Secretary of the Treasury who would be effectively running the controversial bailout. His job is pending Senate confirmation, but likely won't be subject to that before the end of the Bush administration.
Neel Kashkari's bio on the U.S. Treasury web site fills us in on his experience prior to his public service:
Prior to joining the Treasury Department, Mr. Kashkari was a Vice President at Goldman, Sachs & Co. in San Francisco, where he led Goldman's IT Security Investment Banking practice, advising public and private companies on mergers and acquisitions and financial transactions. Prior to his career in finance, Mr. Kashkari was a R&D Principal Investigator at TRW in Redondo Beach, California where he developed technology for NASA space science missions such as the James Webb Space Telescope.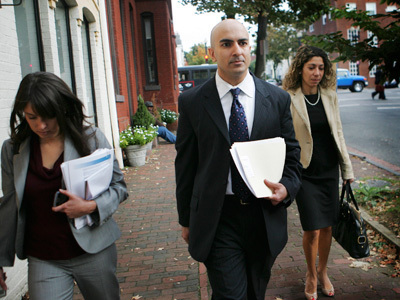 Perhaps worth noting is that Kashkari isn't the only man in the Treasury Department who worked for Goldman Sachs -- Treasury Secretary Henry Paulson was once CEO there.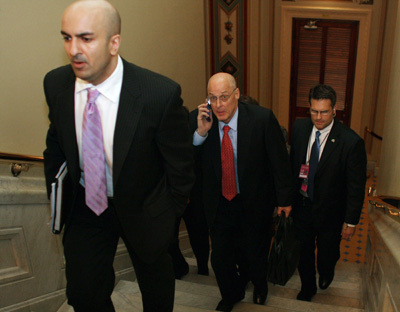 TIME also catches us up on some elements of Kashkari's personal life, including:
• Kashkari grew up in Stow, Ohio, an Akron suburb. As a high school student, he was a fan of heavy metal bands like AC/DC, whose lyrics dot his high school yearbook. He is 35 years old.

• He comes from a family of scientists. Father Chaman has a doctorate in engineering, and won a Presidential award for his work in getting water to African villages. Kashkari's mother, Sheila, is a retired pathologist, and his sister Meera, specializes in infectious diseases.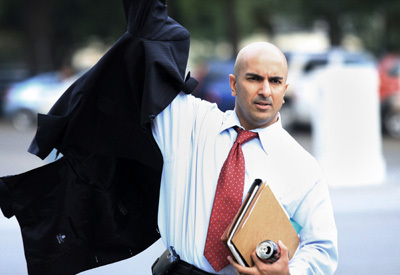 THRUST INTO THE SPOTLIGHT
Assistant Secretary of the Treasury Neel Kashkari said on Monday, October 13, that the US would be investing in "healthy banks," according to Bloomberg. Read the full text of Kashkari's bailout update, Mon., Oct. 13.
Kashkari didn't take particularly well to his newfound fame.
He seemed impatient during a November 11, 2008 public Q&A about the bailout, answering few questions and leaving journalists without any new information on the controversial bailout of AIG. The resulting public and media outcry seemed to spawn a much more cautious and courteous tone not only from Kashkari but also from his boss, Treasury Secretary Henry Paulson.
IS KASHKARI A CHUMP?
On November 14, 2008, amid complaints about a lack of transparency in use of bailout funds, changing horses midstream and playing guessing games to save the US economy, Congress slammed Kashkari -- who has already appeared uncomfortable answering questions -- for his performance thus far.
Rep. Elijah Cummings went so far as to nearly accuse Kashkari of being a chump, though he stopped just short. Instead, he told Kashkari that growing up, he lived in a neighborhood where you didn't want to look like a chump. Then he asked, "Is Kashkari a chump?"
ABOUT NEEL KASHKARI'S YEARBOOK...
Yes, it quotes Rush. But it also quotes President George H.W. Bush and former Cleveland Browns quarterback Bernie Kosar. Turns out Kashkari is a huge Browns fan and always has been. Here's the yearbook page: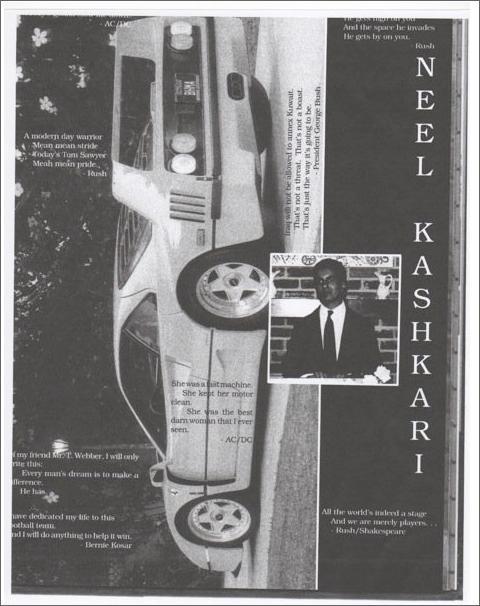 NEEL KASHKARI VIDEO
Kashkari's "comprehensive update" on the TARP, Oct. 13, 2008 (if CNN player below isn't working, try the Kashkari video here):
Kashkari on home mortgage finance at the American Enterprise Institute, Sept. 19, 2008:
More Neel Kashkari reactions, Neel Kashkari profiles, Neel Kashkari introductions, Neel Kashkari bios and Neel Kashkari tidbits

Kashkari's Effort To Track Tarp
After receiving much criticism on handling TARP, Kashkari is trying to improve. The Treasury is developing new ways to ensure banks and companies comply with restrictions on executive compensation and dividend payments. But, Kashkari has a new watchdog over his head to make sure everything goes as promised. The United States Senate confirmed New York prosecutor Neil Barofsky, as the special inspector general within the Treasury Department responsible for checking TARP.

Neel Kashkari Gets Grilled... Again
The hearing was called "Oversight Concerns Regarding Treasury Department Conduct of the Troubled Assets Relief Program." You can imagine it wasn't an easy for Kashkari during his Q&A session with the House Financial Services Committee. Rep. Melvin L. Watt,(D., N.C.) said, People are asking me, "Is Goldman Sachs running this country?" Check out the New York Times' sample of the tense hearing.