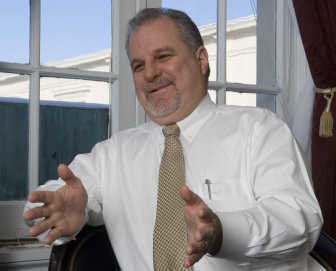 Three members of Idaho Rep. Bill Sali's congressional staff are also now campaigning for his reelection, with at least two of them still drawing some kind of government salary.
An online Sali campaign roster, stamped "completely confidential," lists Wayne Hoffman, Tina Jacobson and Jonathan Parker, respectively, as campaign media manager, North Idaho campaign director and campaign strategist.
Meanwhile, on the congressional salary database Legistorm, the same three individuals are shown to have pulled down federal salaries through the reporting period ending in June (the latest available).
It is not illegal for congressional staff members to "donate" their time to reelection campaigns. But House rules are clear that any campaign work should either be done on the staff member's "own time" unless the staffer takes a leave of absence or reduces his or her work to half-time status.
"Employees who do campaign work while remaining on the House payroll should keep careful records of the time they spend on official activities and, separately, on campaign activities, and demonstrate that campaign work was not done on official time," the rules say.
Wayne Hoffman's dual-hatted role has been noted before -- and criticized -- by the Idaho media. In August, the state's Press-Tribune editorialized that "the dual employ of Hoffman as an official spokesman for Sali's congressional office and as his campaign spokesman is unusual and inappropriate. ... Sali's decision to let Hoffman wear two hats essentially means that taxpayers pay for his campaign press secretary and he doesn't have to cover another salary out of his campaign coffers."
In a conversation with the Huffington Post, Hoffman dismissed the notion that anything was wrong. "It's just part of my volunteer work," he said, describing his campaign role. "It amounts to mere minutes a day, a few days a week. It's hard to take a leave of absence for five minutes a day," he explained. (It should be noted that this one conversation itself lasted more than five minutes.)
Hoffman revealed that congressional staffer Jonathan Parker, meanwhile, has "gone down to part-time, getting paid half of what he was paid before. Even though he's still working 40 hours a week in the official office."
As for Tina Jacobson, Hoffman said he did not know whether she was also volunteering her time to work on the campaign or had reduced her congressional workload.
But to Hoffman, none of this seems to matter since Idaho voters don't care. "No one has ever brought that up at all" on the campaign trail, he said, adding that the race is "not even close." While outside polling in the Idaho district has been sporadic, it may be that Hoffman's claim is correct.
Still, the Democratic Congressional Campaign Committee says its own polling shows the race tighter than recent independent polls.
Sali gave some Republicans heartburn this summer as his solidly "red" congressional district turned into a potentially tight contest. A Wall Street Journal article on the race noted Robert Novak's warning that the GOP should be concerned about a seat that has not gone to the Democrats since 1992. The piece also recounted the following head-scratching example of Sali's propensity for embarrassing even his partisan allies:
After an abortion debate in 2006, then speaker Bruce Newcomb, a Republican, told a group of reporters in the statehouse hallway that Mr. Sali was "an absolute idiot" after Mr. Sali insisted on the statehouse floor that abortions cause breast cancer. 'I've not withdrawn my statement,' said Mr. Newcomb, who now teaches at Boise State University.
Previously, Sali has asserted that a single tree might hold as much as 40 barrels of oil.
But Hoffman insists voters are less concerned with such foibles than they are focused on the government bailout of the financial industry. "It's amazing how that's been repackaged as a 'rescue,'" Hoffman said. "Congressman Sali voted against both versions, just like he voted against the auto bailout. People are extremely happy with Congressman Sali. ... It's gone over extremely well."