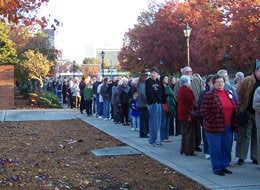 As the Senate race in Georgia rushes to Tuesday's climactic runoff election, Republican incumbent Saxby Chambliss and Democratic challenger Jim Martin spent Monday on the stump across the state as the latest polls showed Chambliss with a 4 to 7 percent lead.
"The race will turn on whether the tradition of Republicans returning to the polls in greater numbers than Democrats in runoff elections will prevail, or whether the almost 1 million automated phone calls by Barack Obama to African-American and longtime Democratic voters will somehow motivate Democrats to return to the polls," Matt Towery, CEO of Insider/Advantage, told the Atlanta Journal-Constitution.
The Wall Street Journal reports that unprecedented amounts of money are being spent on both sides leading up to the runoff:
Overall, interest groups, candidates and political parties have spent more than $17 million during the four-week runoff campaign. That is about as much as was spent during the nine-month run-up to the November election, according to figures collected by the Federal Election Commission, the candidates and their political parties.
Keeping an eye on the race were several dozen Huffington Post volunteers, who have attended campaign rallies and monitored robocalls and mailers sent out by both Chambliss and Martin.
Pureterrah Witcher reported on Monday morning's Chambliss rally in Savannah featuring Sarah Palin:
One of four stops she will make in a state that backed her GOP ticket with 52 percent of the vote, at the rally Palin challenged her supporters to join her again in an effort to "maintain checks and balances" on an administration that could receive a "blank check" from a Democratic majority Congress.

"This is an attempt to put government back on our side. Let it begin in Georgia. In the months and years ahead we must build the case for reform with more than words, but action. The United States is counting on you to send Saxby back to the U.S. Senate," Palin said to a spirited crowd of supporters.

"We all have Georgia on our minds. All of this depends on you," Palin said referring to the song by the late musician Ray Charles...

And as the Republicans are faced with steep political dilemmas; losing a number of Senate seats in the final tally of the Nov. 4 election, Palin commented on the party's future; acknowledging reform would have to be priority.

"I will admit we've got some fixin' to do. But we need your help to do it; to reignite the common sense, pro-working class conservative cause," said Palin.

Getting out the vote alongside Palin, the state Republican Party lineup included, Georgia Gov. Sunny Perdue, Georgia Sen. Johnny Isakson, Rep. Jack Kingston (R-Georgia), State Sen. Eric Johnson (R-1) and Rep. Jerry Keen, (R-Georgia).

With the security check points gone and nearby parking available to those who arrived on time, supporters filled the auditorium space quickly to see the woman who has become a political dynamo in less than six months.

"I predicted she would be McCain's running mate. She's got what it takes to make it in politics. She's tough, bold, smart and can rally the troops like no one else," said Steve Beveridge, of Richmond Hill, Georgia. "This is show time and they brought in the right one to get the job done."
Watch this video of Palin's rally:
Here are some pictures taken by Mony Morgan of Palin's appearance at a Chambliss rally at the James Brown Arena in Augusta at 8:30 on Monday morning: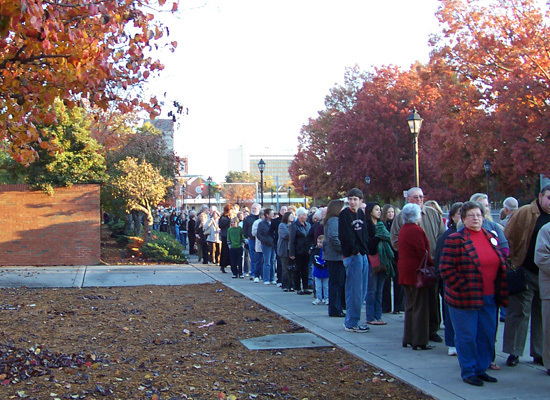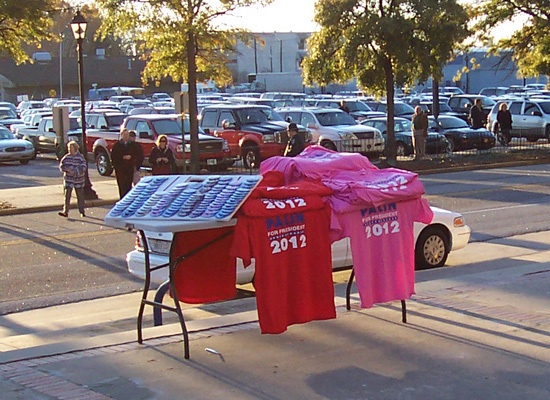 - No Chambliss T-shirts, buttons, etc. It was ALL Sarah Palin. She was all the others talked about and all the merchandise purchased there or worn there was about.


- No one attacked Barack, they all talked about checks and balances and keeping one party from controlling all branches.

- It was an all-star cast of GOP locals from the sheriff up to the Governor.

- When she finally came out the crowd went wild, and during her speech people (mostly men) screamed "I love you Sarah."
Morgan also photographed a meeting of Martin supporters at Richmond County Democratic party headquarters: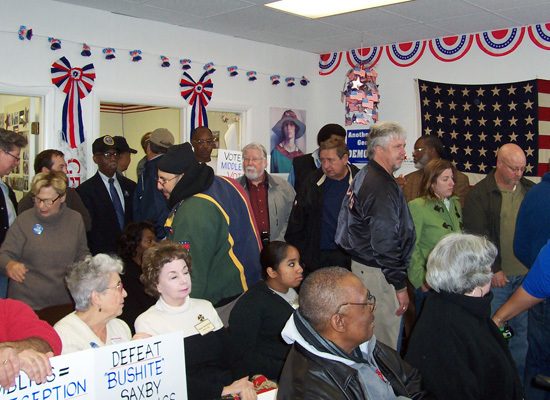 The headliners were 30 minutes late, invoking the memory of Dr. King and his famous CPT. Colored People Time. By the time they had arrived we had already done the prayer, the Pledge of Allegiance, and sung the National Anthem.

Jim Powell spoke, then Congressman Hank Johnson from GA's 4th District was at the rally in John Lewis' place. Then Jim Martin. Jim reran the change message and talked about supporting Barack Obama in the changes for America. He also talked about Chambliss' rubberstamping whatever Pres. Bush sent forth.

The Democratic office was packed. The rally was originally scheduled to be held outdoors but the morning temperatures were at 36 degrees, that is very cold to a southerner. In contrast to the Palin event, this rally was more like attending a black church. With speaker and the audience answering back. It was passionate and we were in very close quarters. When Jim Martin arrived everyone joined in singing "America the Beautiful." The songs were led by union workers in the crowd. These union workers were from all across the U.S. as far away as CA.
Several volunteers, including Rubbie Major and Margaret Ann Shick, reported receiving robocalls from the Chambliss campaign highlighting the candidates' positions on abortion and taxes. Rupert Fike reported receiving a push poll call that asked "Do you share concerns that Jim Martin would become a rubber stamp to the far-left policies of Barack Obama?"
Frank Mack reports on early voting, predicting a good turnout for Tuesday's runoff:
I monitored this center daily during the general election. During the week of early voting preceding the general the lines extended out the doors from opening until close every day. A reasonable estimate would be crowds of 350-400 outside while the interior held approximately 100 at all stages of waiting and voting.

For this runoff there was not a line outside the building at all any day of the week yet. I would estimate that 75-80 people either stood in line inside the building or were in the process of voting at all times during the 30 minutes or so it took me to pass through.

In other words the early voting numbers will not touch the general in this area. On the other hand there is a line of people early voting......for a run off.... I'm 50 and I have never seen that before as we had never seen what took place in the general before.