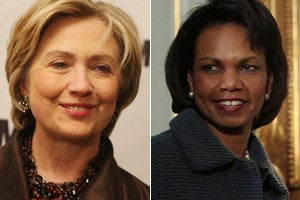 NBC News reports that the current Secretary of State is having her successor over for dinner:
Secretary of State Condoleezza Rice will host Hillary Clinton tonight for dinner at Rice's Watergate apartment, State Department transition sources tell NBC News.

Clinton is also taking part in transition meetings today at the State Department.
On Sunday, Rice called Clinton a "terrific" choice for Secretary of State and added that "she'll do a great job."