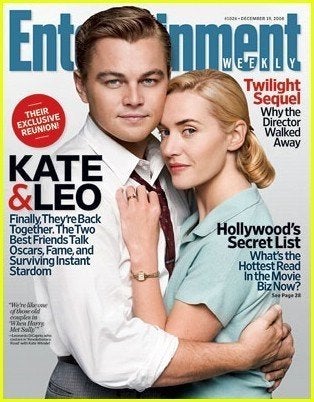 Leonardo DiCaprio and Kate Winslet reunite for the upcoming flick, Revolutionary Road and on the cover of Entertainment Weekly.
Kate on Leo running late to the joint interview: "Where is that little f--er?"

The pair on the post-Titanic fame:
WINSLET: I look back on that time now and I remember thinking, ''I'm doing okay, I'm absolutely fine. My life hasn't changed. I won't let it! I can just walk to the grocery store and buy milk in my pajamas still. Ahhhh, right, no, I can't. I have no idea what the hell is going on or how I'm supposed to deal with suddenly having 10 paparazzi there. Oh, okay, ohhhh, I get it. Anonymity, that's gone.'' I look back and think, ''Jesus, I was seriously ill-equipped emotionally to be able to cope with all of that stuff.''

Is there any way for a young person to equip oneself for fame?
WINSLET: No, I don't think so.
DICAPRIO: No.
WINSLET: But it did affect my choices as an actress, definitely. In a good way. It really made me sit and think, ''Okay, you know what? Don't worry about the fact that there's 10 paparazzi outside the door, don't worry about the fact that people may be expecting completely different things from you right now just because you're suddenly so famous. This doesn't mean anything in the grand scheme of what you love about your job.'' So in a way, Titanic has played a very big part in being able to hang on to a sense of who I am, because I felt that I had to fight for it then at a very young age.
DICAPRIO: Honestly, it was so bizarre. I just didn't work for a couple years. I think I did one small cameo? [Looking at Kate]
WINSLET: You did [Woody Allen's] Celebrity.
DICAPRIO: Then I did Man in the Iron Mask, but that was before Titanic had been released. I think?
WINSLET: Yes, you did Man in the Iron Mask and then you did Celebrity.
DICAPRIO: Thank you, Kate! [Laughing] I think it's hilarious that I need to ask her.

Leo on if he wants an Oscar
I don't want to jump into the whole cliché about the honor of being nominated, I'm not going there, even though that's the truth. I don't know how to answer -- I feel like some people are titled as Oscar-hungry and I would not say that I'm hungry for one. It's not something I've got to have in my life.

Leo on current teen heartthrobs Zac Efron amd Robert Pattinson:
That's the interesting thing about being an actor. You are also a public figure. Early on I made it my policy that a certain amount of publicity is good -- you promote your job, you do your movie, you retain your private life, you don't divulge everything about yourself. And when I see younger actors getting a tremendous amount of publicity, I say to myself, Well, they've been given an unbelievable opportunity, and I hope they know within themselves that all that really matters at the end of the day is the work. All this noise and attention will absolutely deteriorate and there will be a new, fresh piece of meat for the media to focus on within less than a year's time. So what they should do at this moment is work their asses off to prove to the public and prove to themselves that they can absolutely have a long-term career.
Revolutionary Road opens in theaters everywhere the day after Christmas.
To read the full article go to EW.com.