UPDATE 2:30pm
Scarlett Johansson's PR rep has issued the following statement claiming the UK Cosmo story is false:
The quotes attributed to Scarlett Johansson regarding her marriage in the UK edition of Cosmopolitan are wholly fabricated. Ms. Johansson has at no point granted UK Cosmopolitan an interview, and she has never discussed her personal relationships with the publication. In fact, in an interview with US Cosmopolitan given prior to her engagement, (Published August 2008) Ms. Johansson states the following when asked about her relationship "I hate feeling like I have to share my personal life with anybody. So I'll take the normal celebrity route and just say I'm going to keep my personal life private."

The cover story is an obvious attempt by UK Cosmopolitan to gain monetarily by misinforming their readers. Ms. Johansson, who goes to great lengths to preserve an authentic representation of herself with respect to her fans and the media, is disappointed to see a seemingly reputable publication inexplicably publish a work of fiction at her expense. She will be seeking legal action accordingly.
Bombshell Scarlett Johansson has broken her silence on her wedding to Ryan Reynolds and and talks romance in the UK edition of Cosmopolitan magazine. The pair have worked hard to keep their relationship private by walking red carpet alone, keeping their marriage ceremony private and rarely being photographed together.
Of marrying:
'Love is the right person at the right time. This is a very beautiful time for me. Getting married is a huge moment in anyone's life, and the few months leading up to it were a little crazy.

'But Ryan and I are in love and we're enjoying evolving our relationship together. I feel that my life and my work are heading in the right direction... We're like any other couple - we feel so fortunate to be together and so happy to have made this commitment to share our lives.'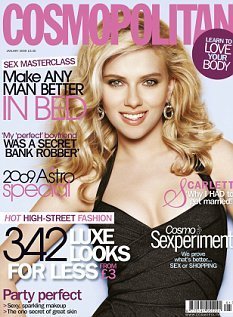 On romance:
''Ryan has a very romantic side. We both enjoy remembering little things that make us happy - for me, that's what romance is all about.'

How not all men have fancied her.
'I've been in situations before where a guy hasn't been into me. It's either they don't want to commit or put in the effort, or they're too involved in their own thing'.

'You don't always meet the right person at the right time and I think it's important for people to figure out their own lives before involving someone else - to gauge where you are and work on your own issues.'