Back in the early days of Sarah Palin's Wardrobegate, the governor first addressed the issue at a Florida rally, where she told the audience -- "without the filter of the media" -- that she's "back to wearing my own clothes from my favorite consignment shop in Anchorage, Alaska."
That shop turned out to be called Out Of The Closet!, and within days the store was not only bombarded with phone calls and visitors, but it received a 'cease and desist' letter from the AIDS Healthcare Foundation, which runs a charitable thrift store chain by the same name, too.
Talkingshopping.com, who, having interviewed Palin's makeup artist Amy Strozzi earlier this month, has been all over the post-election Palin beat, caught up with Out of the Closet! owner Ellen Arvold to find out about life post-election.
On contact with the governor after the election:
"She's been shopping here for about three years," Arvold said. "Her office is only a block away so sometimes she'd come shop during lunch, or she'd stop in with her daughter on the weekend. But no, we haven't seen her since she's been back, but she's a really busy person." However, she did tell TS that she got a note from Gov. Palin just last week with a picture inside it of her wearing a pink Dolce & Gabbana jacket that she bought at the store. She thanked Arvold for her store and also apologized for causing the store any "grief", which Arvold mentioned, "it did."
The jacket may have been the one Palin was wearing the day she mentioned Out Of The Closet: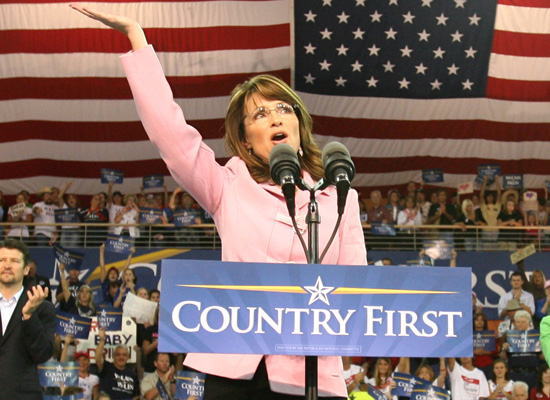 On life at the store since the scandal:
Arvold told TS that "Things went a little crazy there [at the store] for a while. For about a month, we couldn't answer the phone because it was just ringing off the hook." She also noted that directly following the mention, they had a few really big months for foot traffic in the store and that traveling business people would stop in and ask about Palin, but that, "we're still in Alaska and we still have the same clientele because of our location."
On changing the store name:
"...we're in the process of doing [that] right now." As of now, they still answer to "Out of the Closet," but, "we are keeping the new name a secret to everyone right now, and we're planning to reveal the new name at our grand re-opening for our five-year anniversary on February 14th." The TS team did a little digging on the Alaska Dept. of Commerce website and found that Ellen M. Arvold on registered a new business name on November 6, 2008 called, "The Closet".

Read the full interview here.