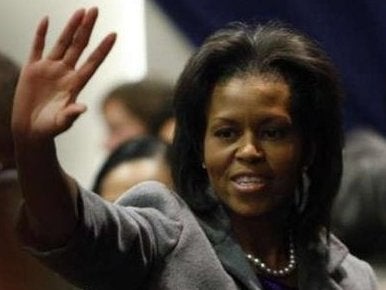 The White House is deploying a major weapon in the form of Michelle Obama to drum up support for the stimulus bill. The First Lady has embarked on a federal agency listening tour that includes pushing the case for the massive package. The Politico has more and The Washington Post has a report on Michelle's visit to the Department of Housing and Urban Development Wednesday:

As she makes a "get-to-know-you" tour of federal agencies, Obama is using her considerable platform to amplify the message coming out of the White House: pass the stimulus plan, and pass it now. Meanwhile, President Barack Obama has ramped up his efforts as well, reaching out to Republicans one-on-one, doing back-to-back TV interviews and tapping his grassroots network through the Internet.

The White House seems to be betting that Michelle Obama can work some of her old campaign magic--she was nicknamed "the closer," because she was so effective at getting undecided voters on board.

From The Washington Post:

Yes, there are a lot of cubicle-dwelling bureaucrats here, and yesterday they all wanted to see the most famous woman in the world. The Michelle Obama Federal Agency Tour made its second stop, at the huge headquarters of the Department of Housing and Urban Development in Southwest Washington.

"She looks just like she does on television," observed Robin Hawkins, one of about a thousand employees who lined hallways and pressed excitedly into an auditorium to welcome Mrs. Obama. "It was just the best feeling to see her up close in person." The first lady's remarks also were beamed to 83 field offices. On Monday, she went to the Education Department, where a crowd of about 350 hailed her.