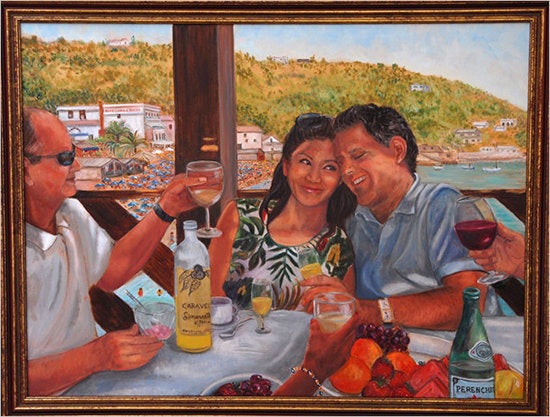 A New York Times story on celebrities' portraits reveals that CBS CEO Les Moonves and his wife, "Early Show" anchor and "Big Brother" host Julie Chen recently had their portrait painted by close friend Margaret Rose Perenchio — at Perenchio's request:
Ms. Perenchio used a photograph she had taken when the couple were on vacation with her and her husband in Capri (which also serves as a backdrop for her portrait of her friend Shakira Caine, Michael Caine's wife). Later, in New York, she took more photographs of Ms. Chen with full makeup. "So she'd look glamorous," Ms. Perenchio said. "I didn't feel like she wanted to be completely au naturel." Rather than charging Mr. Moonves her usual fee of about $12,000, she asked him to make a donation to a charity.

The Moonveses' portrait was unveiled in October when Ms. Perenchio opened her gallery, LA Art House, in West Hollywood. The show also included reproductions of some of her celebrity portraits, including a pregnant Ms. Hayek, Ms. Perenchio's neighbor, holding a rose, and Mr. Pavarotti sitting in Central Park. Ms. Perenchio said she understands that being the subject can be difficult for some people, adding that she has two friends who have posed for Julian Schnabel and keep the portraits in storage.

But Mr. Moonves took the portrait home, and said he had none of the angst Mr. Schumacher felt. He hung it in the den off the rose garden in his Beverly Hills home and invited friends over to view it. "We love it," he said. "It looks so right there, in the room where we hang out most.