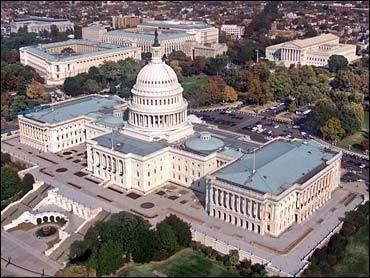 There has been something of an inverse partisan reaction in Congress to President Obama's speech on Friday outlining a drawdown of U.S. troops in Iraq. While Democrats on the Hill expressed support with heavy strands of trepidation, Republicans seemed generally on board.
Among the upper-echelons of Democratic congressional power, the reaction was nuanced: at once happy to see the war come to a close and thankful for the job done by the troops, but also skeptical of the notion that a residual force of 50,000 troops will remain after August 2010.
There was, for instance, statements of carefully-worded support from the two officials in charge of their respective chambers.
"As President Obama's Iraq policy is implemented, the remaining missions given to our remaining forces must be clearly defined and narrowly focused so that the number of troops needed to perform them is as small as possible. The President's decision means that the time has come at last for Iraq's own security forces to have the prime responsibility for Iraq's security."
And Senate Majority Leader Harry Reid:
"I strongly believe that we must responsibly end the war in Iraq to make America more secure, and must keep in Iraq only those forces necessary for the security of our remaining troops and the Iraqi people. I look forward to further discussing this plan with the President and working with him to ensure we are doing what is best for America's security interests and ensuring our military remains the strongest fighting force in history."
But not everyone was walking the party line. Some House Democrats, noticeably the ones most critical of the war, vociferously attacked Obama's plan for representing an insufficient reduction of combat force. California Democrat Lynn Woolsey called it "unacceptable":
"Call such a troop level what you will, but such a large number can only be viewed by the Iraqi public as an enduring occupation force. This is unacceptable."
And from Dennis Kucinich:
"I support President Obama for taking a step in the right direction in Iraq, but I do not think that his plan goes far enough. You cannot leave combat troops in a foreign country to conduct combat operations and call it the end of the war. You can't be in and out at the same time."
Across the partisan aisle, meanwhile, the reaction was seemingly more positive. Obama's troop withdrawal fell along the lines of that pushed by political leadership in Iraq, so it was a necessary pill to swallow. It was his decision to maintain military flexibility that had the GOP smiling. As House Minority Leader John Boehner declared in a press release:
"I believe he has outlined a responsible approach that retains maximum flexibility to reconsider troop levels and to respond to changes in the security environment should circumstances on the ground warrant."
On the Senate side, Minority Leader Mitch McConnell offered similar sentiments, though crediting General Petraeus far more than the president.
"It is encouraging to see the Obama Administration embrace the plan of Gen. David Petraeus that began with the successful surge in 2007, and continues shifting combat responsibilities to our Iraqi allies. I commend our men and women in uniform, our military leaders, and the President's decision yesterday for making it possible to take another step toward realizing our goal of a stable Iraq."
Perhaps the truest indictation of the inverted political universe came in the form of remarks from Obama's general election opponent, Senator John McCain, who was fully on board the president's plan for a residual force.
"The American people should be clear: the President's plan, even after the end of its withdrawal timeline is reached, will leave in place up to 50,000 U.S. troops. All will be in harm's way, and some will continue to conduct combat operations. They will play a vital role in consolidating and extending the remarkable progress our military has made since early 2007. That is why I believe that the administration should aim to keep the full complement - 50,000, as briefed by Secretary Gates and Admiral Mullen - and not succumb to pressures, political or otherwise, to make deeper or faster cuts in our force levels."