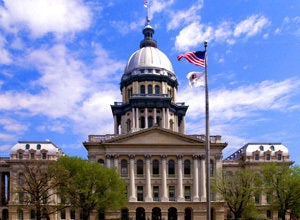 CHICAGO -- When former Illinois Gov. Rod Blagojevich said a day before being arrested that sunshine hung over him, he wasn't talking about releasing public records.
The ousted governor's administration was known for routinely fighting or ignoring even the most basic requests for information.
With Blagojevich now removed from office and facing federal corruption charges, new Gov. Pat Quinn is moving quickly to open up state government. But he has a long road ahead.
Illinois ranked No. 32 nationally in the 2009 Sunshine Week survey of state and local government information readily available on the Internet. Sunshine Week, which begins Sunday, is a national initiative by journalism organizations to focus on open government and access to information.
Illinois has public records in 10 of the 20 online categories surveyed. But it doesn't have a searchable statewide database of expenditures, the Illinois Department of Transportation doesn't make contracts available on its Web site and hospital inspection reports aren't available online, according to the survey.
Only Texas provided information in all 20 categories in the survey, which was coordinated in partnership with the American Society of Newspaper Editors' Freedom of Information Committee, the National Freedom of Information Coalition and the Society of Professional Journalists' FOI Committee.
In the state's highest office less than two months, Quinn already has ordered state agencies to study what information can be made available online.
"A government that shrouds itself in secrecy and shuts out the sunshine of public scrutiny is one that will neither earn nor deserve the respect and trust of the people," the Democrat wrote in a memo to state agencies late last month.
Illinois does provide online access to information that includes political contributions, businesses that register fictitious names, and disciplinary actions against attorneys and doctors, according to the Sunshine Week survey.
Quinn also has told state agencies to assume information should be released under the state's Freedom of Information Act unless there is a clear prohibition to withhold it.
"That's exactly what we wanted him to do," said Attorney General Lisa Madigan, another likely Democratic candidate in the 2010 governor's race who also is backing more government openness. "It has to come from the top and under the former governor the directive was clearly: 'Don't provide information even if the law says you have to turn it over."'
Blagojevich's administration routinely withheld information, even fought unsuccessfully in court to not release secret subpoenas from federal prosecutors.
The Better Government Association watchdog group sued for subpoenas that were released, and Quinn has since hired its former executive director, Jay Stewart, to be his senior counsel. Stewart's job includes working on matters of government openness.
Stewart said there has been a flurry of information requests related to Blagojevich's time in office now that the impeached governor is gone.
Under Quinn, Stewart expects more state government information to be moved to the Web after agencies assess what they've got, the demand for it and the cost of making it digital.
"We're trying to adopt a clean-slate attitude on this," Stewart said.
Keeping tabs on government and politicians becomes infinitely easier when state records are accessible online.
"We really have to get away from the sense that public records belong to the public body and not the public citizens," said David Morrison, deputy director of the Illinois Campaign for Political Reform.
Morrison remembers a time more than a decade ago when political campaign contributions could only be accessed in two places: state office buildings in Chicago and Springfield.
Inside one of the offices, information-seekers had to fill out a form in triplicate stating why they wanted to look at the records. The form then was sent to the political committee whose records were being inspected.
"It was supposed to scare people," Morrison said.
While those days are gone, some officials hope they'll fade even further from memory with fresh efforts to rewrite Illinois' freedom of information act.
Madigan is backing legislation that would impose fines on governmental bodies that do not comply with disclosure requests. She has suggested to Quinn ways to increase compliance with public records laws, including appointing a senior public information officer.
Madigan also has said all FOIA requests denied during Blagojevich's six years in office should be reviewed to determine what information should be released. Stewart said such a review wasn't under way.
Before a reform commission Quinn created to clean up state government in the wake of the Blagojevich scandal, Madigan blasted the former governor's "culture of secrecy."
"Former Gov. Blagojevich made secrecy, not sunshine the default position of state government," Madigan said.