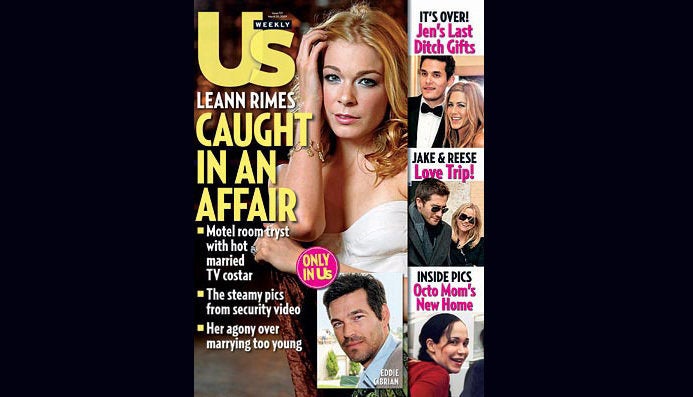 UPDATED 4 PM WEDNESDAY:
Eddie Cibrian denied the report to Access Hollywood:
"Other than being friends and two actors who were romantically intertwined in a movie-for-television we filmed last fall, there is no truth to the reporting initiated by US Magazine," Eddie said in a statement to Access Hollywood on Wednesday. "It is a fabricated story that is using random snapshots as connective tissue to create a scandalous relationship."

Earlier in the day, a rep for the actor told Access that Us Weekly's reports of a steamy tryst, which broke Tuesday, were "absolutely NOT true."
UPDATE 11 AM WEDNESDAY:

Rimes's husband Dean twittered, "I Love My Wife!!!" Wednesday morning.
"This is a difficult time for me and my loved ones, but I appreciate all your continued support," she writes Wednesday. "I would like to assure all of you that this is a place for you to hear things directly from me and as you all know, not everything in our lives is always black and white."

Before signing off, Rimes tells fans, "have faith."
PREVIOUSLY:
LeAnn Rimes, 26, is having an affair with her TV movie costar Eddie Cibrian, 35, reports the upcoming issue of Us Weekly.

The singer-actress, who shot to stardom at age 13 for her rendition of "Blue," married backup dancer Dean Sheremet when she was 19. The pair have no children.
Cibrian, known for a recent stint as an adulterous gym coach on "Ugly Betty," married in 2001 and has two sons.
Rimes and Cibrian costar in the upcoming Lifetime Nora Roberts' adaptation "Northern Lights," the trailer of which is below.
"From the moment we rehearsed, LeAnn and Eddie honestly developed a really strong bond and a warm relationship," director Mike Robe told Us prior to news of the affair.

Their rapport carried off the set as well.

The new Us Weekly features pictures taken from a video security camera that show the two holding hands and kissing on a romantic dinner date at Mosun and Club M in Laguna Beach, California on March 7. Additionally, Us Weekly reports that the new couple met for a three-hour tryst at the Malibu Beach Inn on March 14.