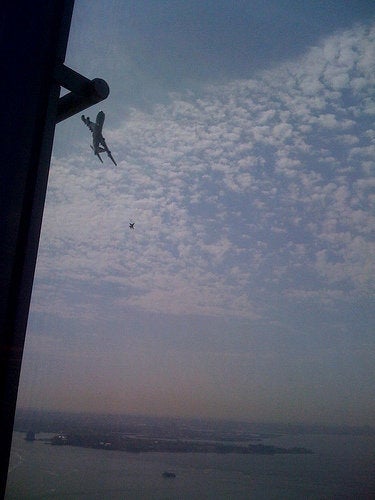 SCROLL DOWN FOR PHOTOS OF THE AIR FORCE ONE FLYOVER ON APRIL 27
UPDATE: Louis Caldera, Director of White House Military Affairs and responsible for the ill-conceived Air Force One photo-op, resigned today.

The photo-op cost $35,000 in fuel alone for the plane and two jet fighter escorts, the AP reports. The Air Force estimated the photo shoot cost taxpayers $328,835.
AP reported this morning [April 27, 2009]:

Two fighter jets escorted a low-flying Boeing 747 over lower Manhattan on Monday as part of a federal government photo opportunity.

That's the same part of town where hijacked passenger jets crashed into the World Trade Center on Sept. 11, 2001.
The plane was reportedly flying over the Statue of Liberty as part of a photo-op for the Air Force.
One HuffPost reader captured video of the plane flying close to his office building in Lower Manhattan.
HuffPost readers also sent in photos from this morning, which are included in the slideshow below.
Readers in New York, did you see the plane flying at low altitude this morning? If you managed to snap a picture or capture video, send it to us at photos@huffingtonpost.com with your name in the subject line.