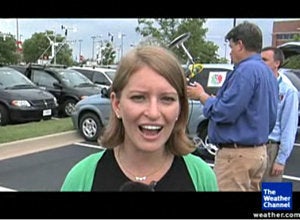 Tur will join Vortex2 host Mike Bettes as he conducts a five-week field experiment to "explore the origins, structure and evolution of tornadoes." Tur, who was a freelance reporter for New York's CW affiliate (WPIX) in 2008, will join the program as a Digital Journalist.
On Friday, Bettes interviewed Tur about her feelings on the new assignment and coined a nickname for her — the "Tur-nado chaser." From their Q&A:
Mike: What did your family say when you told them you were going chasing?

Katy: "Awesome! Can we come?"
Tur's dad, Bob Tur, is a legendary Los Angeles helicopter reporter.
Olbermann denied any speculation that he assisted Tur in getting the Weather Channel gig, telling TVNewser that Tur was hired based on talent alone.
"Anybody who suggests so is misinformed, and/or sadly unaware that in this time when the industry is collapsing around us, nobody gets a job based on 'influence,' only talent," he said.