Raising the U.S. flag upside down is supposed to mean you're in trouble, not cause more of it.
But for the Rev. Michael Pfleger, who has been flying Old Glory with the bars above the stars for nearly three weeks to draw attention to a spate of gun violence in his South Side community, it has both helped and hurt his cause.
Pfleger hoisted the upended flag in front of his church, St. Sabina's, on May 5. Since then, the priest has been maligned by veterans, had the flag cut down and stolen, received death threats and had to ask the Illinois Attorney General's office to investigate an impersonator sending lewd e-mails in his name.
Robyn Ziegler, a spokeswoman for the Attorney General Lisa Madigan, said they're looking into the matter but that it was too early to comment.
For Pfleger, an outspoken social justice activist with a penchant for controversy, these are markers of success.
"In all my years of rallying, marching, going down to Springfield, nothing has created a more national response," Pfleger told the Huffington Post. "If it raises the conversation, and I hope puts pressure on legislators, hey, it's worth every bit of grief we take."
Pfleger has no plans to turn his flag right side up and the crusade is spreading-- at least nearby. (Pfleger did agree to fly the flag right side up for Memorial Day, but will invert it as soon as the day is over.)
At the neighboring St. Kilian's parish, the Rev. William Vanecko has turned the U.S. flag inside his church upside down, and Pfleger said he's getting calls every day from religious and advocacy groups around the country who say they are turning their flags upside down in support.
"I saw in the media that Mike had done it," Vanecko told the Huffington Post, "and after hearing what he said about why he was doing it, we turned ours upside down, too."
Vanecko said a young man from his community was shot in the street four weeks ago, and that the upturned flag has drawn no complaints from parishioners.
"I explained that in no way was this a reflection of patriotism, and it is not meant to be disrespectful of the country," Vanecko said. "Nobody in my parish is seeing it as flag-burning."
While Vanecko said he plans to fly the flag for a couple of weeks, Pfleger said he'll fly it as long as it takes to get a serious legislative response.
Pfleger is encouraging his parishioners to write letters to President Obama asking him to appoint a gun violence task force with Secretary of Education Arne Duncan and members of the Department of Homeland Security.
In the meantime, Pfleger is doing whatever he can to keep the issue alive and in the public consciousness.
On Mother's Day a group of mothers of children killed or wounded by gun violence held a rally at St. Sabina's, and on Tuesday a group of 40 veterans gathered to support the inverted flag.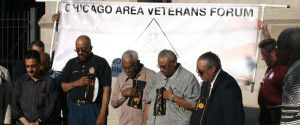 Courtesy
The U.S. Flag Code holds that the flag should never be flown upside down "except as a signal of dire distress in instances of extreme danger to life or property."
Pfleger sees using an upside down flag as a form of protest against "extreme danger" and therefore in keeping with the code.
"Tell that to the parents who've had their child buried. Tell that to children too scared to go to school," Pfleger said. "What I don't understand about this [criticism] is when people dial 9-1-1, nobody asks why they're dialing, they ask how they can help. When people on a boat raise a [upside down] flag, nobody asks why are they raising it, they just go help."