This page will be updated throughout the day. Email your thoughts and pictures to submissions+mj@huffingtonpost, share in the comment section, or tweet to #mjmemorial.

FINAL POST: Thank you to everyone who shared your thoughts and to those who linked to this memorial page over Twitter. There are dozens of heartfelt tributes and poems in the comment section that were not posted but are certainly worth reading. Take a look. You are also encouraged to add your thoughts as this page will continue to be a reservoir of memories that honor Michael Jackson's impact on the world.
5:37 PM PST: Kobe Bryant shares his thoughts after the service:
@realkobe24: "Memorial was a very celebratory and emotional event. Michael you are in a better place now. Rest in Peace"
4: 49 PM PST: HuffPost's Eyes & Ears photojournalist Jim Stevenson attended the memorial and reports that people gathered along the security perimeter a block away from the Staples Center to show their support. He says many of those in attendance were from abroad, such as this family from El Salvador and a group of girls from Japan.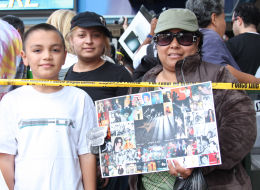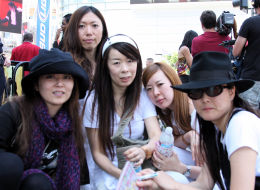 1:33 PM EST: Usher gets emotional about his attendance and performance:
@the_real_usher: "That was the most emotional performance of my life... rest in peace Michael... you will always be in my heart"
Send in your thoughts to submissions+mj@huffingtonpost.com and email your memorial photos as well.
12:46 PM PST: Michael Jackson's twelve-year-old daughter Paris unexpectedly took the mic to end the ceremony. She gave us the most touching tribute of the afternoon:
Ever since I was born, my Daddy has been the best father you could ever imagine and I just wanted to say that I love him so much.
Twitter filled with emotional responses. @WryBeauty maybe said it best, "Oh Paris...past the media coverage and all that, I think some of us forgot that these children lost their father."
12:34 PM PST: HuffPost commenter Beaster reflects on the impact the Jackson Five had on black musicians and fans alike:
I think it was 1969, when race relations were at the forefront. And all of a sudden there stood these 5 young black boys on the Ed Sullivan show! "Ladies and Gentlemen, The Jackson Five." Along with all of the other events of the sixties, this one was paramount in my life! From that moment on, my generation of black boys had someone to identify with. [...] Thank you Mr. Jackson for the music you've provided me throughout my life. Long live the music!!!
11:56 AM PST: Belva Davis wrote in to share her memory of interviewing the young Michael Jackson. She had her daughter keep a clothing store open late to allow them to shop for jeans after hours. The story is too long to post, but can be read here.
11:11 AM PST: For commenters Ohioan730, and losangelian1, Jackson's memory is especially treasured because it reminds them of their first experience with music:
The Thriller album was a very coveted birthday gift and
I'll never forget the day my grandparents bought it for me when I
turned 9.

Later, I found my mother's old stash of The Jackson's hits from
the 70s. They were all on 45s. I was not allowed to use the record
player anymore because I kept breaking the needles playing these
records. When everybody left the house, I would sneak and play the
records, break the needle and get in trouble again.

Thanks for the great songs, Jackson family. Getting yelled at for
breaking record needles was so worth the 30 mins I got to spend
getting my jam on in peace while everybody went to the store.
--Ohioan730
HuffPost commenter losangelian1 remembers the time Michael Jackson was
a regular visitor on his street:
Today, I am an avid lover of music...

His was the first audio cassette I ever bought. It was the first
music I was into. My neighbor and I competed to see who could cover
our walls with more Michael Jackson posters. I remember a school field
trip to Olvera Street, where we could buy cheap T-shirts and pins --
they were all of Michael Jackson... I, and everyone I knew at that
time, were huge fans.

And then the amazing happened... every wednesday night, a
Jehovah's Witness church group met 4 houses down from mine. And every
Wednesday, a black car would pull up, and out would step Michael
Jackson. As the kids on the block figured it out, we would wait to
catch a glimpse. We eventually made him a card... and he requested to
meet us. He shook our hands and gave us signed albums. I was a young
kid, but I'll always remember both how shy, and how kind he was.

It was sad to watch his decline. I am sorry that he didn't have
people around him to keep him grounded, because he was an amazing
talent, and he had a big heart.--losangelian1
11:02 AM PST: Michael Jackson, though at times hard to figure out, always had the ability to bring people together. Kisha Green from Atlanta, Georgia remembers how Michael created common ground between kids on the schoolyard:
Michael Jackson was a supernova. Just like a supernova, a collection of energy so bright that it cannot sustain and quickly flames out, so was the King of Pop. Michael Jackson sacrificed his childhood to bring us the music that would be the soundtrack to ours.

I remember being a little girl in Nashville, TN in 1983 and being bused across town to help integrate Gateway Elementary. It was the first time I'd gone to school with kids outside of my community and I didn't know what to expect. But like children often do we ignored the silly barriers of things like race, and quickly came together over what we had in common--grape soda, french fries and Michael Jackson. Bonding, black kids, white kids, mixed race kids, boys and girls all over one thing--our love and adoration of Michael Jackson and his music.

Everybody loved MJ, everybody had a copy of Thriller, everybody had a glove or a jacket or a poster. Everyone imitated his dance moves. He was the greatest performer of all time. Michael may be gone, but his music will live on forever.
10:51 AM PST: TMZ has the 14 page program that participants have received at the service.
10:31 AM PST: Brian Williams on NBC is talking about the audience around the country who will be glued to this ceremony, including thousands who are in movie theaters watching on big screens. I'd add that the world is watching as well:
@JihanMo: WHOA! the #MJMemorial is everywhere! it's even getting broadcasted in Sri Lankan convenience stores.
10:16 AM PST: As Smokey Robinson opens up the ceremony, Twitter is a flutter with memories of Laddy Di's memorial in London.
@latta: the last funeral that i can remember with this much global anticipation was princess diana.
@jonathangrimes: *avoiding all this MJ related stuff* more important things going on - no 'lady di' moment for me.
@maddypertiwi: suddenly remember Lady Di's memorial. Same shock, same concept of memorial.
9:57 AM PST: Jackson's hearse has arrived at Staples Center and the crowd that had gathered outside has moved into the stadium.
@moonstruckmommy tweets from inside the memorial, "No sobbing, no people threatening to jump, nobody's even screamed "I Love You Michael!" This isn't the chaos I expected it'd be."
9:28 AM PST: The private ceremony at Forest Lawn Memorial Park in the Hollywood Hills has just come to a close and Jackson's hearse and motorcade are heading to his public memorial service at the Staple Center. Gordon Moseley from Guyana, South America reminds us of the global reach of Jackson's influence.
I remember the first time I set eyes on Michael Jackson's album. It was an LP record and I was drawn to it because of the picture of him posing with a small tiger.

Michael Jackson was more than just the greatest artist of our time, he was the greatest performer, greatest humanitarian, greatest songwriter, and he was the greatest singer. Now don't think I am some lunatic Michael Jackson fan, in fact I may be far from that, but it's just that one cannot help but to appreciate the man and his music.

I could not help myself moving to some of his songs. I had all the moves. You couldn't touch me, long before he asked "who's bad", I had already figured it out. While we couldn't figure out whether he was really "black or white", I knew that I would always "remember the time", when I fell in love with his music.

But the one Michael Jackson song that really got to me was "Will You Be There." It is raw with emotions. This was not his usual song; this was his life's story. This was him crying out for help. This was his swan song.
9:02 AM PST: Lesa Jones emailed in remembrance of Michael's early years:
It was 1974 and I was 12 years old waiting on a Saturday night for 'Soul Train' to air. The Jackson 5 came on and started singing "Dancing Machine" and when Michael started to do the Robot I was mesmerized and hypnotized. I was so locked into the TV, I didn't hear my mother calling my name. All I could hear and see was Michael. She stood in anger for me to answer but I didn't care because I was feeling nothing but Michael.

Michael didn't have a normal childhood, but he was my childhood. Thank you, Michael, I'm gonna miss you. R.I.P.

And my God give the Jackson Family plenty of strength during their time of sorrow. Time heals.
Opening Post Monday, 5:00PM PST: The memorials to Michael began in the days following his death. His childhood home in Gary, Indiana was covered with flowers and teddy bears, a caravan of supporters made their way to his Neverland Ranch in Santa Barbara County , California, and thousands of people whose lives were changed by Michael wrote tributes in newspapers and on blogs across the country.
In a demonstration of his massive following, over 1.6 million people applied for a raffle to win tickets to Michael Jackson's memorial service in Los Angeles, for which there were only 17,00 lucky winners. That leaves the rest of us to celebrate Michael Jackson somewhere outside of the Staples Center, and The Huffington Post wants to offer this page as a place to remember and celebrating the better parts of MJ unconventional life.
We'll be featuring your thoughts and memories in a number of ways. First, you can email us your own story, a eulogy of sorts (200 words or less), to Submissions+MJ@huffingtonpost.com. We'll be reading through these emails on Tuesday and posting many of them below. We are also looking for photos and video such as those posted below. For those of you who favor brevity, we will be featuring tweets to #mjmemorial in our Twitter box. Finally, the comment section will serve as a message board for those who want to leave your thoughts in real-time.
PHOTO GALLERY
BEFORE YOU GO
Michael Jackson Memorial
PHOTO GALLERY
Michael Jackson Memorial
To begin this "webpage-wake," take a look below at some of the incredible stories that bloggers have shared about what Michael Jackson was like in person and email us with your thoughts and your pictures.