We'll be following the Group of 8 Summit in L'Aquila here with news, photos and video. Feel free to check back at regular intervals for updates.
******
Obama meets Pope... (10:24 A.M.):

Obama end-of-summit news conference (8:30 A.M.):
Obama concluded the G8 summit in L'Aquila with a news conference where he thanked his Italian hosts and reaffirmed his support of the people of L'Aquila, which was devastated by an earthquake in April of this year.
Obama enumerated what he considers the most significant achievements of the summit, beginning with the G8 leaders' "widespread consensus to restore economic growth" and stability in financial markets. He touted the United States' role in leading this effort with its stimulus package and "sweeping overhaul of the regulatory system."
The second item, which Obama seems to have especially dedicated himself to this week, was nuclear security. Obama issued an invitation to world leaders this week for a nuclear security summit to be held next March in Washington, DC. Earlier this week, Obama and Russian President Medvedev reached an agreement to draft a new disarmament treaty that will cap each country's deployed nuclear warheads at 1,500.
Obama also, while speaking on nuclear security, addressed the ongoing tension with Iran over its own nuclear program and its brutal crackdown of protesters following the June 12 presidential election.
Third, Obama addressed climate change, which was arguably the central most focus of the summit this week. G8 leaders committed to their first ever temperature goal--which aims to keep global temperature increases below 3.6 degrees Fahrenheit above pre-industrial levels. Obama also touted a general agreement among developed nations to reduce carbon emissions by 80 percent by 2050. However, his remarks elided the fact that this agreement is not supported by China and India, who are the sine qua non of any meaningful climate change effort.
The fourth and final achievement, which Obama has given a personal mantle, given his heritage, is food security; namely an agreement to deliver $20 billion in aid to developing nations over the next 3 years, with a focus on Africa.
WATCH:
Following his remarks, Obama took questions from the press.
WATCH:

When asked about health care reform

Protesters' last hurrah (8:02 A.M.):
G8 summit protesters have their last opportunity today to speak their minds, and as AP reports, they're showing up by the hundreds:
Hundreds of protesters are gathering in L'Aquila to march against the Group of Eight summit held in this quake-hit central Italian town.

Anti-globalization activists carrying red communist flags and wearing "No G-8" T-shirts were bused in from across Italy to set out from the L'Aquila suburb of Paganica.
Obama's first Pope meeting is today (8:00 A.M.):
Obama will meet Pope Benedict XVI for the first time today. The audience is highly anticipated, especially given the criticism Obama has received from a good number of American Catholic bishops. From the AP:
The White House says it expects "frank" but constructive talks in President Barack Obama's meeting Friday with Pope Benedict XVI -- two men who share similar views on helping the poor and pushing for Middle East peace but disagree on abortion and stem cell research.

...
Obama's election presented a challenge for the Vatican after eight years of common ground with President George W. Bush in opposing abortion, an issue that drew them together despite the Vatican's opposition to the war in Iraq.

But the Vatican has been openly interested in Obama's views and scheduled an unusual afternoon meeting to accommodate the American president at the end of his stay in Italy for a G-8 summit meeting in the earthquake-stricken city of L'Aquila and just before he leaves for Ghana.
Obama news conference soon, stay tuned (7:57 A.M.):
Obama will give a Friday news conference from the summit. I'll have the video here for you as soon as it's available.
Mubarak calls for debt freeze (7:53 A.M.):
While G8 leaders reached an accord of $20 billion in aid to developing countries, Egyptian President Hosni Mubarak, at a working meeting on Friday, also called for African debts to be frozen to aid the world's poorest countries during the global recession, AFP reports:
He said African borrowers should enjoy "preferential terms" and urged the West to reject protectionism in trade and to seek a way to cover the gaps that have appeared in foreign aid budgets during the global slowdown.

...
He called on them to "guarantee that the major industrialised countries' stimulus plans don't lead to protectionist policies and don't aggravate the imbalances in the international commercial system."
Aid update ( 7:38 A.M.):
G8 leaders have pledged to deliver $20 billion in aid over the next 3 years--$5 billion more than was originally reported--to assist poor farmers in developing countries, the Wall Street Journal reports:
Leaders from the Group of Eight leading economies Friday pledged $20 billion over three years to finance agriculture projects in developing countries and help fight hunger and food price volatility.

The U.S.-sponsored food security plan aims to provide poor farmers in developing countries with seeds, fertilizers and the infrastructure needed to boost food production as a long-term solution to combat hunger and spiking food prices.
Slideshow (7:30 A.M.):
Africa's day (7:21 A.M.):
The third and final day of the summit in L'Aquila will focus on African economies and food security, with a specific focus on the effects of the global recession. According to the summit's official website:
The impact of the economic crisis on the African continent and food security are the main items on the agenda for the final day of the L'Aquila G8 Summit. Africa and the impact that the global recession is making on the continent are at the centre of the working breakfast held from 8.30 to 10.00 am and attended by the leaders of Algeria, Angola, Egypt, Ethiopia, Libya, Nigeria, Senegal, South Africa and the African Union Commission in addition to the G8 Heads of State and Government. The IEA, World Bank, IMF, ILO, OECD, WTO and UN representatives are also attending the breakfast.
Thursday July 9, 2009
A new tack for foreign aid (3:32 P.M.):
According to G8 delegates, late on Thursday, President Obama will announce a $15 billion African aid kitty that will focus on agricultural development for poor farmers to increase crop yields, rather than just emergency aid money that usually ends up in the hands of corrupt governments, AP reports.
"The figure of $15 billion has been quoted and we expect President Obama to make this announcement tomorrow and to call on other G-8 countries and emerging economies to support this initiative," said Kanayo Nwanze, president of the International Fund for Agricultural Development, who is participating in G-8 talks in Italy on Friday.

...
"These numbers are bouncing around. It may end up being something similar to that," [White House national security aide Denis McDonough] told reporters. "It is the kind of investment that the president promised or committed to at the G-20 in London in April, when he pledged to double (U.S.) food security funding."
Clooney and Murray tour the devastation (2:20):
Actors George Clooney and Bill Murray made an appearance in L'Aquila to much fanfare as they toured the quake-wrecked area. From ANSA:
Stealing world leaders' thunder, the Hollywood star toured ruins with actor buddy Bill Murray and the former leader of Italy's Democratic Party, Walter Veltroni, a personal friend and fellow campaigner for Africa.

''It's surprising to see a city that has sustained so much damage and I think (the film) is the best way to lend a hand and boost the economy,'' he said. Clooney said shooting would start at the end of September and he would have a part in the film, which he did not name.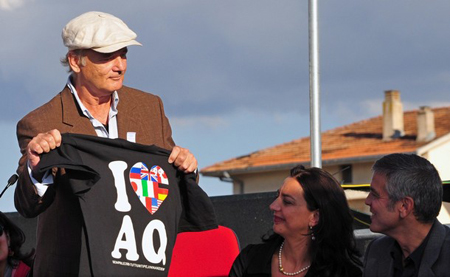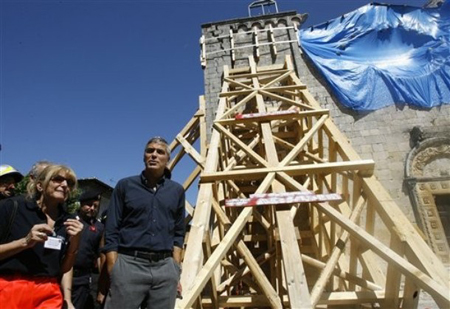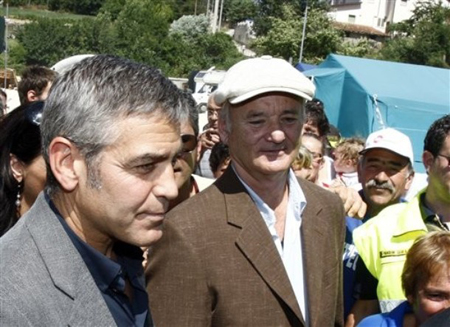 Obama's Thursday statement on climate change (2:05 P.M.):
President Obama spoke today following the meeting of the Major Economic Forum to address climate change. Here is the transcript, from CQ Transcript Wires.
WATCH:
Qaddafi pitches tent on L'Aquila barracks football field (1:38 P.M.):
Libya's Muammar Qaddafi, who was invited to the L'Aquila summit for his role as the chairman of the African Union, has pitched a Bedouin-style tent in the middle of the football field of the barracks where world leaders are staying, ANSA reports.
The Libyan leader's tent, which stands in the barracks' football field, is equipped with all the luxuries, including a plasma screen TV and decoder, and is being guarded by several of his female 'Amazon' bodyguards. Gaddafi will also be the best situated world leader to cope should a major earthquake hit the city, which is still experiencing tremors. Italy has prepared a G8 evacuation plan if there is a quake of 4.0 on the Richter scale or above. The National Geophysics and Volcanology Institute currently rates that risk at about 30%. It is customary for Gaddafi to pitch a tent wherever he goes. Last month Gaddafi insisted on pitching a huge tent in a Rome park during his first official visit to Italy, during which he tried the patience of the authorities by standing up MPs from Italy's Chamber of Deputies who had gathered to hear him speak.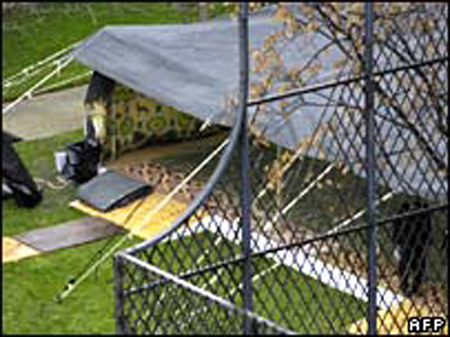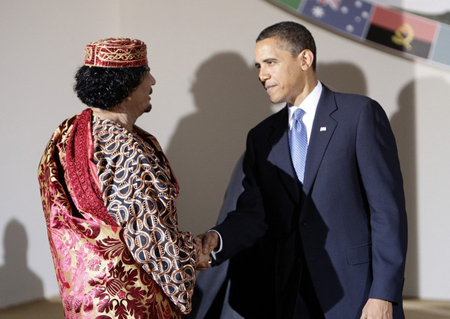 MEF adopts temperature goal (12:30 P.M.):
Via ANSA, the meeting of the Major Economic Forum (MEF) led by Obama Thursday afternoon has adopted the same temperature goal as the G8 did on Wednesday--limiting the global temperature rise to 3.6 degrees Fahrenheit (2 degrees Celsius) above pre-industrial levels. However, specific emissions standards, like yesterday, did not make it through:
The leaders of Australia, Brazil, Britain, Canada, China, the European Union, France, Germany, India, Indonesia, Italy, Japan, Korea, Mexico, Russia, South Africa and the United States endorsed the two-degree deal but did not agree on greenhouse gas emission cuts. Scientists believe that two degrees Celsius above pre-industrial levels is the point at which climate change becomes irreversible.

''We weren't able to agree on a target of a 50% reduction in global carbon emissions by 2050 or in a shorter term but the accord (to limit global warming) to two degrees Celsius is an important step forward,'' said Swedish Prime Minister and European Union duty president Fredrik Reinfeldt.
Bizarro adult swim (12:15 P.M.):
One interesting new tradition, hailing back to the St. Petersburg summit in 2006, is the Junior 8 (J8), when the G8 leaders take a break from work and hand over the podium to the world's youth. According to the L'Auila summit's official website:
The Junior 8 Summit, or J8, is an annual forum involving youngsters aged 14 to 17 hailing from all over the world. Boys and girls chosen to represent G8 member States and other emerging countries (China, Brazil, India, South Africa and Mexico) and this year Egypt, address the same issues as those on the Summit agenda and draft recommendations for the leaders.
The J8 had their moment this afternoon, from 2:30 to 3:00. They touched on a number of issues and issued a J8 Declaration, but focused primarily on climate change and education, specifically teachers' standards.
WATCH:
Responsible Leadership For A Sustainable Future (12:03 P.M.)
Here is the G8 leaders declaration released after Day 1 of the summit. It covers everything from finance to stimulus to trade to global health to green recovery. (It's 40 pages so I haven't been able to dig through it all yet, but feel free to email anything of particular note that you find.)
An overview in 2 minutes (11:36 A.M.):
CNN's Thursday report covers the climate change agreement from Wednesday, Obama's domestic distractions with the economy, the leaders' tour of the quake zone, and more.
WATCH:
Ban calls for more (10:53 A.M.):
Environmental groups, who have been generally underwhelmed by the G8's declaration on climate change Wednesday, are now joined by UN Secretary General Ban Ki-Moon. Ban, speaking from the sidelines of the summit, does not believe the measures agreed upon go nearly far enough, according to the AP.
"The policies that they have stated so far are not enough, not sufficient enough. This is the science. We must work according to the science. This is politically and morally imperative and a historic responsibility for the leaders for the future of humanity, even for the future of planet Earth."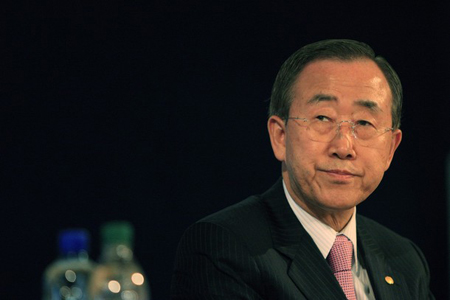 After India and China closed the door on a goal of halving carbon emissions by 2050, G8 leaders reached agreement on a temperature goal instead, whereby global temperatures will not be allowed to surpass 3.6 degrees Fahrenheit above pre-industrial levels. Temperatures, however, are already halfway to that point. And the actual methods through which the international community will stymie the inexorable rise remain unclear.
Michelle "Moved" (10:32 A.M.):
Following the summit participants' tour of L'Aquila and the surrounding areas devastated by an earthquake in April, additional pledges to help rebuild are rolling in; notably, from Michelle Obama. "I'm very moved. I and my husband have been very struck by what we're seeing and we'll try to do everything possible to support you," Italy's ANSA News reports her saying.
Likewise, on Wednesday, President Obama addressed the issue as well, saying, "I have followed your tragedy from the first moment. I assure you that the United States stands ready to help Italy"
Looking at photos from today and yesterday, it's easy to see how the scene could be moving.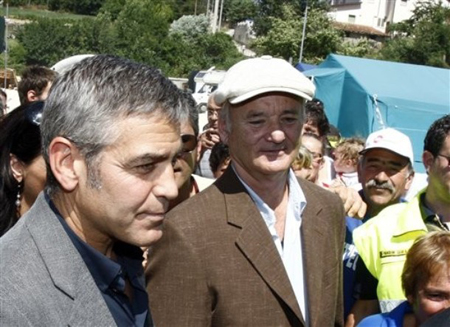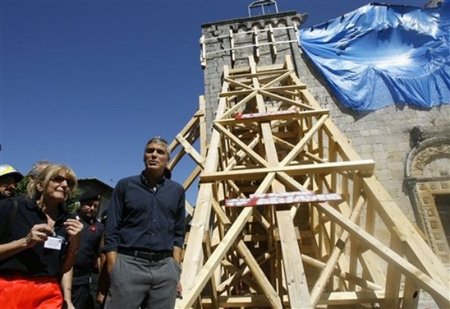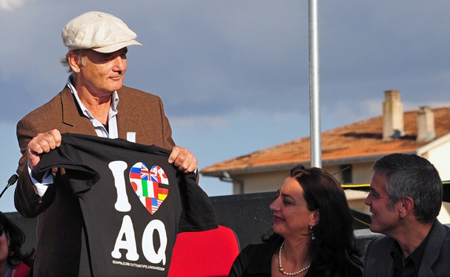 "You'll never come back from 2 - 0 down again" ~ Barack Obama (10:00 A.M.):
Obama and Brazilian President Lula took a break from the serious talks Thursday morning to discuss the June 28 soccer match between the US and Brazil, ANSA news reports. Brazil came back from being down 2 to 0 to win, with the final score of 3 - 2.
Palestinian Marshall Plan (9:45 A.M.):
Via Italy's ANSA News, In a statement at the G8 summit in L'Aquila this week, Italian PM Berlusconi discussed one topic of Wednesday night's working dinner: the Israeli-Palestinian conflict. According to Berlusconi, it was agreed that an "aid committee" would be created to carry out a 'Marshall Plan' for the Palestinian territories to revive their economies--particularly in the private sector--with the eventual goal of raising per capita incomes to commensurate levels as neighboring Israel.
Malia Obama's sartorial message to world leaders (9:36 A.M.):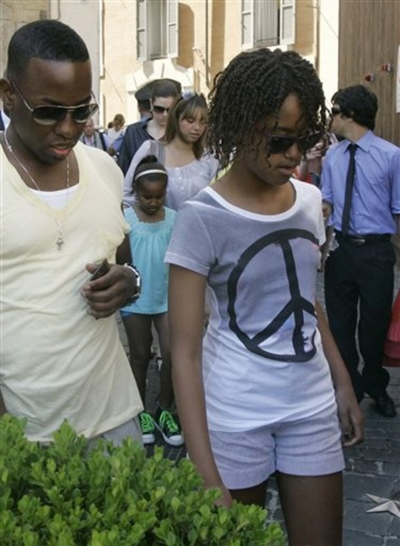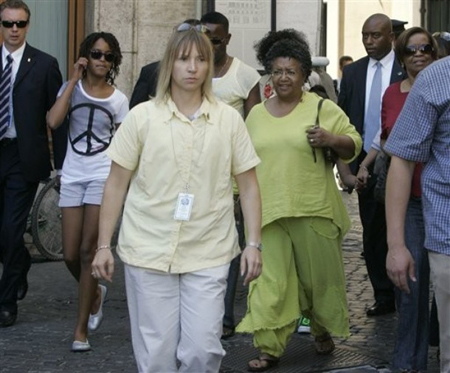 Sarah Brown visits with African aid group (9:33 A.M.):
British first lady Sarah Brown, who is providing dispatches from the summit through her blog, has her latest post. Brown met with Rome's Sant' Egidio community Wednesday night to discuss their efforts to fight HIV/AIDS in Africa:
Today the 120,000 strong Sant' Egidio community across the world address new crises. With their hugely dedicated staff we talked about the work they are doing to fight HIV/AIDS in Africa aiming to offer a treatment in Mozambique and Malawi that matches the treatment you can find in Italy or the UK. In many of the poor countries I've visited, AIDS often has a female face. Pacem from Malawi has come to share with us her journey from her own HIV positive diagnosis to treatment and life now as an activist for Sant'Egidio, sharing the message of life after testing.
Herding cats (9:20 A.M.):
Though the "family photos" at these summits are usually some of the most memorable, it is not always so easy to gather each world leader in the same place at the same time. This was made apparent Thursday with tardiness on the part of President Obama, but even more so, by Canadian Prime Minister Stephen Harper, who was egregiously late to the photo-op at the London G20 summit in April as well, according to the Toronto Star.
The rest of the summit's attendants passed the time with the usual on-camera joviality and small talk, while, according to the Star, intermittently calling out Harper's name: "Harper? Harper? Where's Harper?"
Eventually Obama jogged up to fill his spot in the ranks, and was soon followed by Harper, to much applause and cheers by those patiently waiting.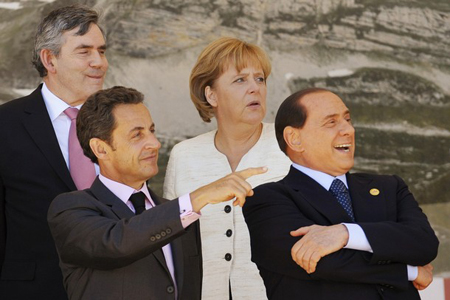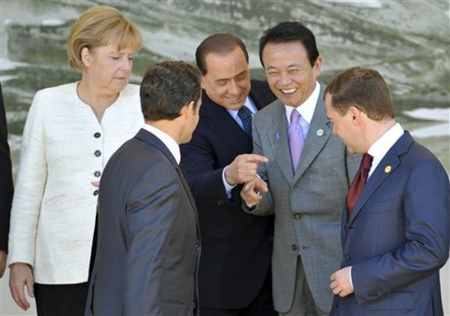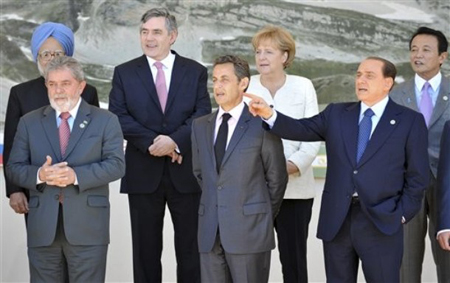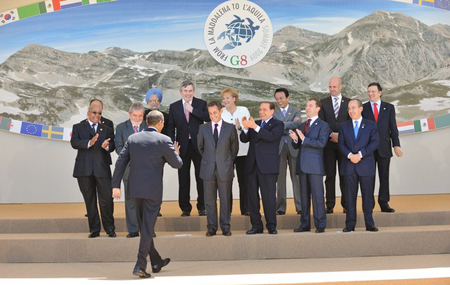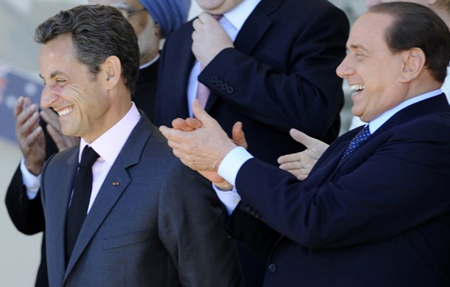 Iran deadline raises the stakes (8:32 A.M.)
G8 leaders on Wednesday agreed to issue a joint statement of denunciation against Iran for its protest crackdown and ongoing nuclear program. According to Reuters, a September deadline has been thrown into the mix, based on statements made by French President Nicolas Sarkozy late Wednesday.
The deadline is set for the G20 summit in Pittsburgh on September 24-25, at which point "if there is no progress by then we will have to take decisions," Sarkozy says, adding that, "We made an effort to agree not to strengthen sanctions straightaway in order to bring everyone on board. The more reserved amongst us agreed that Pittsburgh was the time for decisions."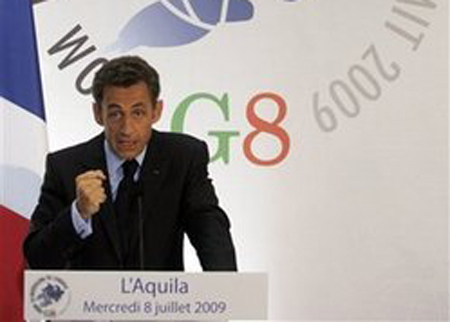 An Iranian spokesman responded Thursday by rebuffing the G8's statement, saying that Iran would never back off from its nuclear ambitions by "even one step."
Currency devaluation draft agreement (8:25 A.M.):
G8 leaders met with leaders of the developing-nation G5 (Brazil, India, China, Mexico and South Africa), with the addition of Egypt, Thursday and have so far reached an accord on a pledge to "refrain from competitive devaluations of our currencies," Bloomberg reports.
Also at issue is the centrality of the dollar as the world's de facto reserve currency. The dollar's dominance has increasingly been challenged during the global financial crisis, most especially by China, who in late June formalized its call for a new, replacement international currency.
With officials from Brazil, India and Russia pushing consideration of alternatives to the dollar as the world's dominant reserve currency, the draft called for a "stable" monetary system, according to a German official who read the language to reporters today.

...
"I think that, despite whatever talk you might have heard, I don't see that there is movement away from the notion of the dollar being that currency," White House spokesman Robert Gibbs said today at the start of the second day of the three-day meeting in L'Aquila, Italy.
Berlusconi tone-deafness (8:08 A.M.):
Via the UK's Daily Record, aid groups are lashing out at Berlusconi for the lavish gifts he's presented to his G8 guests, including designer, custom-made parkas, pajamas, and monogrammed bathrobes. Italy has been criticized in the months leading up to the summit for its failure to honor African aid commitments made in 2005. According to the Metro UK news, Italy has delivered on just 3 percent of that commitment.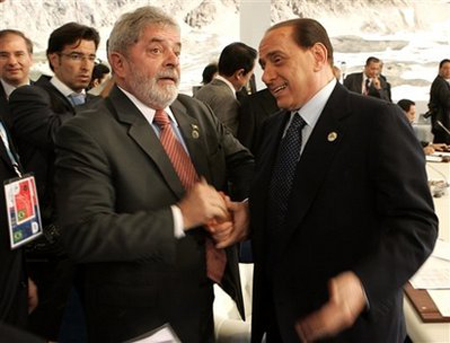 Thursday's agenda (7:54 A.M>):
The G8 will become a little bit less exclusive for the second day of the summit by merging with developing nations from the smaller G5 also summiting in Italy, as well members of the 17-nation Major Economic Forum, which combined releases 80 percent of the globe's greenhouse gases.
Obama met with Brazilian President Lula Thursday morning but faced resistance his push for emission reductions.
Obama is set to oversee, as chairman, a meeting of the Major Economic Forum Thursday afternoon. The initial climate change goal of halving global carbon emissions by 2050 has been blocked by India and China, but the G8 nevertheless pressed through with a temperature goal on Wednesday. Many leaders are looking anxiously down the road to the Copenhagen conference in December, when a replacement to the 1997 Kyoto Protocol must be agreed upon.
Wednesday recap (7:24 A.M.):
Day one of the G8 Summit in the earthquake-ravaged L'Aquila Italy saw a few agreements:
- The G8's first ever temperature goal to tackle climate change. Though the methods remain vague, leaders agreed to keep global temperatures below 3.6 degrees Fahrenheit above pre-industrial levels. Unfortunately, temperatures are already halfway there, which raises the stakes. Environmental groups responded with a generally muted applause, with most seeing the agreement as a somewhat empty gesture that recognizes the obvious. For a more on the international efforts to curb climate change, check out the Council on Foreign Relations overview.
- G8 leaders agreed to issue a strong statement denouncing Iran for its brutal crackdown on post-election protesters and for its intransigence on the nuclear issue. Iran was one of the central topics to be discussed at Wednesday night's working dinner.
- Leaders rallied behind President Obama to ratify a nuclear security proposal. Obama, always a champion of summits, will host a nuclear security summit next March in Washington DC. Earlier this week, Obama and Russian President Dmitri Medvedev reached an agreement to limit deployed nuclear warheads to 1,500 each, a notable step in the ongoing disarmament effort.
Wednesday July 8, 2009
A picture's worth a thousand words (4:25 P.M.):
When looking at these photos from German Chancellor Merkel's tour of the quake-ravaged town of Onna, a few miles from the summit site, it becomes clear why Berlusconi chose the new location. These villages, which appear to be in the same state of desolation as they were back in April, will surely benefit from the international spotlight. In fact, Merkel has already promised German aid for this particular town.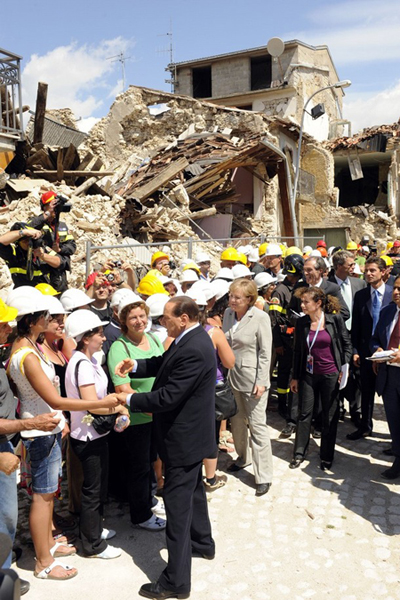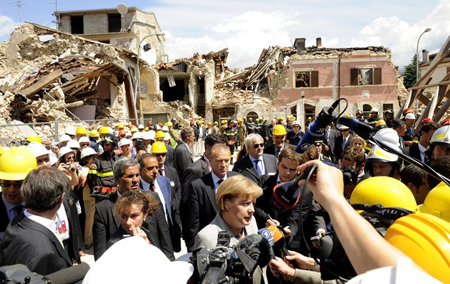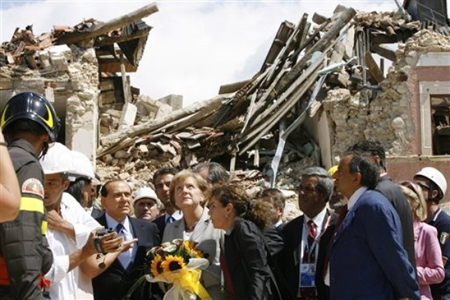 The quake site also provides an opportunity to point out that, despite his faults, Berlusconi actually handled the initial emergency response splendidly. As Newsweek reported at the time:
Within hours of the quake, blankets, water and biscuits were being handed out and those who had lost their homes or were too nervous to return were guided to a tent camp in a nearby stadium. Prime Minister Silvio Berlusconi dispatched 5,000 additional rescue workers from neighboring towns and cancelled a trip to Russia to fly to the epicenter. "I want to say something important," he said at a press conference in L'Aquilia. "No one will be abandoned to their fate."
Slideshow(4:38 P.M.):
Italian Parliament members go on China strike (3:52 P.M.):
Following dozens of environmental activists scaling the smokestacks of Italian coal-fire plants today, others stripping down on the Spanish Steps with a banner that reads "Keep climate cool", and still others blocking roads and railways to protest against globalization, the AP reports that Italian Parliament members in Rome are getting on-board the protest train:
In Rome, several members of the Italian parliament said they were starting a hunger strike on Wednesday night to urge the G-8 leaders to press China to end the violence in Xinjiang region.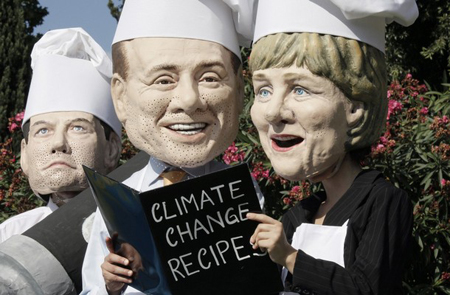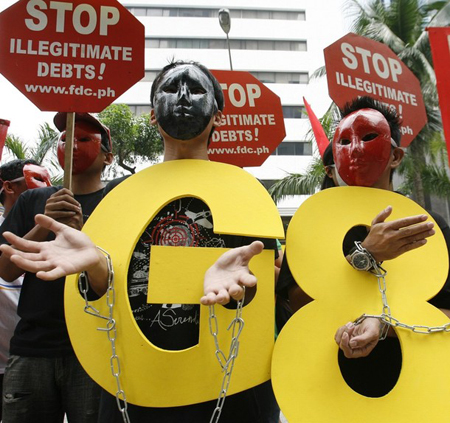 Italian Parka-chic for G8 leaders (3:43 P.M.):
From Reuters, World leaders attending the G8 summit in Italy this week will receive a gift directly from their host's heart--a Belstaff-designed, custom-fitted parka, individually signed by Prime Minister Silvio Berlusconi himself.
Belstaff, which also kits out current film stars such as George Clooney and Brad Pitt, has produced a limited edition black parka for delegates at the summit.

And there's a "parka-chic" version for the first ladies.

"Every single jacket is made to measure," Manuele Malenotti, whose Italy-based Clothing Co bought Belstaff in 2004, told Reuters. "Every single jacket is signed by (Italian Prime Minister Silvio) Berlusconi."
The black, mid-length parkas, in addition to Berlusconi's John Hancock, will be adorned with an Italian flag and the G8's summit logo, and after the summit it will be on sale and available to the public, with proceeds going to the Earthquake Foundation, Reuters reports.
Did Obama snub Berlusconi? (3:14 P.M.):
There's been chatter Wednesday afternoon following Obama's meeting with Italian President Giorgio Napolitano, who holds a mostly ceremonial position, that Obama may have taken an indirect verbal shot at Berlusconi, who is constantly mired in scandal. Obama heaped praise on Napolitano, touting his "integrity" and describing him as a "great leader"--words that have left observers guessing at Obama's real intent. From AP:
It might sound like the standard compliments a visitor might make after being hosted in the splendor of Renaissance-era Quirinal Palace. But in a country whose real leader, Premier Silvio Berlusconi, is under fire from a sex scandal, the words had a special ring.

Even if Obama did not intend any snub of Berlusconi, the embattled premier has been under a barrage of attacks over his moral fitness to lead Italy and become a flashpoint for criticism of preparations for a summit of world leaders in earthquake-stricken L'Aquila.
Obama presses G8 on Iran's nuclear program (2:50 P.M.):
Obama seems to be leading the charge among G8 leaders for a strong statement against Iran and North Korea's nuclear ambitions; but, according to Politico, it remains unclear what further steps the group can even take that it hasn't already.
WATCH:

Rain on the climate change parade (2:45 P.M.):
Earlier we reported on a G8 pledge to limit any increase in global temperature to 2 degrees Celsius--the group's first ever temperature goal; however, this is a G8 declaration, and thus elides the most important players in addressing climate change, namely India and China.
As the Telegraph's James Kirkup reports, from L'Aquila, India and China say they will not sign any such agreement.
But the deal was marred by the failure of fast-growing Asian nations to sign up. The G8 had wanted them to agree to cut their carbon output by 50 per cent in the same time.

However, the 50 per cent carbon targets faced resistance from India and China, which argued that the targets would hamper their economic growth.

"For any long-term goals there have to be credible midterm goals in the range of 25-40 per cent," said Dinesh Patnaik, an Indian climate policy negotiator.
Awkwardness immortalized (2:33 P.M.):
Jeremy Barker at National Post has an amusing photo roundup of Berlusconi's most awkward moments at the summit thus far, here.
Obama's tour with Berlusconi (2:13 P.M.):
Via CNN, video of Obama touring the quake-wrecked areas around the G8 summit:
WATCH:
And a good report on the Berlusconi's most recent scandals, which have consistently threatened his credibility in the lead-up to the summit.
WATCH:
The argument for the G8 (2:04 P.M.):
Here's a BBC video from earlier today of an interview with Italian foreign ministry spokesman Maurizio Massari on what to expect. Notably, Massari rebuffs the question of whether the summit will just be a "talking shop" and insists that it is much more than that. Unlike its critics, who call for the G8's abolition and the ceasing of such summits, Massari says that there is real value in the concerted message of trust and commitment from world leaders that come from summits.
WATCH:
'Sconi gaffes (1:51 P.M.):
Because many of his best gaffes occur at these summits, here and here are some classic past Berlusconi statements of ill repute.
Pope hosts spouses (1:37 P.M.)
Sarah Brown, wife of UK Prime Minister Gordon Brown, has her second summit blog post up. She and the spouses of other participating world leaders were hosted at the Vatican today, where they toured the basilica garden and were treated to lunch. Read the post here.
G8 promises to honor promises to Africa (1:26 P.m.)
An initial report from AFP, who caught a glimpse of a forthcoming G8 statement prior to its official release, says that G8 leaders will reaffirm their pledge fill a $25 billion hole in African aid that was agreed upon at Gleneagles G8 Summit in 2005:
"We underline how important it is to honour the engagments to increase aid that we made in Gleneagles."
Considering that most participants called for a strengthening of African aid leading up to the summit, this announcement isn't exactly groundbreaking. Nevertheless, it is important, especially for the summit's host, Berlusconi. Prior to the summit, Berlusconi was called out by Sir Bob Geldof for Italy's deplorable record on fulfilling aid commitments. According to the Metro UK news, Italy has delivered on just 3 percent of its 2005 commitment.
G8's first ever temperature goal (1:10 P.M.):
Though the summit's preliminary negotiations to halve global carbon emissions by 2050 were orginially reported to have failed, the AP is reporting that the G8 leaders have reached an accord on the group's first ever temperature goal: limiting any future global temperature increase to 2 degrees Celsius (3.6 degrees Fahrenheit).
According to Science Daily, 2 degrees C is perhaps the magic number, as it were:
If CO2 emissions are halved by 2050 compared to 1990, global warming can be stabilised below two degrees. This is shown by two studies by a co-operation of German, Swiss and British researchers in the journal Nature.

To contain global warming, and its risks and consequences, warming compared to pre-industrial times (pre 1900) should not exceed two degrees Celsius.
The 2 degree C target is considered significant, but I'll wait for more from green experts to weigh in on just what this particular benchmark means.
Rain on Berlusconi's parade? (1:02 P.M.):
Perhaps sullying his limelight moment as the summit's host somewhat, yet another woman has come forward with allegations that Berlusconi paid her to attend his private--and now highly scandalized--parties, the Telegraph reports:
A fourth woman has come forward to claim that she was paid 1,000 euros (£870) to attend a party at one of the Italian prime minister's private homes.

Maria Teresa De Nicolo, 37, said the 72-year-old premier was the "perfect host" when he danced with her after the candle-lit dinner and that contrary to reports he did not have his hands all over her "like an octopus".

"I danced with the prime minister and also with some of the other men who were present," said Miss De Nicolo.
The Evac Plan (12:40 P.M.):
For those wondering about the safety of the summit's location--L'Aquila, which was devastated by an earthquake in April--fear not: Berlusconi says "There is no risk"...
But for those who aren't reassured by that statement, Reuters reports that there is indeed an evacuation plan in place in the unlikely event of another earthquake:
Italian authorities have readied an evacuation plan for G8 leaders attending a summit in the earthquake-hit city of L'Aquila in the event of a tremor of a 4.0 magnitude or higher, a source close to organisers said.

The source said the civil protection agency had prepared plans to evacuate leaders to Rome by air if needed. Summit meetings and events would then continue in the Italian capital.
Though the summit was originally meant to take place on the island of La Maddalena (hence the sea turtles in the logo), Berlusconi opted to move it to the quake zone, he says, to stimulate its local economy and raise awareness of the remaining devastation from the April 6 quake. The village of Onna, just a few miles away, was the site of German Chancellor Merkel's visit. Germany announced in June that it would contribute aid to the rebuilding effort, according to the G8 website. Presumably, Berlusconi hopes to solicit other such charitable offers this week.
Hate for the G8? (12:25 P.M.):
Many of the protesters in emerging photos (scroll down) wield signs calling for the G8 forum to be abolished altogether. I won't weigh in on either side, but Simon Johnson over at TNR provides an eloquent argument that will make more sense of the reasons why we see so many "No More G8" signs at these international gatherings:
The L'Aquila summit seems likely to achieve nothing, i.e., nothing that could not have been agreed upon in a conference call among deputy ministers. Just because there's a communiqué does not mean it has any real content. Does this kind of expensive pageant make politicians today look important or frivolous?
And Michael Goldfarb at GlobalPost expresses a similar sentiment.
Family Photo (11:45 A.M.)
From Reuters: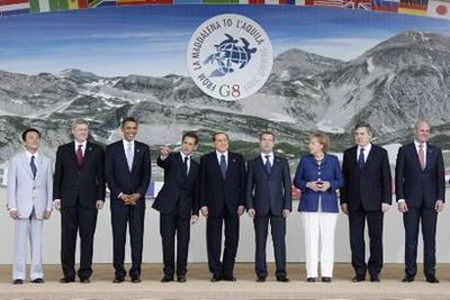 More on protests...(11:40 A.M.)
More reports are emerging of protests, via the AP. Environmental activists have reportedly overrun four coal-fire plants around Italy, three of which are owned by the Italian energy behemoth Enel. And elsewhere:
In Rome, activists from charity group Oxfam International put on masks of world leaders and dressed up as chefs, stirring a mock Earth in a pot representing the planet's rising temperature.

The stunts came a day after anti-globalization groups in the capital blocked roads, rail tracks, and clashed with police in violent protests against the G-8. Nearly 40 Italian and foreign activists were detained.
Some photos: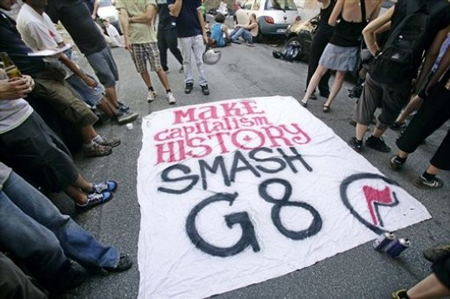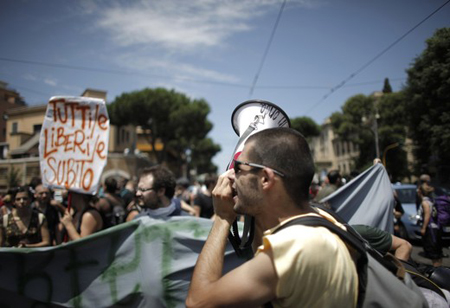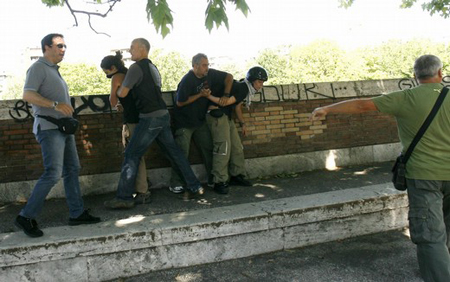 Sarah Brown live-blog? (11:21 A.M.)
As the Telegraph reported, UK Prime Minister Gordon Brown's wife Sarah Brown, who is accompanying her husband to the summit, plans to live-blog her unique perspective from behind the scenes. The blog, here, has so far been unattended, with the exception of one, introductory post. However, to be fair, it's still early on in the 3-day summit, and according to the Telegraph, who is live-blogging the summit here, the British first lady will apparently be granted a half-hour private conference with the Pope, which could yield an interesting report.
Brown also has a link on her blog to the Downing Street Flickr channel, which has plenty of good, up-to-date photos from the summit.
Obamas' Pope meeting (11:14 A.M.)
Via Lynn Sweet, White House Press Secretary Robert Gibbs says that the Obamas will meet the Pope on Friday at the Vatican "to discuss a range of issues, including their shared belief in the dignity of all people."
Obama backs-up Italy's organization of the summit (11:03 A.M.)
In a tacit response to much of the criticism Italy received for its organization of the summit, Obama, speaking to the press after his meeting with Italian President Giorgio Napolitano, commended Italy for its "strong leadership", according to the Italian news site ANSA. Obama then laid particular praise on Napolitano, saying, "I had heard of the wonderful reputation of President Napolitano as somebody who has the admiration of the Italian people not only for his longstanding service but also his integrity, and his graciousness. 'And I just want to confirm everything I have heard about him is true. He is a true moral leader who best represents your country."
Iran...it's what's for dinner (10:44 A.M.):
The political strife in Iran and its ongoing nuclear program will be discussed at Wednesday's G8 working dinner, the AFP reports. Though some have called for joint sanctions against Tehran, the AFP reports that this is unlikely, due to Russia's unwillingness to get on board. Also at issue is a French woman and Iranian employees at the British embassy who have been arrested on, according to France and the UK, bogus charges.
Harper touts Canadian approach to stimulus (10:29 A.M.)
Canadian Prime Minister Stephen Harper gave a speech Wednesday at the summit's opening where he urged other members not to pursue additional stimulus measures until the current programs show returns, the Canwest News Service reports:
"Before there's talk of additional stimulus, I would urge all leaders to focus first on making sure the stimulus that's been announced actually gets delivered," Harper said Wednesday after announcing a $5-million Canadian contribution to the host city here that was devastated by an April earthquake that caused about 300 deaths.

"That's been our focus in Canada and I would encourage the same priority elsewhere."
Harper, a conservative, is voicing similar sentiments to Sarkozy and Merkel against increased spending. His warning comes precisely as quiet talks of a second stimulus are brewing within the United States, with calls from experts such as Paul Krugman, as well as senior legislators like House Majority Leader Steny Hoyer.
Berlusconi boycott (10:09 A.M.)
A few weeks ago, Italian women academics called for the spouses of each G8 leader attending the summit to boycott its official events in protest of the philandering and sultry activities of the host, Silvio Berlusconi. Well, according to Times Online, the call didn't fall completely on deaf ears. French first lady Carla Bruni--who is Italian born and has long been disgusted with Berlusconi--is staying away from all of the official G8 events in Rome, but will still visit L'Aquila. Times Online also reports that German Chancellor Merkel's husband, Joachim Sauer, will also not be in attendance, though it is unclear if his absence is in protest to Berlusconi or simply incidental.
Not as big as G20 London yet... (10:00 A.M.)
The Group of 20 Summit in London this past April was accompanied by mass protests and even one death at the hands of a baton-wielding policeman. So far, however, the Italy summit has been more toned-down, with impromptu protests in Rome on Tuesday that resulted in 38 arrests, according to the AP, but not yet nearing the scale of London.
According to Voice Of America, the Italian government has deployed 15,000 police officers to L'Aquila, some of whom confiscated clubs from French protesters Tuesday, with no arrests.
"Damaging speculation" (9:40 A.M.)
The second biggest issue next to climate change at the summit will be the global financial crisis, where world leaders have not totally agreed on ameliorative measures--a clash that was central to the G20 Summit in London in April. While Obama and the UK's Gordon Brown have implemented massive stimulus policies, French President Nicolas Sarkozy and Germany's Merkel favor more conservative methods, and have criticized their cross-pond neighbors for fiscal profligacy.
Nevertheless, Brown and Sarkozy are still capable of finding common ground, as demonstrated by a joint op-ed today in the Wall Street Journal where they call for more intense regulation of oil futures to discourage "damaging speculation" that exacerbates market volatility:
For two years the price of oil has been dangerously volatile, seemingly defying the accepted rules of economics. First it rose by more than $80 a barrel, then fell rapidly by more than $100 before doubling to its current level of around $70. In that time, however, there has been no serious interruption of supply.

The oil market is complex, but such erratic price movement is cause for alarm. The surge in prices last year gravely damaged the global economy and contributed to the downturn. The risk now is that a new period of instability could undermine confidence just as we are pushing for recovery.
Italy versus the Guardian (9:31 A.M.)
Meanwhile, there is an ongoing spat between Italy and the Guardian newspaper, following a report that entertained the possibility that Italy could be expelled from the G8, due to its "chaotic" organization of the summit and the fact that it has a lower per capita income than Spain--who would fill the eighth spot in the forum. According to the Italian news site ANSA, Italian Foreign Minister Franco Frattini lashed out Tuesday, calling the report "nonsense", "a joke", and hoping that, "The Guardian leaves the (ranks of) the world's great newspapers."
Jintao departs (9:14 A.M.)
According to the Washington Post Wednesday, Chinese President Hu Jintao was forced to forgo the summit altogether, due to increased strife in the Western Xinjiang region, which saw violent clashes between Uighur protesters, police, and ethnic Han Chinese civilians. The Associated Press notes that Jintao's absence "could weaken trust-building discussions on making further progress on climate change."
Jintao's departure will also cancel a one-on-one schedule with Obama, where the two leaders were meant to discuss joint emissions reduction efforts, the New York Times reports.
Obama arrival
The Associated Press reports on the Obamas arrival:
Obama, accompanied by his wife Michelle, went immediately into a meeting Wednesday morning with Italian President Giorgio Napolitano after arriving at the stately Quirinale Palace, meeting his host in a spectacular setting that included a large room with a soaring ceiling, gilded walls and doors and huge chandaliers.

Emerging from the meeting with Napolitano, Obama said he was looking forward to the G-8 talks and praised his Italian hosts for being "such good friends" of the United States over the years.

He said the two countries among other things "are working hand in hand in places like Afghanistan to ensure that we're isolating extremists and strengthening the forces of moderation around the world." Obama also said he and Napolitano agreed that efforts must continue in the area of "raising standards on financial institutions" to protect against future global economic meltdowns.

He also said that its crucial that world leaders work to ensure that Iran and North Korea don't "take a path" that would widen the arms race on the Korean peninsula and in the Mideast.
WATCH:
***
President Obama arrived in Italy Wednesday for the Group of 8 Summit in L'Aquila--the site of a devastating earthquake in April of this year--to discuss climate change, global security, the global recession and various other international issues. The Group of 8 (G8) industrialized nations--organized by France in 1975--consists of the United States, Canada, Britain, France, Germany, Italy, Japan and Russia; however, G8 leaders are joined in L'Aquila by the leaders from a Group of 5 developing nations of global import that include Brazil, China, India, South Africa and Mexico, plus Egypt.
According to the official website, the G8 and this smaller G5 will discuss the salient issues in individual summits Wednesday, but will merge together Thursday, along with Major Economies Forum, with aims to reach an accord on ten separate draft declarations, which have been at least partially hashed out by negotiators in the days and weeks leading up to the summit. And on the third and final day, this merger will be accompanied by representatives from African nations and international organizations to discuss Middle East issues and, notably, the renewal of international development aid to Africa.
Climate change and the global economic crisis, in particular, are topping the summit's agenda. However, according to Times Online, the preliminary negotiations for halving carbon emissions by 2050 have already "failed", due to balking on the part of China and India.
In talks that continued late last night the [Chinese and Indian] delegations are understood to have prevented any mention of the target in the draft communiqué, insisting that the developed economies should promise to cut their own emissions sharply by 2020 before asking developing nations to commit to a long term target.
The scheduled events for Day 1 are set to begin at 1:00 p.m. Italian time (7:00 a.m. EST) with a G8 leader working luncheon and Italian Prime Minister Silvio Berlusconi introduction. The "family photo" of world leaders will be taken after this first session, according to the official schedule.
Throughout Wednesday, Berlusconi will personally conduct tours of the earthquake ravaged region for each G8 leader. German Chancellor Angela Merkel has already had hers, with a visit to the especially devastated village of Onna. Germany has pledged additional contributions to the rebuilding effort. Obama is scheduled to have his tour at 11:45 EST, followed by Russian President Dmitri Medvedev.
My colleague Morgan Korn provides a more detailed schedule and background overview of the summit here.