The percent of banks that lost money last quarter set an all-time high, according to the Federal Deposit Insurance Corporation.
More than 28 percent of banks failed to turn a profit in the three-month period that ended in June, FDIC data shows. That's the highest rate of unprofitable banks ever recorded in the second quarter, said FDIC spokeswoman LaJuan Williams-Dickerson. The FDIC began collecting quarterly figures in 1984.
Bank income figures are seasonal, an FDIC analyst said in a background briefing. Many banks won't know until the end of the year exactly how much of a profit or loss they've turned. Historically speaking, the analyst said, fourth quarters typically have the highest rate of unprofitable banks. For example, about a third of banks were unprofitable in the fourth quarter of 2008, the highest quarterly rate ever recorded.
Last year was the industry's worst in terms of profitability. About a quarter of banks lost money in 2008. The previous high was in 1986.
But this year is shaping up to be even worse. Through June this year about 27 percent of banks are unprofitable. At this point last year that figure stood at 17 percent.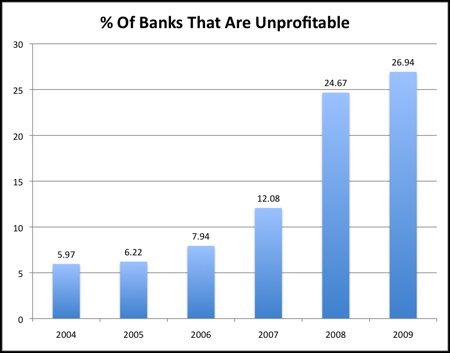 *2009 figure through June 30