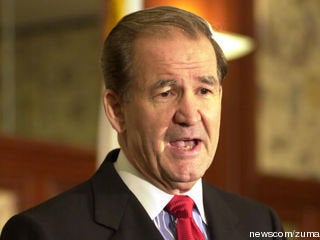 Yesterday, the world was appalled anew by Pat Buchanan, as he commemorated the 70th anniversary of Hitler's invasion of Poland by offering up one of his patented historical counterfactuals, suggesting that Great Britain deserves all the blame for causing World War Two. This is nothing new: Buchanan's written a whole book called The Unnecessary War on how awful Winston Churchill was for failing to recognize that Hitler didn't want war with Europe and how "the West lost the world." Did you notice how the "West lost the world," by the way? You really must look carefully, I guess.
Buchanan posted his unique take on the matter on his own blog. And that's all well and good! But what am I supposed to make of the fact that MSNBC is also showcasing Buchanan's bizarre column, on their website?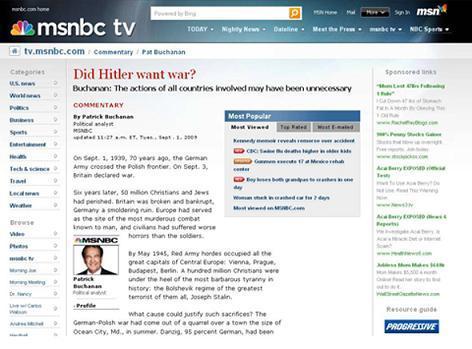 UPDATE: MSNBC has since taken the piece down, after pressure from the National Jewish Democratic Council. Here's a statement from David A. Harris, NJDC's President: "MSNBC took the responsible action and removed Pat Buchanan's column defending Adolf Hitler from their website, but no worthy news organization should employ and promote a commentator who engages in such vile fiction."