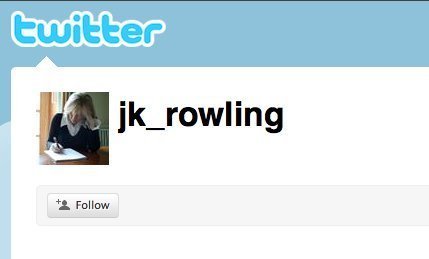 Harry Potter author JK Rowling has finally gotten a Twitter account-- but don't expect her next novel in Tweets.
The Telegraph reports Rowling decided to sign up for the microblogging site after learning that people were impersonating her on Twitter, such as a user called "JoanneKRowling" claiming to be a "Children Author."
"I am told that people have been twittering on my behalf, so I thought a brief visit was in order just to prevent any more confusion!"
Follow JK Rowling @jk_rowling. The author already as 49,149 Twitter followers, but isn't following anyone herself.
In two Tweets, Rowling warned fans that she's hard at work on her next book and won't be Tweeting much.
However, I should flag up now that although I could twitter endlessly, I'm afraid you won't be hearing from me very often..........
.............as pen and paper is my priority at the moment